This post may contain affiliate links. When you click an affiliate link, we may earn a small commission on qualifying purchases, at no extra cost to you. Also, please check for opening times, restrictions, weather, etc., on the days of your trip. We do our best to keep the post updated, but these things can change quickly.
Levadas are water channels constructed on the Portuguese island of Madeira. These levadas run in and around mountains and through forests stretching to hundreds of kilometers bringing water from the lush north and western parts of the island to the drier parts of the south, which has more settlement. This was also used to carry water for agriculture, mainly sugarcane production. It was also used by local habitants for domestic water needs as many parts did not have water supply in the past.
Today, these levadas do more than just supply water to the southern parts of the island by generating hydroelectric power.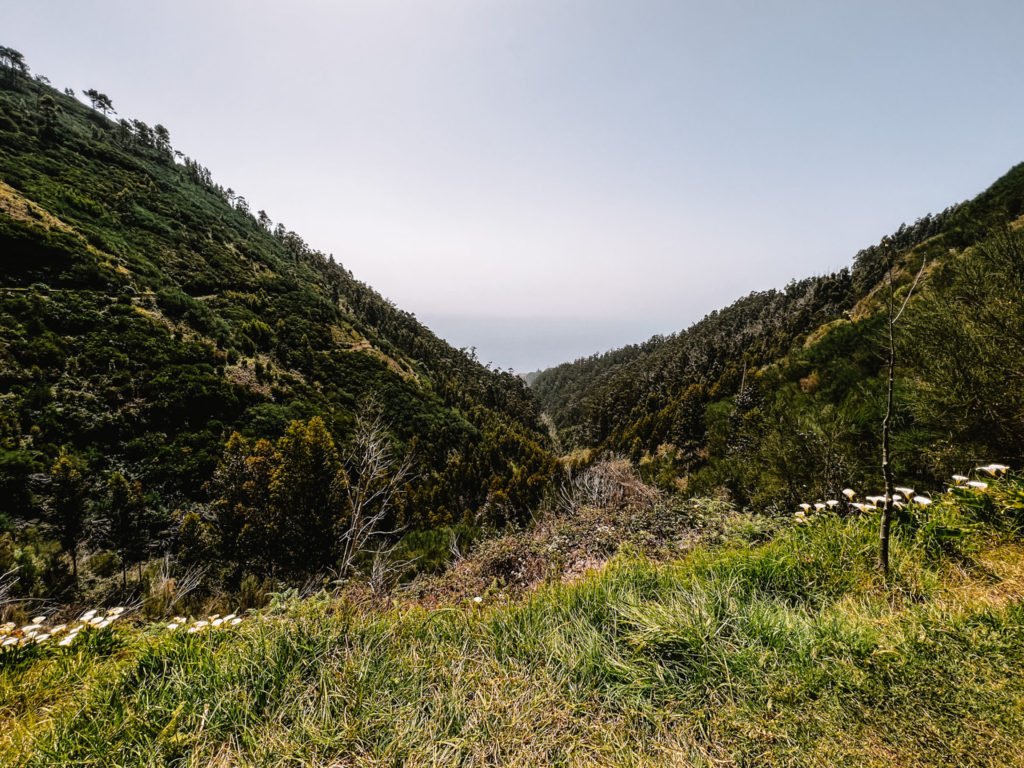 What is a Levada Walk?
Levada walks are walking along these water channels, which go through the forests and mountains on the island. These are one of the must-do activities when visiting Madeira. Many well-marked levada walking trails in Madeira are suitable for people with different fitness levels. It is not necessary to go on a very challenging hike to enjoy the island's best views. There are so many options to choose from as there are around 3000 km of levadas in Madeira. A popular choice is the 25 Fontes and Risco waterfall hike.
Why is the 25 Fontes & Risco Waterfall Hike So Popular?
This is one of the most exquisite levada walks on the island, which is easily accessible and is not particularly challenging. Just requires a little push to traverse its approximately 11-kilometer distance. What makes this hike all the more alluring is that it leads you to two stunning waterfalls rather close to one another. You could also take a dip in the 25 Fontes waterfall if you don't mind the cold water.
If you are visiting Madeira for the first time, this is a must-do hike and is perfect for enjoying the Laurisilva forest and the waterfalls. Also, if you prefer to go on guided hiking tours, this is ideal for you as many different companies provide you the best-guided tours along with pickup from your hotel in Funchal.
If you would do it on your own, then you have all the information you need to know to fully relish this best levada walk in Madeira.
Should I Take Guided Walking Tours for Levada Walks in Madeira?
Are you not sure if you must take the guided tours or venture on an exploration yourself? Then let's help you decide the perfect fit for you.
Are you going solo, or are you just a couple?
Guided Hiking tours usually charge per person, so if you are a big group of friends or family, I suggest you go on a self-guided trip rather than taking the guided tour, as it is more affordable.
Do you plan on renting a car on the island?
Then you could probably skip taking the group tours. However, remember that if you put your car in the parking lot, you should return to the same place, meaning you will have to walk a little more and probably walk through the same path twice.
Psst! The return path back to the parking is slightly uphill. Take this into consideration while choosing your option.
What if I don't have a car?
If you are considering other options to reach the hike's starting point without going on the guided tours, you could take a Bolt or taxi. I wouldn't advise this if you are just one or two people; in that case, guided tours are better and affordable unless you don't mind spending.
Not convinced, yet?
Are you still not sure what is your best fit? Let's dig more deeply into what the guided tours offer. Many companies offer guided levada walks on different days and timing of the week at a reasonable rate. Although the walks are pretty straightforward, and you will find sign boards all along the route, the fact that these tours offer pickup and drop from near all the major hotels in Funchal (sometimes they offer you pickup and drop services for farther locations as well for an extra cost).
They also give you a lot of history about the forest, which is quite interesting.
The walking paths of the tours are planned so that they take you through the best routes possible. What I mean by this is they will try to avoid steeper trails if possible alternatives are available and take a different route to see more views. Usually, the hikes' starting and ending points are different in these tours.
We went on a guided tour as we were just two people and didn't rent a car. We highly recommend this tour for the 25 Fontes and Risco waterfall levada walk.
Things to Consider Before Booking a Guided Walking Tour for Levada Walks in Madeira
It might sound like taking a guided hiking tour is the perfect option. Honestly, it is not always the case, and I want to help you choose and know about everything there is to know.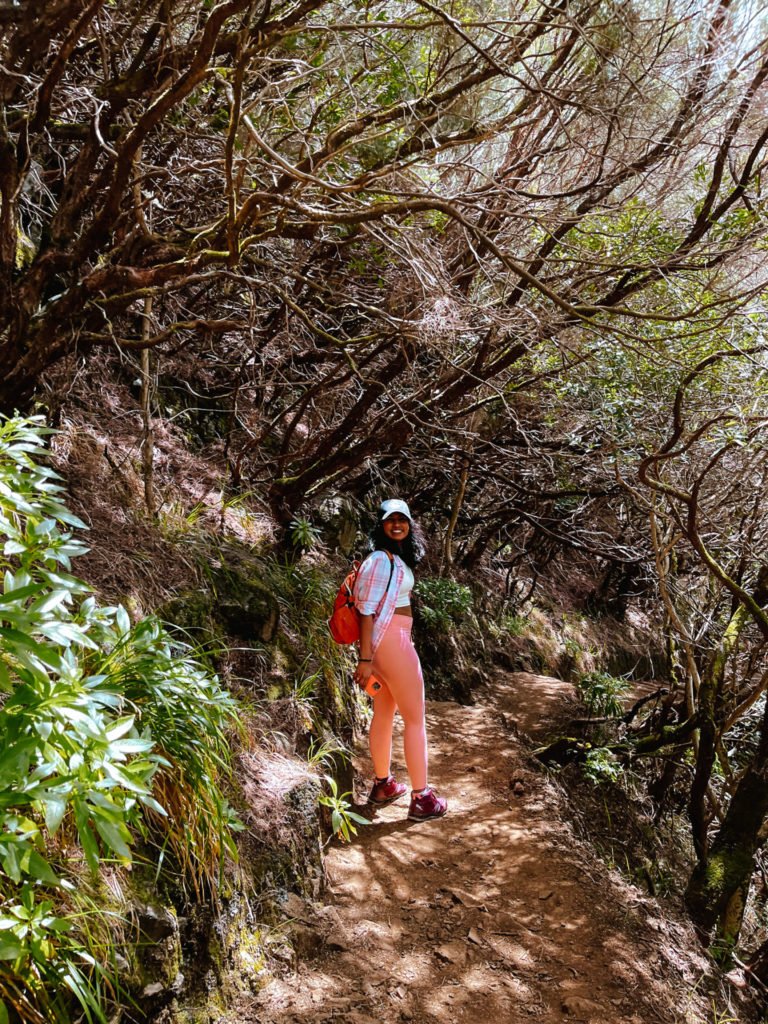 These are some main things to consider before choosing whether or not to go on a guided hiking tour:
If you are visiting during peak season, it is better to go on your own either early in the morning or start a bit later in the afternoon. Starting your trip at these times will help you escape the bustling crowds that gather around 10 am, when almost all tours begin from the parking lot. Attempting to traverse the narrow pathways amidst the hoards of tourists can be a bit frustrating. Going on early in the morning doesn't guarantee that there will be no crowd. Still, you won't be trying to catch up with your group when so many groups are passing by very closely. Only people doing the walks on their own can be seen during early mornings or late afternoons, making it far better. We went during shoulder season, so there weren't many people (around 2 to 3 groups of 15 people mostly spread out). Hence we went for the group tours.
If you want to shoot content or capture many pictures, you should probably skip group tours. Because you go in as a group, people are always around you, making capturing pictures and videos difficult. We purposefully slowed down to make sure we were the last ones in the group so that we could manage to capture some pictures. Trust me, it was a bit funny when a few others were also trying to slow down with us. We constantly waited for the others to pass us so we could capture some pictures without people in them.
Also, if you prefer to take multiple longer breaks during the walks, then probably guided tours are not for you. They give short breaks multiple times during the walks, but only briefly. If you walk a little slowly, you will probably get shorter breaks since they are already ready to move when you catch up with the group.
There is not much public transit connectivity to reach the hike's starting point, so if you don't have a car and hiring a taxi is expensive, the best option is to take these tours.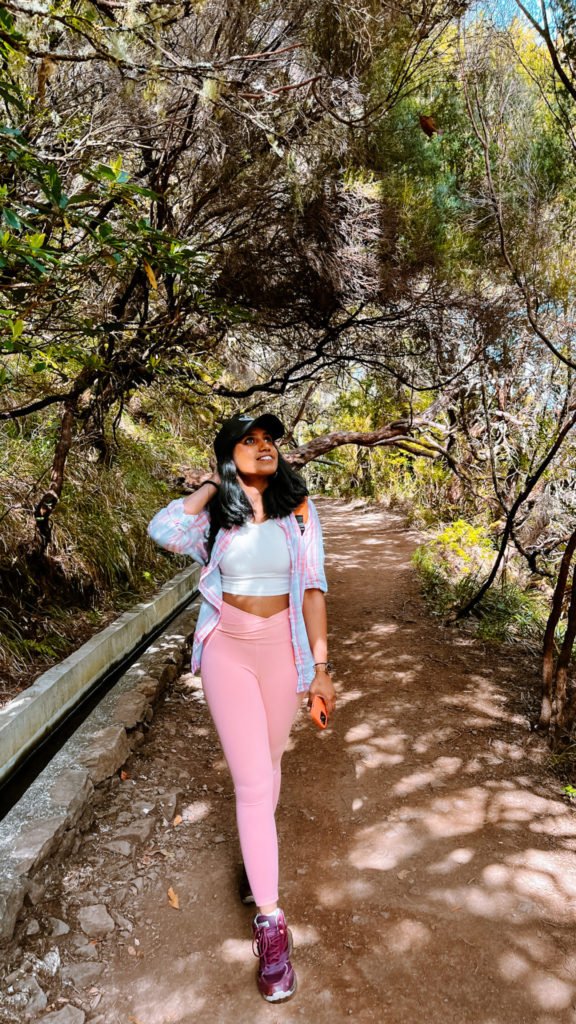 Where to Start the 25 Fontes and Risco Waterfall Levada Walk?
The starting point of this hike would be a 20-minute downhill walk from the parking lot in Rabaçal along ER110. The parking lot could get full, especially, so start early. If you can take a taxi, consider taking one, as you could take a different route that goes through a tunnel during your return. If you park your car here, your return walk will be continuously uphill most of the way. But it is absolutely doable as the scenery around keeps you going.
I will give directions about both routes so you can choose the one that suits you better.
Practical Information for the 25 Fontes and Risco Waterfall Levada Walk
Hike Name
The trails of Madeira are marked, and each has a route name. The Levada das 24 Fontes hike trail is PR6, and the Risco waterfall route is PR6.1.
Distance
The total walk, including the one from the parking lot and back, would be around 11 km. (covering both PR 6 and 6.1)
Time to Complete
The entire walk can be done in about 3 to 4 hours, depending on how many breaks you take along the way. I would suggest not to plan much on the same day and do it at your own pace. That is the way to enjoy the nature around you. Also, if you are out there on or after a rainy day, you could take more time as you need to watch your step. The paths can become very slippery.
Hike Difficulty
The hike is mostly beginner-level, there is no challenging part except the slight inclination, but it is manageable. The trails are well-marked, so there is no risk of getting lost. You will never be alone as it is one of the popular hikes, so you could always ask around if in case you are feeling a little lost.
The 5 Parts of the 25 Fontes and Risco Waterfall Levada Walk
To give more details about the hike, I have divided it into various parts so that it is easy to follow along.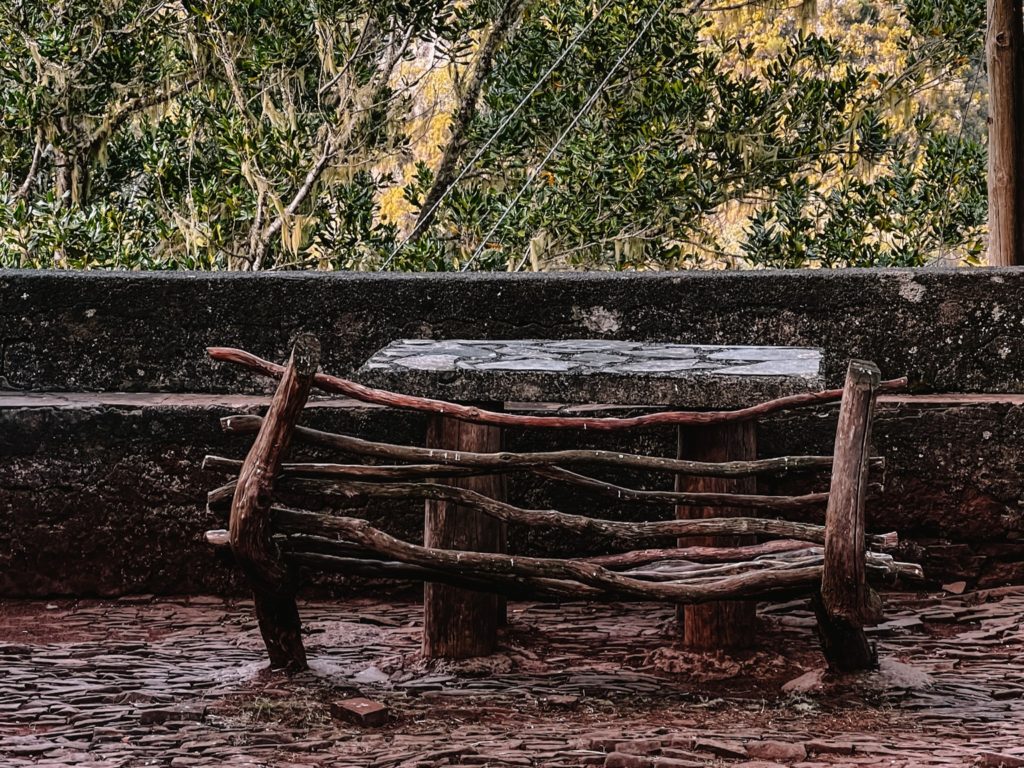 Part 1: The Walk From the Parking Lot to the Start of the Hike
The route is mostly downhill and around 2 km which will take about 20 minutes. The entire route is on paved roads surrounded by trees, which is very straightforward. At the end of this path, before getting on the actual hike, consider visiting the one and only cafe around this region, Rabaçal Nature Spot Cafe. It is open from 10 am to 6 pm on all days, and you can use the washroom here if you need to. Please note that once you enter the trail, you cannot find any shops or washrooms until you return all the way back here.
The cafe is lovely, and the food is quite tasty. You could also enjoy your food on the cafe's terrace, where you will be greeted by a lot of Madeiran Chaffinchs (small songbirds endemic to the island of Madeira). They will be asking or trying to steal your food (it is still cute, though), but do not feed the birds unless you happen to have some bird feed. (I highly suggest you take some with you if possible.)
Part 2: The Way to Risco Waterfall
From the hike's starting point, you just need to follow the marked sign boards pointing you toward PR6. You will come to a point where the route splits into one towards the 25 Fontes Waterfall and another towards Risco. You could do it in any order, as it won't make a difference. I started with Risco and hence mentioned the same as first. The Risco waterfall is just around 800 meters from this intersection and looks pretty stunning. The route is a no-brainer, and do not worry about getting lost. And the forest is entirely safe. I remember someone from the island saying,
The largest animal you could find here is probably a cow.
You should be able to spot the waterfall easily from a distance. Do not forget to capture some amazing pictures here. You will reach the viewpoint from where you can see the waterfalls, and you will know that's the spot, as you cannot proceed further down that path. After enjoying the waterfall, you must return on the same path until you are back at the intersection, from where you can walk towards the 25 Fontes waterfall.
Psst! If you are in Madeira around August, look out for blueberries. They are known to be a little more sour than the common ones. The blueberry bushes here are unlike anywhere else in the world. They are the size of a big tree, and you will hardly believe they are blueberry plants. Look out for the Laurel trees that are very old; after all, you are inside the Laurisilva Forest (Laurel Forest).
Part 3: The 25 Fontes Waterfall
Now you have to follow the signs pointing you to PR6. The path now starts by going down a lot of stairs. You will reach the lowest point, which looks like a little bridge, and the view of the lush forest with water below you looks splendid. After you cross the bridge, you must climb around 60 stairs; if I remember correctly, these are the only stairs you need to climb up on this half of the route. (All the climbing up is on the return half.)
Continue on the zigzag path along the levadas until you reach the 25 Fontes Waterfall. Okay! I want to tell you 25 Fontes is not 25 waterfalls; it is 25 springs that form a single waterfall. I forgot to actually count the springs. Maybe you can do it during your visit and let me know if there are, in fact, 25 springs.
You could take a break relaxing on one of the rocks near the waterfall. Since it is accessible, you could go take a dip in the cold waters from the falls. I tried putting my hands in the water, and it was a bit colder for me, but some people swam. If you have a picnic packed, this is the best place to sit and enjoy your picnic. (I highly recommend bringing along some food; you tend to get hungry after walking a lot!)
Part 4: The Return
If you are heading back to the Rabaçal parking lot, it is pretty much tracing back your steps all the way back, except now you won't be going on the detour to Risco Waterfall. The rest is exactly the same. If you want to try out a shorter route (that involves more climbing up, but definitely a shortcut) while walking back from the 25 Fontes, you will see a narrow, steep stairway going up on your left. If you spot that, you can take that and follow the stairs.
You will be initially climbing around a lot of stairs (maybe around 150-170 steps). Then it will go down directly to the bridge which I mentioned before. It might not sound like it was a shortcut, and you might feel like it was more climbing up, but in reality, you would have walked a lot less if you took the stairs.
Were you unable to find the stairs? Then just keep walking the same way you came back. This is the most challenging part of the hike going back all up towards the parking lot, including the 2 km uphill walk from the cafe to the parking lot.
Part 5: The Optional Route toward Calhetta Through a Tunnel
If you do not need to go back to the Rabaçal parking lot. While you are returning, at one point, you will have to go straight toward the board, pointing towards Calhetta. This route is pretty much flat, and you just keep walking until you reach the starting point of a tunnel. Now enter the tunnel, and the hike ends at the end of the tunnel.
You will be walking around 800m inside the tunnel. You would probably need to save some battery on your phone for using the flash as it is pitch dark inside. Also, the path might have some water puddles and water dripping from the ceiling of the caves, but it is quite an experience. Once you come out of the other end, you can see sea views from there. You could try getting a taxi back from here or hitchhike with fellow travelers.
Tip! If you want to see the tunnel, you could just walk up the extra distance to the tunnel's starting point and then return to the Rabaçal route. However, it is still a lot of extra walking. (That's totally crazy, but you could try it if interested.)
Yay! That's it. You have now completed one of the popular hikes in Madeira. If you are someone like me, your phone or camera storage is already full from clicking loads of pictures. Before going on your trip, ensure you know exactly what you must bring along for the hike.
What to Pack for the 25 Fontes and Risco Waterfall Levada Walk?
Sunscreen – A must-have when you are in Madeira all year round. You never know when the sun is out, and you don't have a shade to get under. It is recommended to carry sunscreen with you. Make sure you bring the reef safe one.
Hat and or shades – Mostly, you will be under the forest cover, but on some very clear days, you get harsh sunlight.
Waterproof jacket – The weather inside the forest is nothing like that in Funchal. It changes too quickly, and the chances of rain are slightly higher. Also, because of the lush forest cover, it is colder, so it is better to have a nice packable jacket to save you.
Hiking shoes – Good waterproof hiking shoes, preferably with ankle support, would greatly help you. Something with good traction is a must. You could also bring hiking poles, but it is possible to do without them.
Water – Do not forget to bring water. Also, do not drink the water from the levadas, however clean it might look. You could refill your bottle directly from the falls. I have personally not done that. But water from levadas is a big No No.
Pack a picnic – After the cafe at the beginning of the hike, you cannot find anything else to eat, and you could get really hungry from all the walking and climbing. So make sure you carry something, at least some sandwiches or energy bars to eat during your break.
General tip! Do not carry a lot of extra things, as it will only slow you down. Make sure to pack only the essentials.
If you enjoyed this levada walk, you should also check out other beautiful levada walks on the island. There are so many more to explore. Also, if you love nature, you should check out our post about dolphin and whale watching in Madeira.