This post may contain affiliate links. When you click an affiliate link, we may earn a small commission on qualifying purchases, at no extra cost to you. Also, please check for opening times, restrictions, weather, etc., on the days of your trip. We do our best to keep the post updated, but these things can change quickly.
Bruges (Brugge), Belgium, is the prettiest, coziest little medieval town I have ever visited. It could be too soon to say this as I have yet to see many places. However, it should be a must on everyone's travel list.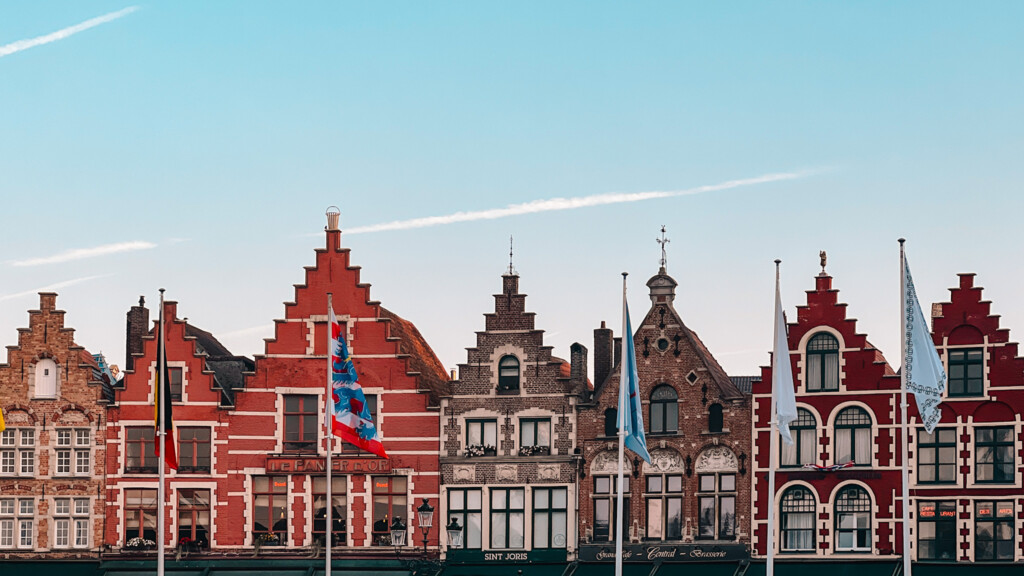 I have compiled a little list of amazing things to do in Bruges with some of my own experiences. Yes, you have to bear with me going on and on about my visit to Bruges. But hey, it might help you not make the mistakes that I made, and there are also some tips.
Why to Visit Bruges?
Bruges has something to offer for every traveler. It has these adorable and colorful medieval houses in small alleys. There are canals spanning through the city with magical white swans, which makes it way too romantic to take a walk or a canal ride. For museum lovers, there are more than 30 museums to visit. And yay, the best thing is the food in Bruges (Belgium, in general) is heavenly. Be ready to gorge on a tremendous amount of calories. If you ask me, a happy tummy makes me enjoy a place 100 times more. I am a very picky eater, and to find excellent food that suits my tastebuds is always heartwarming.
I hope this list has got you hooked already. Believe me, there is more. Before getting started, how many of you have already seen the movie "In Bruges"? If you are not convinced that Bruges is worth a visit, then watch the film. If you already love Bruges, still watch the movie anyways. It is funny in a weird way if low-pitch black comedy is your thing. Nevertheless, it should be enough to make you want to go to Bruges.
If you are wondering if this was my motivation for visiting Bruges. No, it's not. My husband showed me this movie a week before our actual journey, which excited me to see this little town.
SSSHHH! Okay! Enough about the movie now.
Let's get down to business. The list begins in no particular order…
1. Climb the Belfry of Bruges
Go up the 13th-century Belfry tower. This was first on my to-do list. Obviously, yeah, because I watched the movie.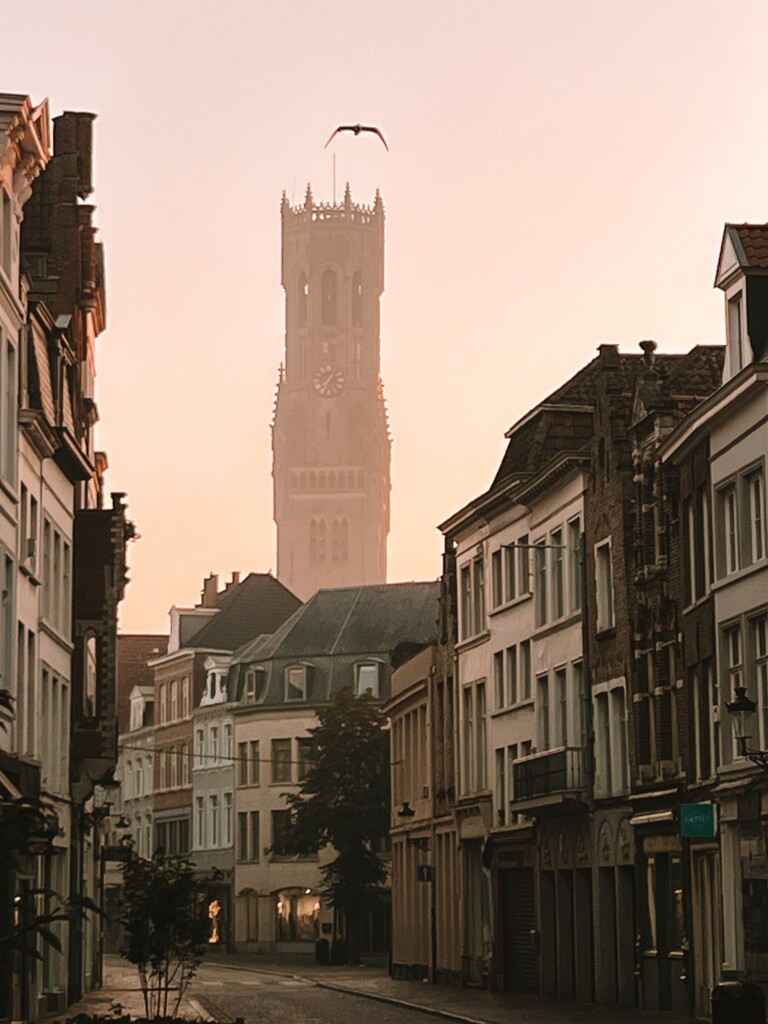 In the movie "Entry is €5." But it's been quite some time now. The entry is €14 now in 2022. Also, book a time slot in advance through their website, as there are only a limited number of people allowed to climb to avoid overcrowding.
Climbing up 366 steps in the narrow winding staircase is no easy joke. But the stunning view up there is worth the effort. Also, there are multiple stops on the way (yes, I sat on every bench that was there in-between) but you can also check out the treasury, the music drum, which operates the bells so that the break doesn't look very obvious. Ahem! Take advantage of staring at the Belfry from the ground to see if it is leaning. It looks like it is not leaning at first glance, but as I kept staring at it, it feels like it may be leaning.
Who Loves Belgian Waffles??
Well, who doesn't? The waffles throughout Belgium are great, but I loved the waffles from the waffle van near Belfry. They were an absolutely delish.
2. Go on a Canal Ride in Rozenhoedkaai
Rozenhoedkaai is close to the Tanners square and also Grote Markt where Belfry is located. This is the place where Dijver and Groenerei canals meet. To be honest, this place looks right out of a postcard which is perfect for your Instagram. (CROWD Alert!).
We walked in the mid-afternoon past this spot only to find it bustling with people even on a rainy day. Can you believe it? So, we just took a walk around the less crowded alleys came back close to sunset, and decided to hop on a boat ride.
It started pouring as soon as we got on to the boat, lucky for us, the boat had umbrellas. The over-packer in me still forgot to pack an umbrella for the fall trip. (Don't forget yours!) The boat started before becoming full as people didn't want to come in the rain, which gave us a better experience as the rain began slowing down to a drizzle later.
The evening sun cast a luminescent glow from behind the heavy clouds, and we gazed upon the beautiful town surrounded by swans. Magical, isn't it?
I suggest going around the sunset or early in the morning to enjoy a peaceful ride; a little rain shouldn't stop you from having a good time. (The rain part might just be my thing, but it's fun!)
Interested in Comics?
On the way from Belfry to Rozenhoedkaai, on the Wollestraat, there is a Tintin shop (2be shop) where you can find infinite Tintin collectibles. It is worth looking at if it's too expensive to buy. (We got a little keychain.)
Oh, wait! Are you not a fan of Tintin or any comics for that matter, I assume you should enjoy having a beer. There is a BeerWall at the entrance of the 2Be shop, which is located in a 15th-century mayor's house. It has a wide variety of Belgian beer that you can try. Also, don't forget to checkout the view of the canals from their terrace!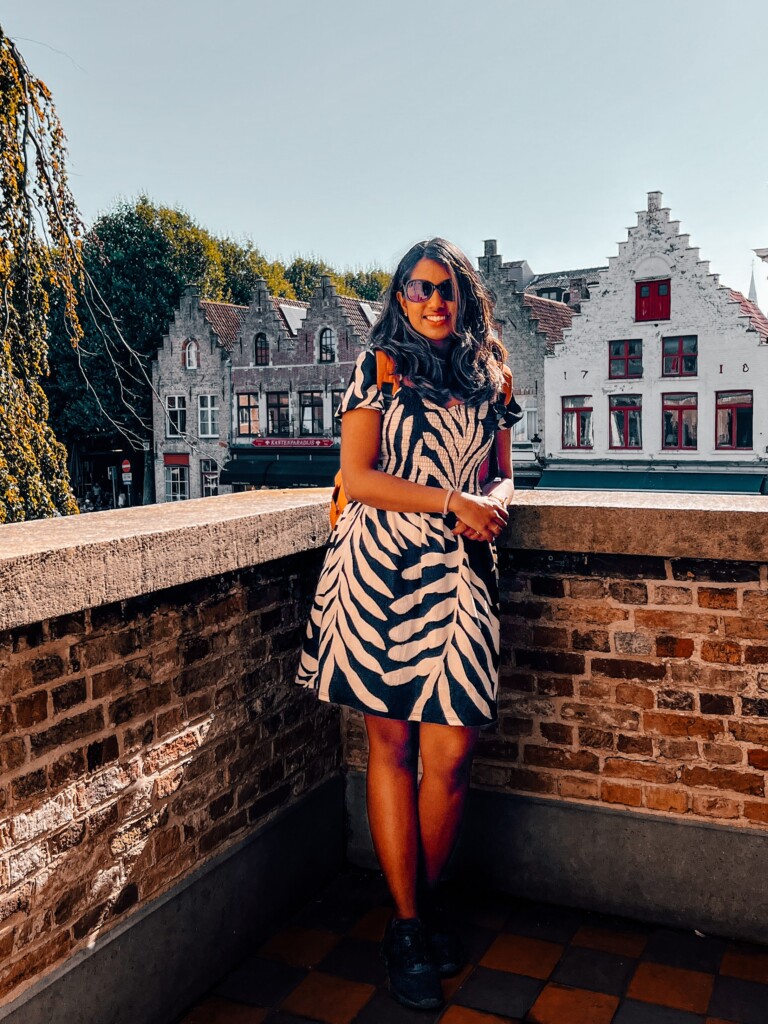 3. Marvel at the Sint-Salvatorskathedraal (Saint Salvator's Cathedral)
The cathedral is just a short walk from the Rozenhoedkaai, with a small pathway covered by trees on both sides. During fall, the treetops look like they have been painted in shades of orange, yellow and red, which looks stunning (Photo Spot?). St Salvator's Cathedral is Bruges' oldest parish church, which looks spectacular with its medieval tombs, Brussels tapestries, and a rich collection of Flemish paintings from the 14th to 18th century.
4. Explore the Museums
For all my museum buffs, museums are a great option to visit if the rain is really bucketing down stopping you from going outdoors. Bruges has a lot of museums that could interest you. I have listed the top favorites. Pick your choice or why not try them all?
Groeningemuseum, has a vivid art collection of six centuries. Volkskundemuseum, can make you go back in time and experience daily life in Bruges from the 19th century to early 20th century.
Gruuthuse museum, which was once the city palace of lords of Gruuthuse is now renovated to house the collection of various historic pieces from unique Gothic stained-glass windows and paintings to porcelain, wood sculptures, and lace work.
Saint John's Hospital is one of Europe's oldest preserved hospital buildings. If you had already taken the canal ride, you would have been pointed to this hospital during the ride. Why not go take a closer look to see the impressive collection of medical instruments which can give an insight into the medical system of that period. Historium Bruges portrays the golden age of Bruges. Also, do check out the view from the beer place above the Historium.
For people who want to experience something more than just a museum, try the Bruges Beer Experience. It is one of a kind.
Tip! If you are visiting more than one museum, get the Musea Brugge Card which can get you entry to museums at a reduced price.
Ok, now that's a lot of roaming around climbing the Belfry and drowning ourselves in history. Why not take a break and indulge in some hot chocolate, waffles, or famous Belgian chocolates. (Trust me, there are way too many to try them all!)
Many places serve all of the sugar-loaded delicacies. But the Chocolate Line was suggested as best by a local in Bruges. It is also one of the chocolate shops mentioned in the Michelin guide.
Wear clothes with room for all the chocolate, fries, waffles, and everything else because it is so damn good. You should not miss it just because your skinny jeans would not let you. (You know what I mean!)
5. Admire the Burg Square
If you have already taken the canal ride or climbed the Belfry, you would have noticed a small square beside the main market. Yes, that's Burg square, and it is surrounded by all the significant buildings of the town.
You can just admire the beauty of the place by just standing in the middle or just try visiting some of the buildings from the inside if you have some time.
The one in the center is the City Hall of Bruges, which is spectacular. (Time to use your Musea card).
Basilica of the Holy Blood
The Basilica of the Holy Blood is another very notable, slightly tiny building. (MUST VISIT)
This looks like a cute little grey building hidden in one of the corners of Burg Square, but it's worth your time to look around it from the inside. The tiny-looking place is not so tiny from the inside. It has two parts, the upper and the lower chapel.
The lower chapel is dedicated to Saint Basil and is free to visit. This dates back to the 12th century and is an absolute marvel to the eyes. I could feel my pupils widening, gazing at the inside of this Romanesque architecture.
The reconstructed staircase with the bluestone façade takes you to the upper chapel. The Relic of Holy Blood is kept in the Chapel of Holy Blood.
This part of the chapel also houses a museum that displays the treasure chamber and numerous valuable artworks of the time.
6. Walk Beside the Old Windmills
Suppose you are ready to walk further away from the busiest parts of the town. In that case, you will be surprised to find yourselves among some old, functioning, majestic windmills.
The beautiful windmills are lined next to the walking path beside a canal, making it more scenic.
You can find the locals taking a jog or walking their dogs along this path. It was rather splendid in the fall when the path was covered with fallen leaves, the trees dressed in the fall colors.
Fancy visiting the inside of a windmill? Then you can check the Sint Janhuismollen, which allows you to go inside the windmill for a small price.
If I remember correctly, it should be around €6.
Is anyone into thrift stores? Well, I am!
On Sunday mornings, you could see the locals setting up their little stalls outside on the streets leading to the KRUISPOORT, right beside the windmills. You can find some pre-loved antiques for some pretty good prices. One of the locals selling was also kind enough to teach me some bargaining techniques. So don't shy away from negotiating for a couple of bucks.
There is also a small store with its entrance inside a cute tiny bookstore. I got myself a cute-looking photo frame for €2. (Me walking out of the store super proud!)
7. Roam Around Bruges
Walking tours are one of the best ways to visit any European City. There are many guided tours as well as maps to self-guided tours. We got a local old-school paper map of the city (I like collecting them because they are cute) from our stay. We started on one of the three suggested routes, wandered a little into every route, and created our own.
It was the best decision! Especially since we decided to do it on a quiet Sunday morning when the city (especially the tourists) was still asleep, and we had the place all to ourselves.
Unconventional Tip! With all the available information and guided resources, it is still nice to explore the city on the route our feet take us and write our little travel story.
And for people like me who tend to lose their direction admiring the beauty of this medieval town, there is always Google Maps to rescue us to get us back home.
8. Relax by the Lake of Love (Minnewater Park)
If you are looking for a place to relax by immersing yourselves in nature before heading back home or continuing your journey. Yes, this is the serene Minnewater Park, where you sit beside the lake and take in the beauty of the Bruges before bidding your goodbyes.
Whether with your loved ones, family, friends, or just a traveler wandering by yourself, this is a beautiful place.
The lake of love is the park's heart, with a lover's bridge. The place carries its own romantic story with a heavy ending. If you have some time, take a walk around the park exploring the towers and other old buildings in it, which can give you an insight into Bruges in the past.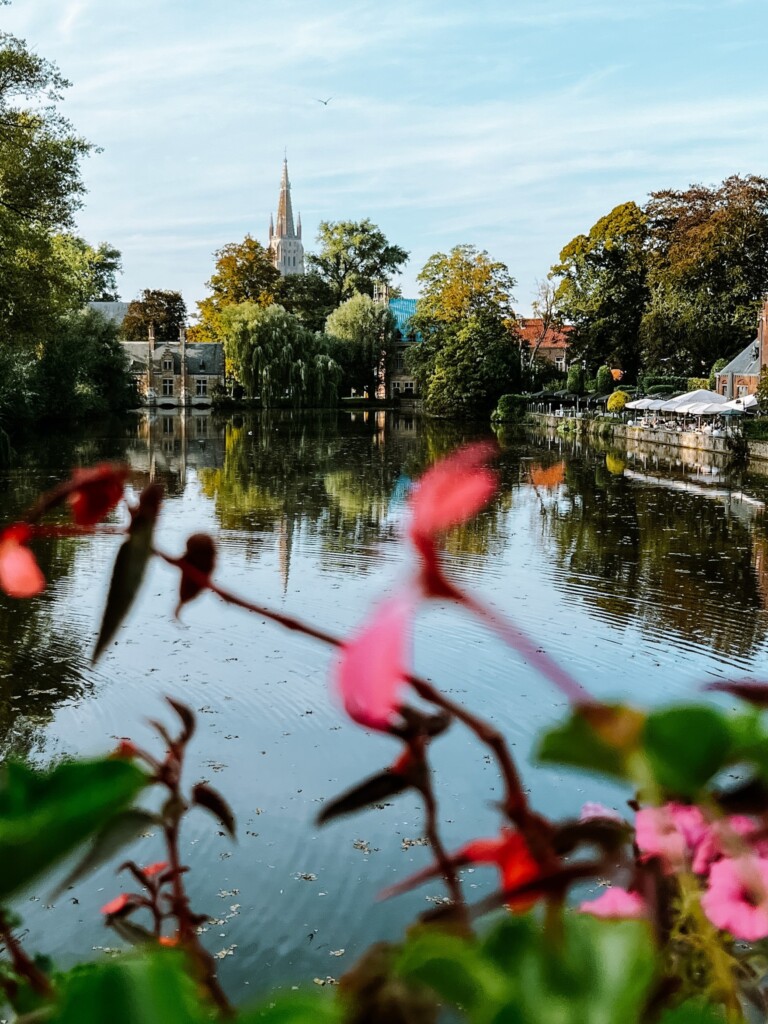 Tip! If you want a lot of magical white swans as a backdrop to your pictures, bring some bread to feed the swans. (A little bribe to get stunning photos)
It's now time to say goodbye to this beautiful place. But I will visit again during Christmas to enjoy the Christmas Markets. (And yes, I will update you about it.)
Are you ready to travel to the magical Bruges? I have compiled some useful information to know before you visit Bruges and written a self-guided walking tour of Bruges. Also, I visited Bruges in the fall, so I have written about the important things to pack for a fall season trip.