This post may contain affiliate links. When you click an affiliate link, we may earn a small commission on qualifying purchases, at no extra cost to you. Also, please check for opening times, restrictions, weather, etc., on the days of your trip. We do our best to keep the post updated, but these things can change quickly.
Sweden is filled with beautiful places to explore, and click loads of captivating pictures to flaunt on social media. But, most people are confined to just visiting Stockholm and Gothenburg while planning a city trip. There are many more beautiful cities beyond the capital. Malmö, the third largest city in Sweden, is gorgeous in its own way. With many modern developments in recent years and having played a significant part in Swedish history, Malmo exhibits a harmonious balance between the old and the new.
Psst! Check out my post that has everything you need to plan your perfect day trip to Malmö from Copenhagen. (Just letting you know!)
The Perfect Malmö Photo Spots
Malmö is a vibrant city with many exciting things to do for a perfect day trip. It is also filled with picturesque locations that are not to be missed.
How To Use The Map?
The orange suitcases are the photo spots from the post. If required, zoom in and click on a suitcase to view brief details about the location. Click 'View in Google Maps' to view the location's complete details in Google Maps.
1. Malmö Centraal (Malmö Central Station)
Malmö Central is not, in fact, one of the oldest buildings. It was established in the 19th century, which is not quite so old. Still, it has timeless architecture, and l was quite surprised to see such a beautiful railway station. I love traveling in trains and fancy admiring different stations. Also, Malmö Central was given the Brunel award in 2011 for its unique design.
All this makes it quite an excellent photo spot for architectural photography and to click some fun pictures for your Instagram. I accidentally matched with the brick walls in the station and couldn't resist taking some nice pictures.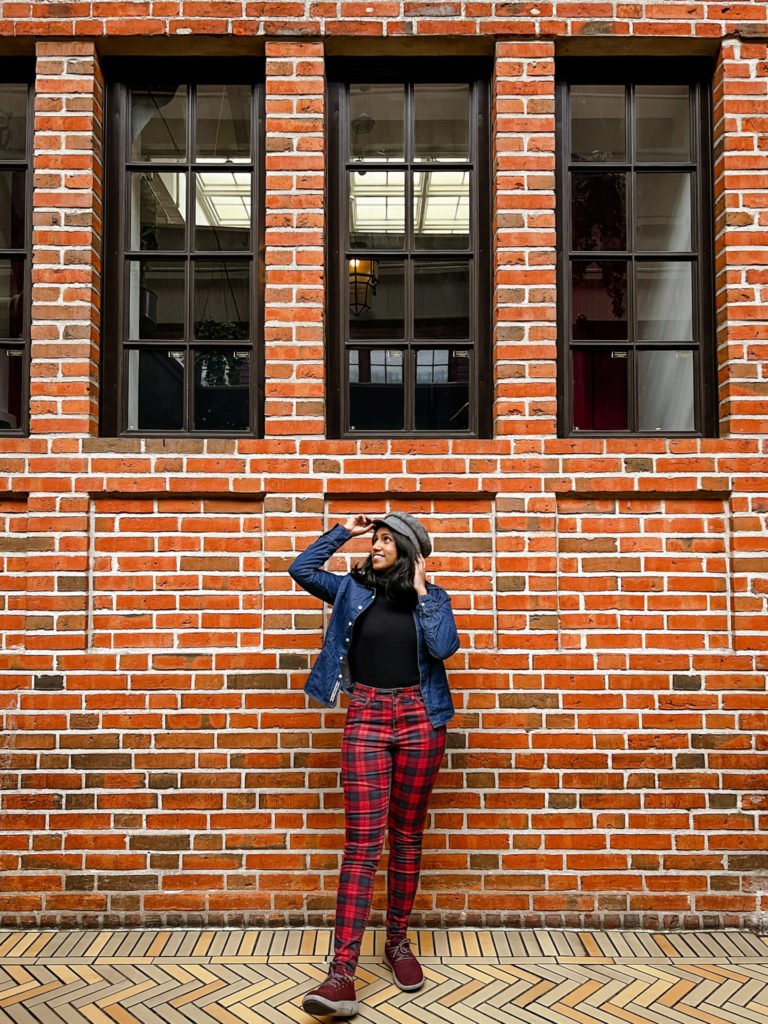 Not just the exterior, the station has quite an impressive food court which made me forget that I am just inside a railway station.
Also, once you are out of the station, walk around and explore the streets along the canal, which looks really beautiful.
Tip! If you like some beautiful European-style buildings, then this is for you. This charming, red brick building with golden details on its dome-shaped towers was right outside the train station. We were almost sure it was the town hall or an important building with some historical background. We clicked quite a few pictures and later realized it was just some bank. (It was quite disappointing, but I still liked the building; it looked quite lovely, at least from the outside!) Let me know if you found it click-worthy as well?
2. Gamla Väster
Gamla Väster, a neighborhood in the old town of Malmö (Gamla Staden), is filled with historic buildings waiting to be photographed. Get creative and explore the less crowded alleys in this area to get your perfect photo clicked. Also, do not miss the colorful houses in the Jakob Nilsgatan. It is a popular Malmö photo spot.
How to Reach Gamla Väster?
Gamla Väster is just a 10 minutes walk from Malmö Central.
3. Lilla Torg
Lilla Torg is located just around the vicinity, and it is a small square (called "The Little Square") which is quite different from most town squares. It is lined with old half-timbered houses colored in bright yellow and red, making it too pretty and a perfect spot for taking stunning pictures. It also has some bars, restaurants, and souvenir shops to make the ambiance more aesthetically pleasing. Oh, the cafes! Malmö is filled with cafes that you can almost spot at least one for every few blocks. Some of the cafes around this region are quite pretty.
4. Stortorget
Stortorget is the historic center of the city and the biggest square filled with historic buildings having majestic facades. This is where the Malmö festival or any other events happen. The equestrian statue of King Karl X Gustav at the center of the square, with the town hall built in the Dutch renaissance style on the eastern side, is perfect for a click.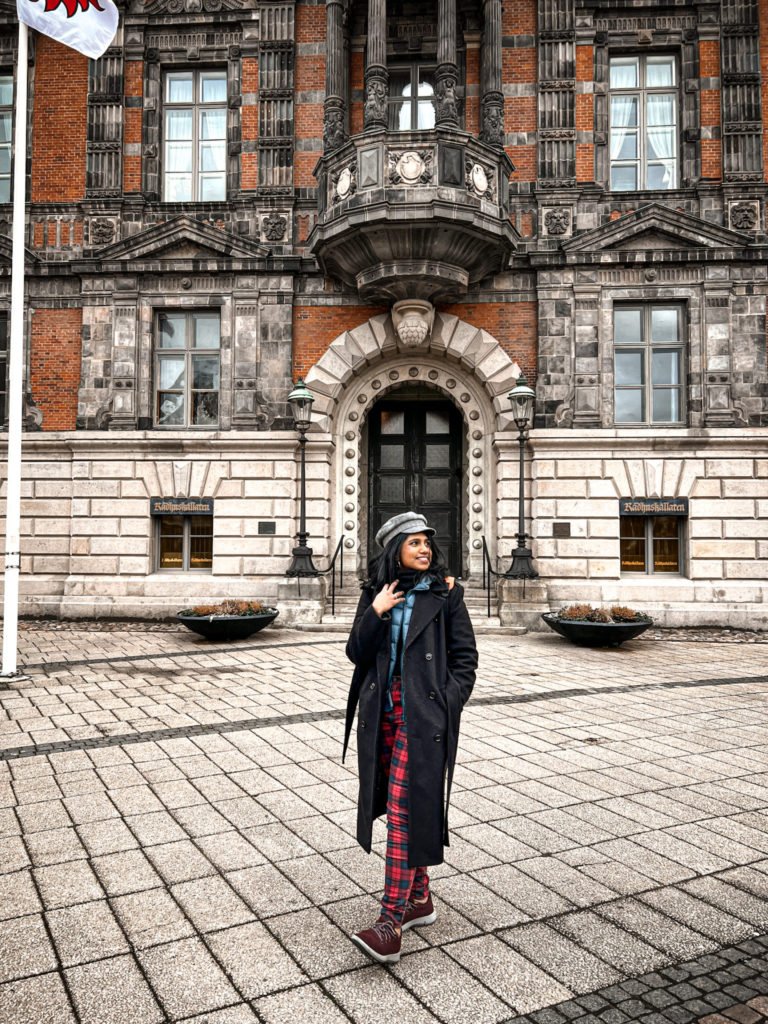 Know what else is perfect for a picture and is indeed a bit interesting place for a monument, which is The Lejonet, located at one of the exits of the square is one of the oldest pharmacies (yes, it is a pharmacy). Oh, don't judge me for asking you to walk into a pharmacy just to click a picture. You will know when you see it. Once you enter the place, you feel like you have been transported back to the 19th century. It mostly looks like a grand library rather than a pharmacy. And it has quite an impressive exterior with a statue of a golden Lion on the facade.
Tip! Also, walk through the Lejonet Passagen, a perfect Malmö photo spot.
Psst! If you have visited this place, let me know what you think.
5. Sankt Petri Kyrka
Sankt Petri Kyrka is a Baltic Brick Gothic-style church from the 14th century and is known to be the oldest building in the city of Malmö. The walls and the church's vaulted ceiling are filled with murals from medieval times.
To be honest, every other church built in the medieval period looks very impressive. Still, this one was quite different from the others because of its red brick architectural style. Try to capture the entire tower in your frame.
Tip! Do not just stop at the entrance. Also, take a walk around the church to see the impressive brick exterior from different angles to capture some great pictures.
How to Reach Sankt Petri Kyrka?
Sankt Petri Kyrka is just about 5 minutes walk from the Stortorget.
6. Slottsmöllan (Castle Mill )
Who doesn't love a cute little windmill? And they are not just in the Netherlands (we do have a lot here in the Netherlands). This is a smock mill located in the parks around Malmöhus Slott (Malmö Castle). It was operated until 1945, after which it is now managed as part of the museum administration. The mill and the adjoining gardens make it too beautiful, and you cannot resist taking more pictures.
Tip! If you have more time to spend, stroll through the beautiful Slottsträdgården.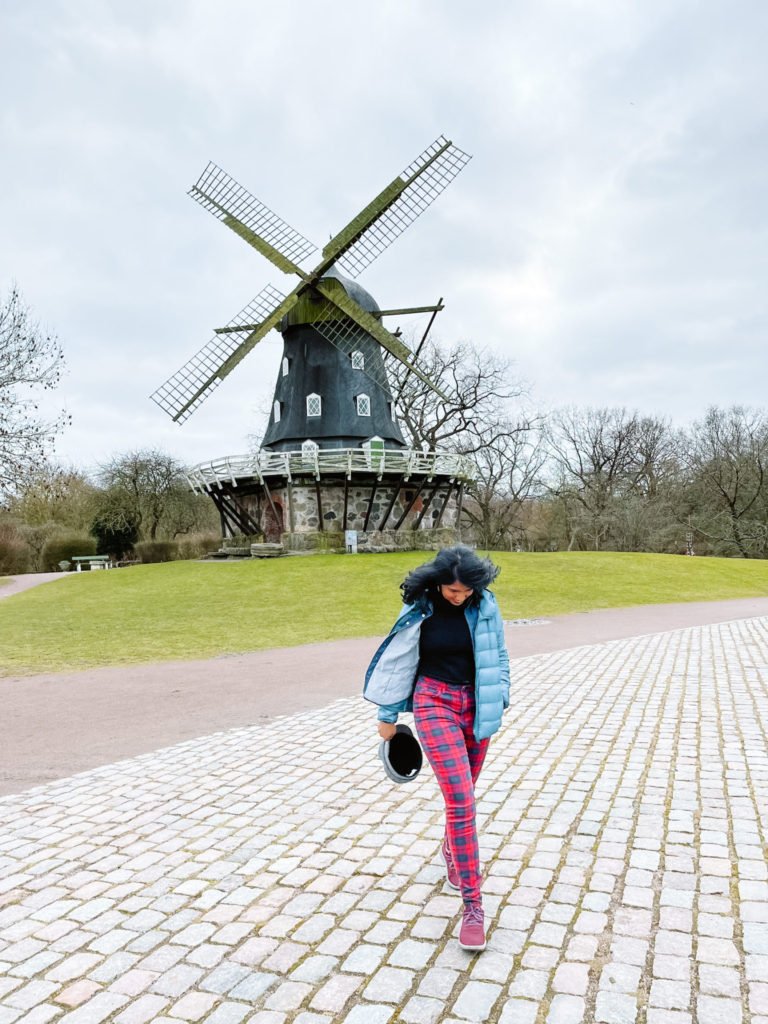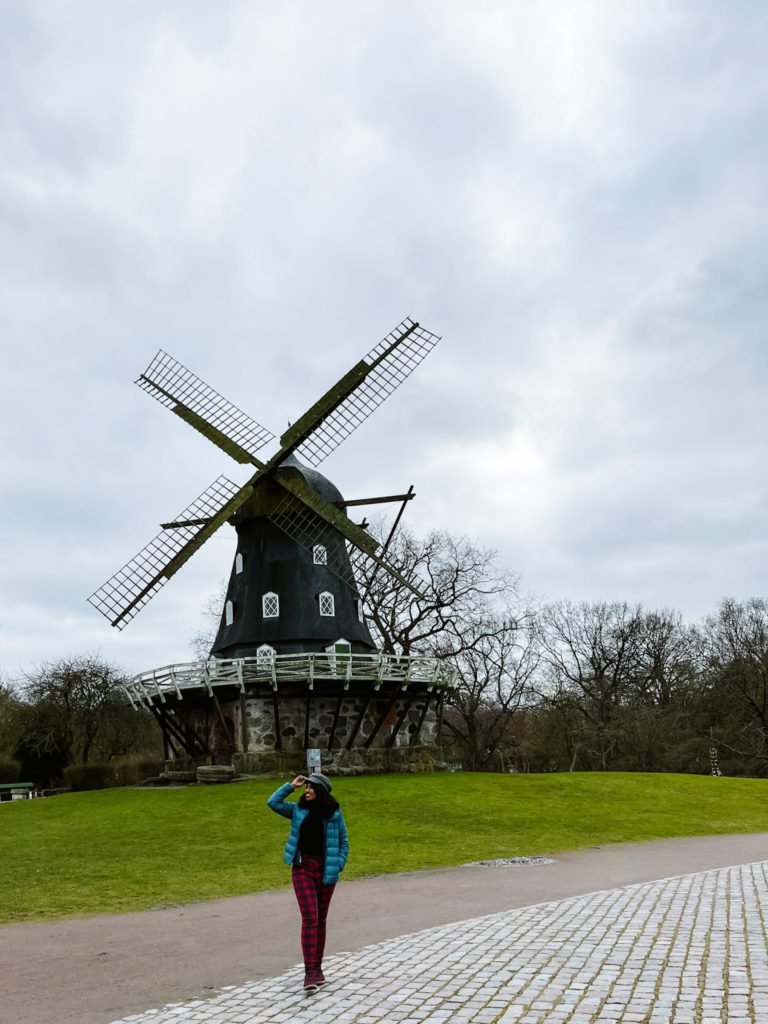 7. Fiskehoddorna
Just close to the Malmöhus Slott (Malmö Castle) is the local fish market of Malmö. It is the best place to get fresh fish and other seafood varieties if you want to buy them. But it is also one of the most photographed places in the city, not just because of the colorful fishing huts but also because it holds a lot of culture and history behind it.
These colorful fishing huts once covered a large area of the coastline until fishing lost its importance with the development of the shipbuilding industry. Some of the well-preserved huts were then moved to the current location provided by the Malmö museum. This is, to date, used by fishermen for selling fish and fishing-related activities.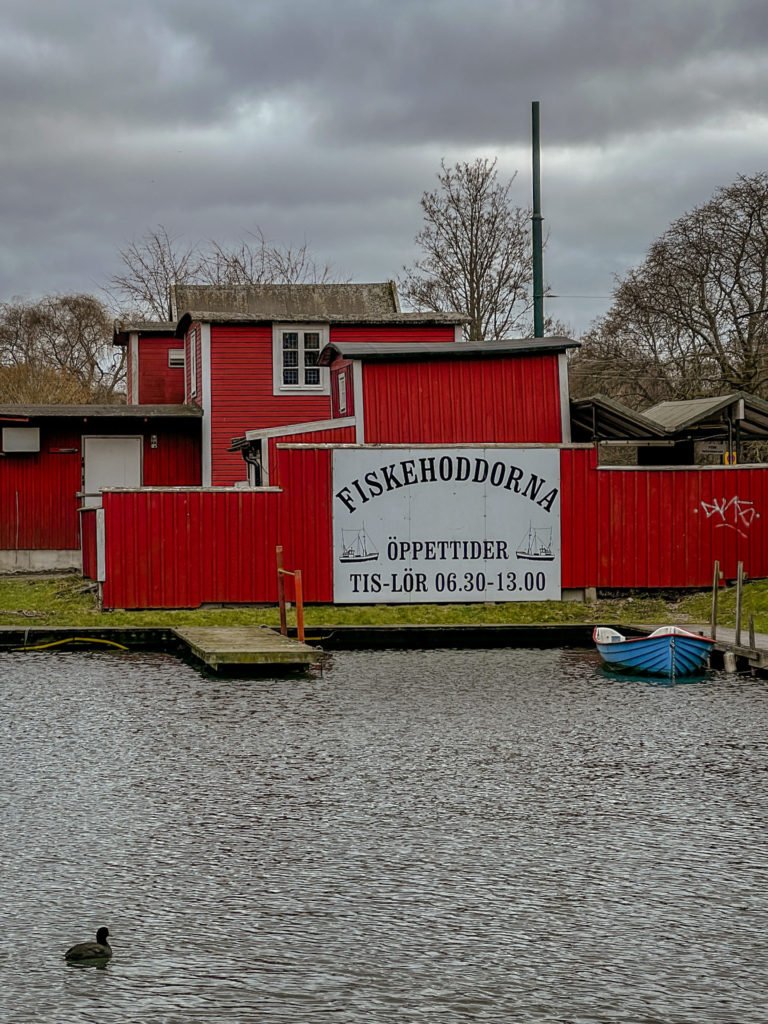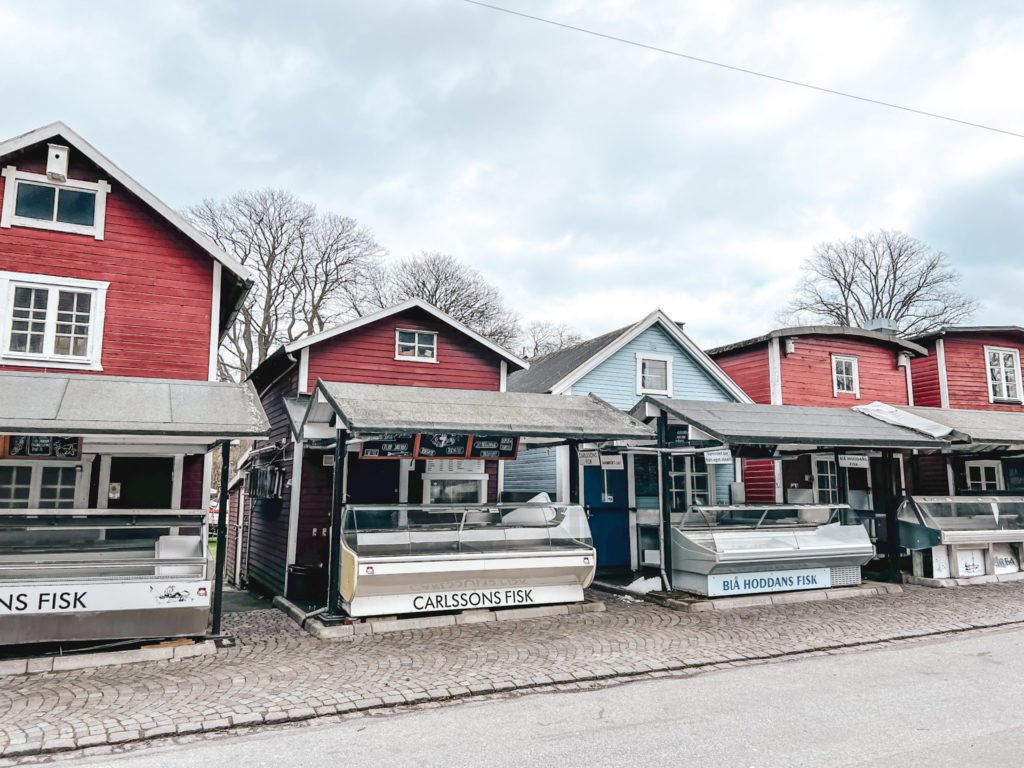 When is the Fish Market of Malmö Open?
If you are curious about visiting the live market, you should visit between 7:00 am and 1:00 pm Tuesday through Saturday.
8. Turning Torso
Turning Torso would be something new in the city. Unlike the other historic places, this belongs to the modern part of the city and is known for its unique building shape, which looks exactly like its name, "Turning Torso". It is one of the most photographed modern buildings, and it is better photographed from a distance during sunset. I recommend clicking it from the Malmö dock with all the boats in the foreground.
9. Lighthouses of Malmö
Malmö has not one but two adorable little lighthouses, which offer an excellent vantage point for great views as well as a perfect spot for clicking great pictures. When I say little, I mean it. One of them is actually a little small lighthouse and looks very pretty. They are so close to each other that if you are in the right place, you can get both of them in the same shot.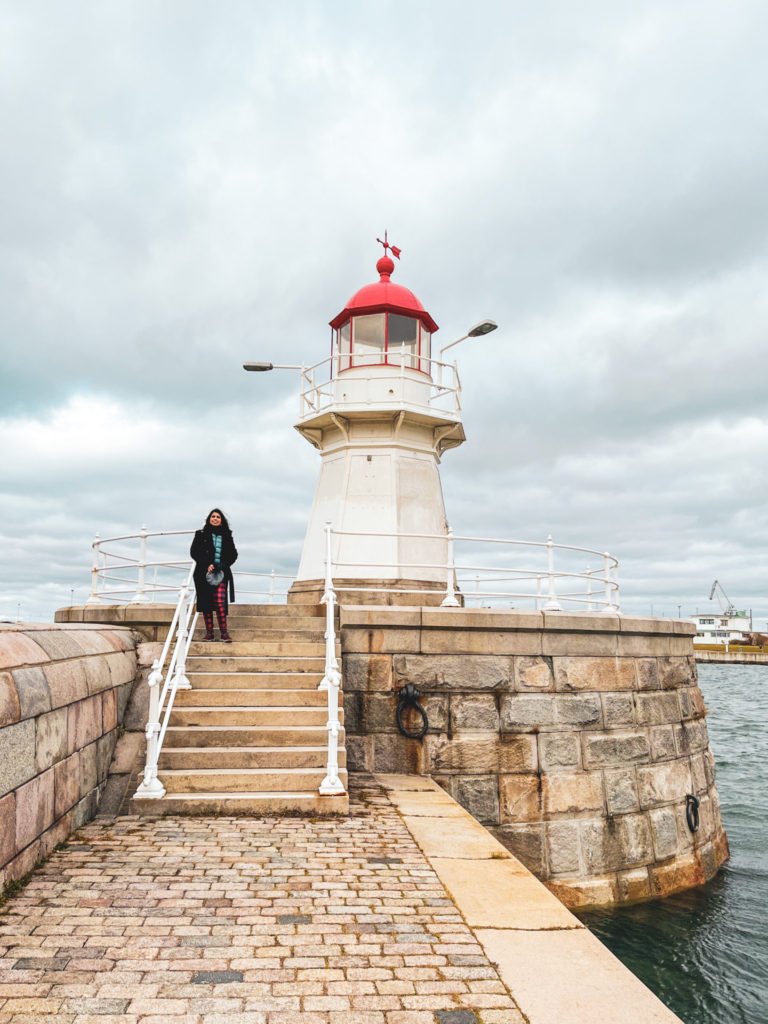 Tip! It could be wonderful to capture the sunset colors from here. Still, I recommend checking the wind conditions during your visit if you plan to be in the picture. I visited on a very windy day, and I could barely stop my hair from constantly covering my face. I could barely see a thing, and the sea breeze made it colder than it actually was.
10. Øresund Bridge
You would have already crossed the bridge if you were visiting Malmö from Copenhagen. It is Europe's longest combined rail and motorway, and you can see mesmerizing views as you cross the bridge. If you are in a hurry to get back and probably unable to catch the sunset at Västra Hamnen, try to time your train ride back around sunset time, as you can still enjoy stunning views from the train as it rides past the bridge.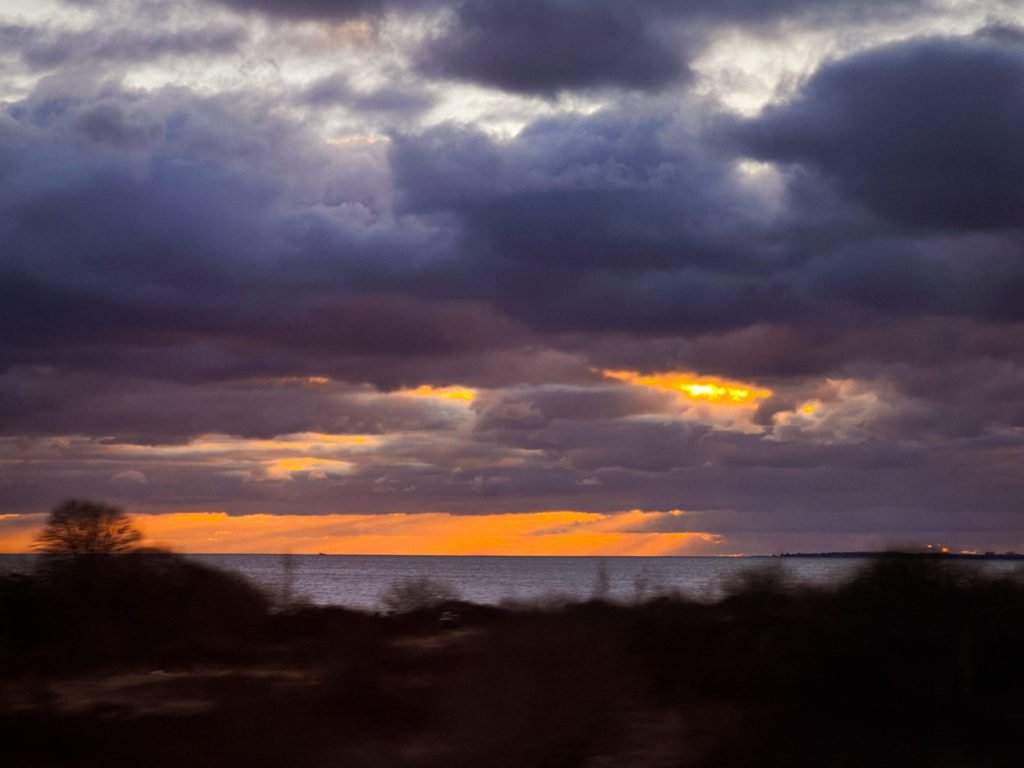 You can get good views of the bridge from Öresundsbron Viewpoint, and the best time is to go during the sunset on a clear day. I couldn't visit this viewpoint during sunset as I was running late for my train back to Copenhagen, but I could still capture some great views while the train was going past the bridge.
Bonus Malmö Photo Spots
These are some other beautiful Malmö photo spots to take amazing pictures for your Instagram. But, I couldn't visit them as I visited during winter when the days were short, so I didn't have enough time to explore the place.
The City Library
Malmö's library is one of the most incredible libraries, consisting of three interconnected buildings. "The Calendar of Light" is a modern building with glass walls where you can enjoy absolutely amazing garden views from the inside. It also makes it an interesting place to click on some architectural photography.
Sankt Johannes Kyrka
This church has quite a different style of architecture than Sankt Petri Kyrka. It is a little further away from the old town near the Triangeln station. It is built in the Jugend style and looks very elegant.
Ribersborgs Open-Air Bath
Ribersborgs open-air bath is a popular Swedish sauna and ice bathing facility popular among locals and tourists. On a clear day, this is a perfect location to enjoy sunset views by the sea. This is another beautiful place to capture sunset colors.
I hope you liked all these Malmö photo spots for clicking some fantastic photos for your Instagram. If you have already visited Malmö, let me know about other great spots I may have missed. I would be thrilled to see all your pictures during your trip to Malmö, so do tag us on Instagram.