This post may contain affiliate links. When you click an affiliate link, we may earn a small commission on qualifying purchases, at no extra cost to you. Also, please check for opening times, restrictions, weather, etc., on the days of your trip. We do our best to keep the post updated, but these things can change quickly.
Planning a trip to a new place could be overwhelming, especially if you have to also use public transport instead of a car. Public transport in Europe is not cheap, but it could be if you know how to plan your trips. Here I will tell you everything you need for your trip to Sintra.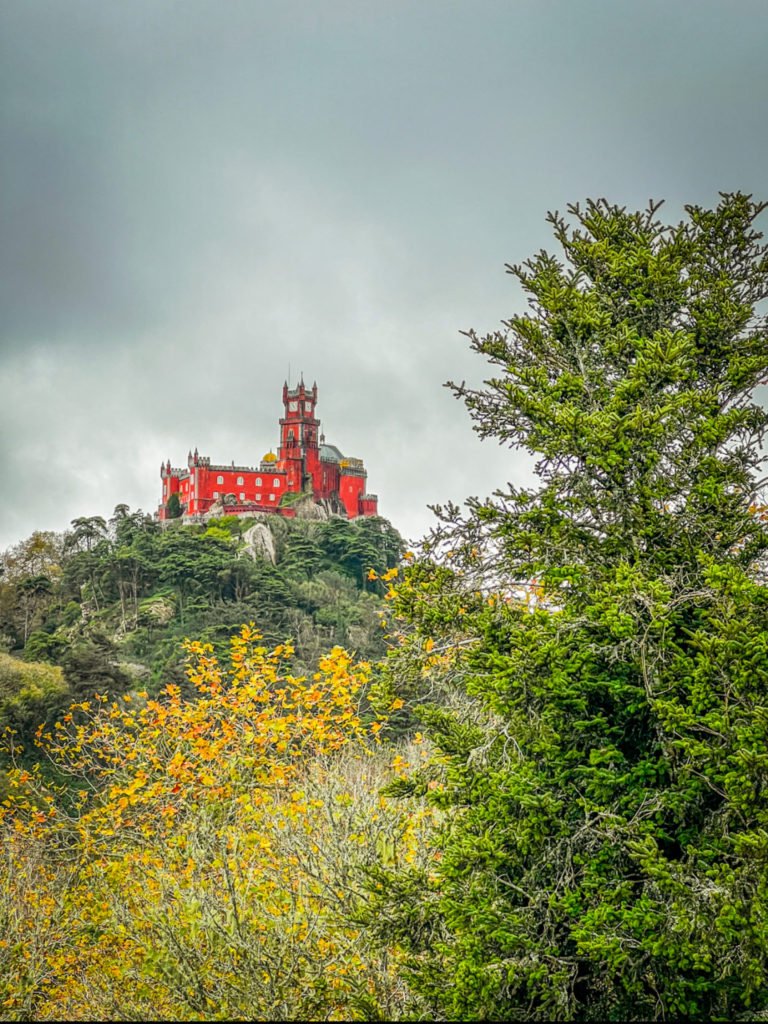 Note for folks who want to visit Sintra by car! You can drive to Sintra, but consider taking the bus and public transport for the rest of your journey. It is not advisable to drive in Sintra, and it is almost impossible to find a parking spot near any of the tourist attractions.
Big Note! You can no longer drive to the Pena Palace and Castle of the Moors. The only possible options are to take bus 434 or hike up to the palace.
Always check for the latest information in the official website.
How Many Days to Explore Sintra?
Sintra is most popular for day trips, although staying a night over and having 2 days in Sintra could help you explore the place much better.
But do you have more time and want to know if you will get bored after a while? Then absolutely no, you have plenty of things to do in Sintra, and easily you can be here for a week and still have something new to see and do.
Most popular choice for a trip to Sintra: 1 day
Ideal duration for a trip to Sintra: 2 to 3 days
Can I Get Around Sintra Without a Car and Still See All the Major Attractions?
Yes, one of the best things about Sintra is that although it's a small town in the hills, you can enjoy it entirely without renting a car. I always use public transport for most of my travels, so I usually research how to access various attractions to plan my day accordingly.
But from all the information I could gather, I was pretty sure there were buses to all the places. Still, I was unaware of the tourist-specific bus routes operating to make it comfortable for them.
Since it is a small place, the Sintra station is the starting place for all the routes, which will likely be the starting point for all travelers coming from Lisbon.
Trains From Lisbon
There are trains from Lisbon Oriente and Lisbon Rossio station to Sintra quite frequently. I would suggest buying the tickets instead of using the Lisbon card or 24hr day pass of Lisbon as these won't work for the rest of your travel in Sintra.
The one way train fare from Lisbon as of 2022 is €2.30 for an adult. You can use your Viva Viagem card and load tickets in it.
You can find the train timetable from Lisbon to Sintra here.
Bus Routes in Sintra
There are 5 major bus routes starting from Sintra:
434 (Popular Pena Palace route)
435 (Covers Monserrate Palace)
403 (Cascais)
417 (Cascais)
418 (Estoril)
What About Tickets?
The best way is to purchase the 24hr ticket, which costs €11.50 and is accepted on all the buses in Sintra operated by ScottURB. You can purchase this directly from the driver when you board your first bus. Make sure to keep your tickets and the bill securely for the rest of your travel through the day.
During my trip to Sintra, I used buses 434, 435, and 403 a lot. So, let me explain more about them.
Pena Palace Circuit 434
This is the most popular and frequent bus as it runs in a loop starting and ending at Sintra Railway station. The popular stops on this route are Moorish Castle, Pena Palace, and the National Palace of Sintra.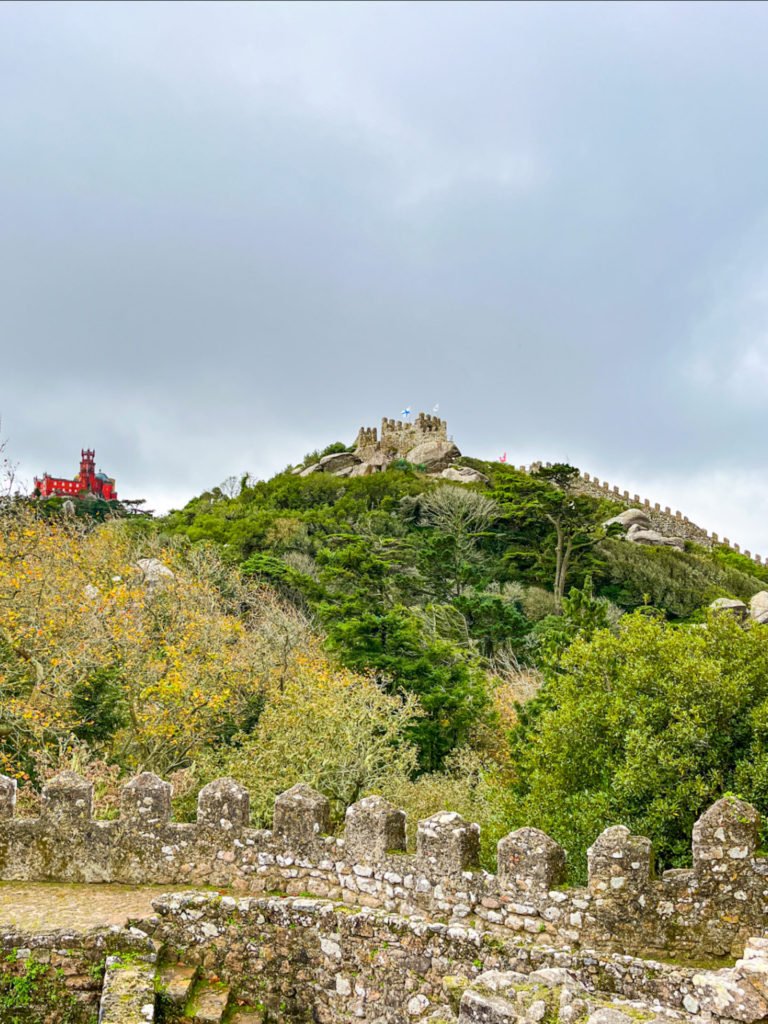 Tip! As the Moorish Castle comes first in this route, do not get tempted to get down here and cover Pena Palace later if you are starting in the morning. The crowd will increase in the Pena Palace if you do so. I advise you to complete Pena Palace and walk downhill to Moorish Castle.
You could hop on the same bus which goes to the station again through the National Palace of Sintra.
Timings: The first bus is at 9:30 am, and the last is at 7:00 pm. Between 10:00 am to 5:00 pm, there are 4 buses every hour.
Stop: The bus starts right in front of the station, the very first stop and the busiest one you could spot.
Good to know! There are multiple stops on the road in front of the railway station. Each bus starts from its own stop, marked by the bus numbers on the signboards of the stop. You could always check with the ScottURB information desk (on the opposite side of the road) or the drivers of any other bus. They are pretty helpful.
Monserrate Circuit 435
This is a rather not-so-crowded route, so you will likely have vans with the bus number stuck to their windshield instead of actual buses.
The popular stops on this route are Regaleira Palace, Seteais Palace, and Monserrate Palace, after which it goes directly back to the station from where it started.
Timings: This bus operates from 10:00 am to 6:30 pm. The starting point of the bus is a little towards the right when you come out of the station.
Roca Cape 403
This goes until Cascais and stops at Cabo da Roca, a popular destination in between or instead towards the end just before Cascais Terminal.
To return to Sintra, you take the bus returning from Cascais.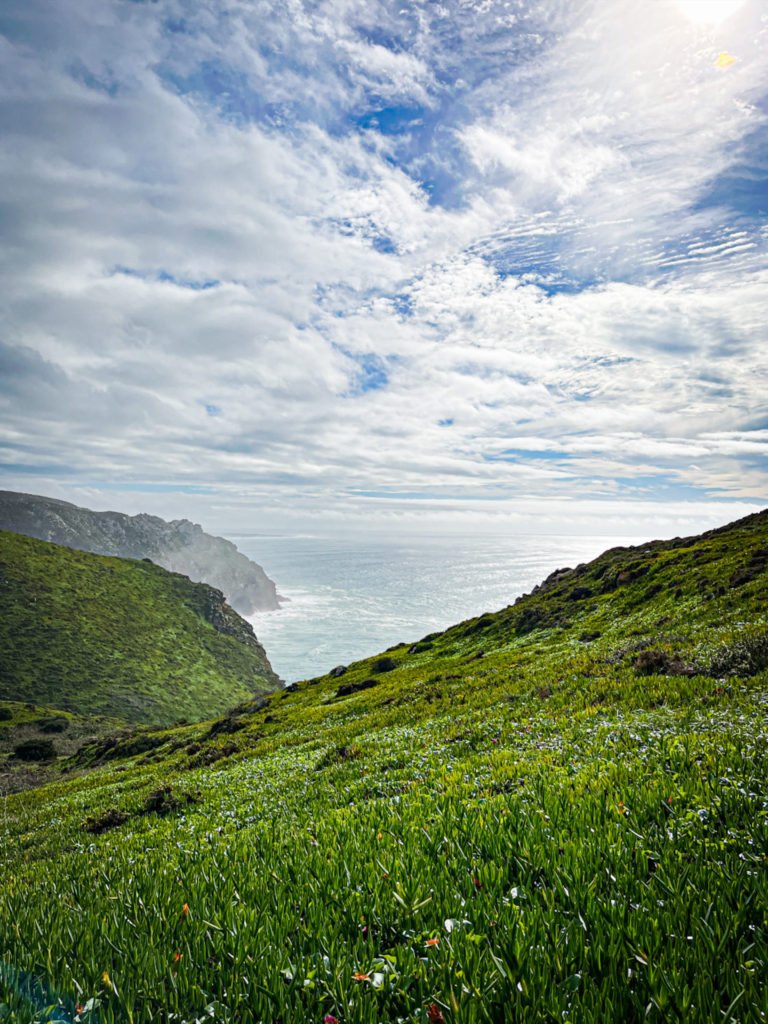 Timings: The first bus starts at 9:00 am and the last at 6:40 pm, and there are usually 2 buses starting from Sintra every hour.
Tip! Check with someone on the bus's starting point, which changes now and then.
Yes, this is all the information I have about public transport. You could take a taxi or a tuk-tuk (mostly inexpensive within the local town) to any palace. But taking a tuk-tuk or a taxi to Cabo da Roca might be very expensive.
Good to know! There are only 2 ticket vending machines in the railway station of Sintra. Please buy your return tickets from Lisbon preferably as there could be a long line when you want to return at the end of the day.
Carry Cash! Especially some coins for the tickets, as those vending machines in Sintra, don't accept card payments, whereas similar ones in Lisbon do. So carry cash. If not, there are quite a few ATMs in and around the stations. (Again, it could be crowded, so be prepared).
Totally Random Information! The croissants from Sintra were a little bigger and harder, and I was not fond of them. It also looked strangely yellow, probably made from a different flour. Yes, my croissant wasn't spoiled, and I didn't get them from a bad place either. I tried it in more than one place, and it was the same everywhere.
Where to Stay in Sintra?
Sintra has a lot of stay options, but you need to decide what suits you best when you plan a trip to Sintra. Let me answer a few questions regarding the stay options.
I Have Decided to Stay a Day Now, but Where?
During our trip to Sintra in early November, we spent a night in Casa do Valle, a lovely place for the price. It is around a 10 mins walk from the Sintra station, so it will be perfect if you do not have a car and want to stay close to the center.
The place was very cozy and comfortable and had a common dining area with a kitchen; if you wanted to cook or heat up the takeaway. The hosts had an adorable dog (Cleo, if I remember correctly) who just bonded with us immediately. She belonged to the welcome committee, as we were told (just kidding).
Oops, I did it again. I could keep talking about how sweet the dogs are and won't shut up. But let's move past it for now.
Tip! Not just this place, but for any stay options in Sintra, which does not have a restaurant option, this holds true. Have your dinner before returning to the stay, as you won't find any place to eat nearby. However, this stay is pretty close to the center. The walk includes slightly steep roads, and it could become difficult to walk back when it is dark.
We had gotten takeaway from a burger joint in the center. The hosts were surprised that we had already researched about the place to know this. (Me putting up a proud face!)
The hosts were also happy to keep our luggage before and after our checkout so we could happily roam around without worrying about it.
Tip! If there is no option to leave your luggage during your stay, do not worry! There is a souvenir shop opposite the Sintra station where you can keep the luggage for the entire day for a cost of €10 per bag. If you store your luggage in their shop, you also get a 10% discount on anything you shop there. That's pretty sweet!
What if I Have a Car or Do Not Mind Staying Far From the Center?
Consider staying at Azenhas do Mar (Azenhas do Mar West Coast Design and Surf Villas or Azenhas do Mar Valley House).
Please, do check out this place. It looks SO DAMN GOOD. The location, the ambiance, and the views are top-notch and stunning. I can already imagine myself enjoying the sunrise and sunset from this place.
They have different options for different budgets. Rarely available, but if you are like me and plan your travel well ahead, you could get this place at an excellent price. This place literally looks like a mini Santorini.
Alternative Options
Budget
Mid-Range
Luxury
Want to explore more options? Please search in Booking.com here. We use Booking.com to book all our stays and have always had a good experience.
Phew, I think I am done now. I have given all the helpful information (along with some not-so-useful ones) needed for your trip to Sintra. Also, do check out the best things to do when you are in Sintra.