This post may contain affiliate links. When you click an affiliate link, we may earn a small commission on qualifying purchases, at no extra cost to you. Also, please check for opening times, restrictions, weather, etc., on the days of your trip. We do our best to keep the post updated, but these things can change quickly.
Jaisalmer, the Golden city of India, is in the far western part of the country in the state of Rajasthan, which means the land of Kings (huh, sounds much like King's Landing). This region is filled with rich folklore, traditions, and architectural beauty, and they have the most delicious food.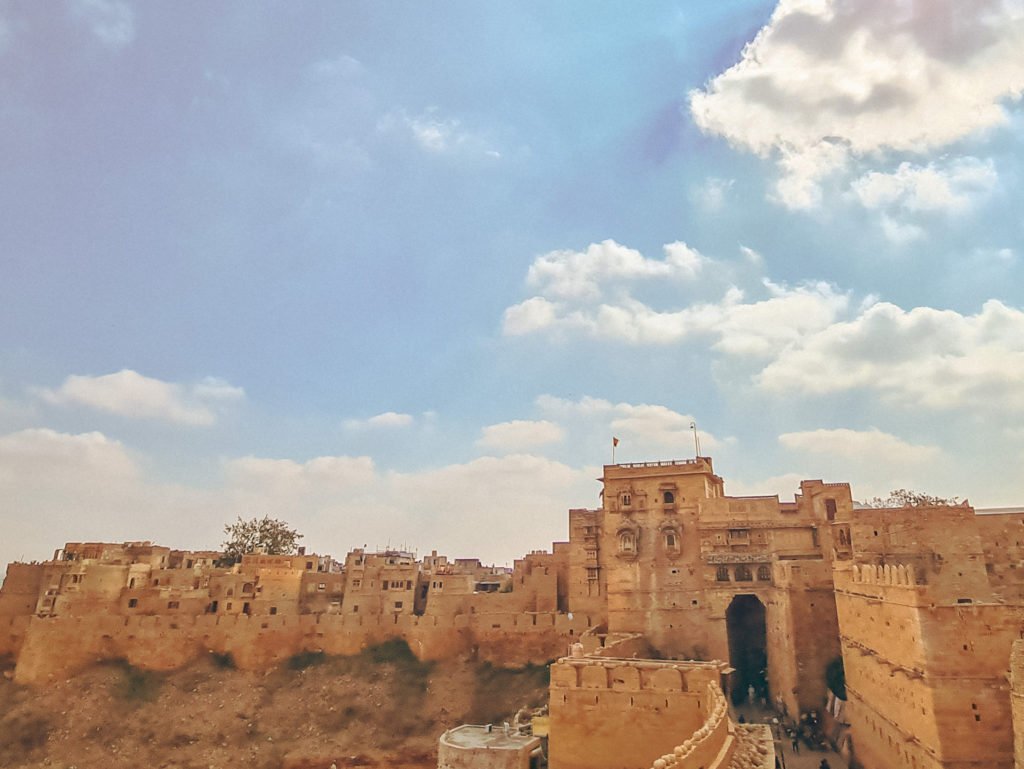 How would you like to stay in one of the royal palaces or forts and be treated like a royal? Yes, this is absolutely possible in Rajasthan, as most of the stays are like small palaces, and some are even actual palaces and forts.
The golden city awaits you with a lot of experiences to offer. Let's learn about Jaisalmer and the best things to do.
Oh, wait! Are you new to India and unsure how to plan a successful trip? I have added a lot of extra tips to help you plan your trip without breaking a sweat. Or maybe you will literally, while you are in Jaisalmer – because it's a desert (pardon me for my bad jokes!).
When is the Best Time to Visit Jaisalmer?
Jaisalmer has dry, mild winters and sweltering hot, humid, and windy summers. During summer where the temperature could soar as high as 48 degrees Celsius as it is a part of the Great Indian Thar desert.
So it makes it very obvious to visit only during the winter months, from late November till the end of February. This is the ideal time when the days are mild and comfortable (maximum of 26 degrees Celsius). Still, the nights are cold (mainly averages around 10 degrees Celsius). It remains clear throughout the year; hence, the chances of a cloudy day ruining your plan are very slim.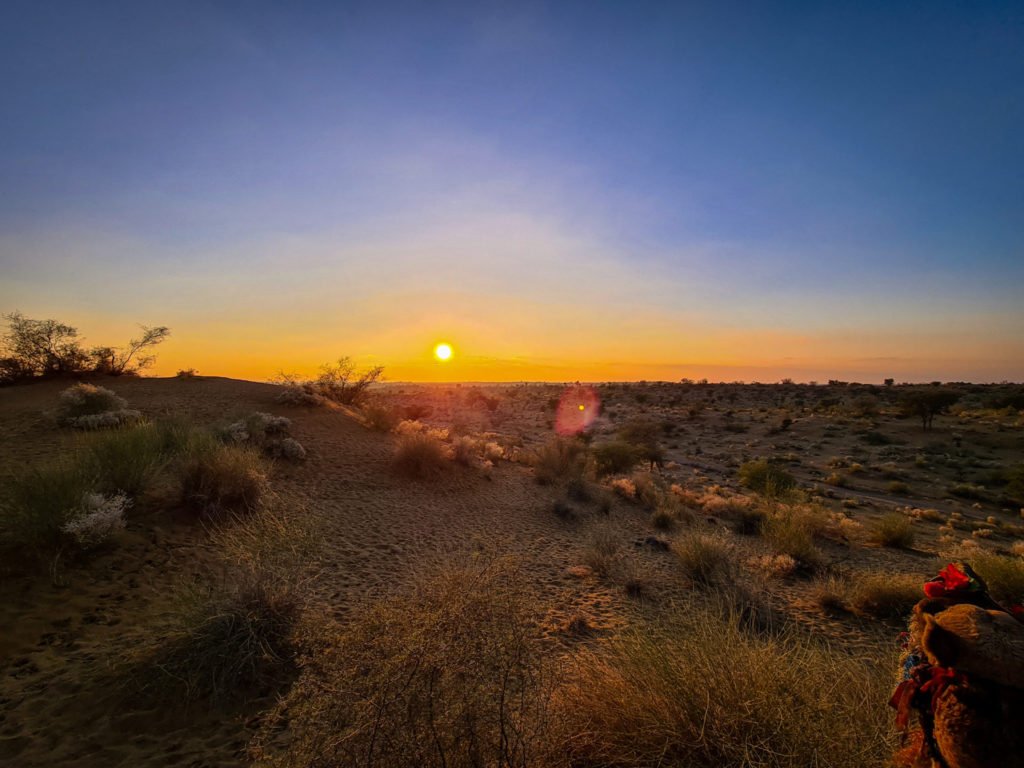 How to Reach Jaisalmer?
Jaisalmer has a domestic airport, but there aren't many options to fly to Jaisalmer. Here, I have added a few options to reach Jaisalmer from Jodhpur, Jaipur, and New Delhi. You'll probably land in New Delhi if you fly in from abroad.
From Jodhpur
By Car
You could drive/ take a taxi (preferred) to Jaisalmer, which is around 300 km and should take about 5 hours by road.
By Bus
You could also take a bus, tickets for which could be pre-booked through websites like Redbus. It should cost you around ₹400, which should be around €5.
Tip! If you are unfamiliar with driving on the left side of the road, I highly recommend taking a taxi. You could hire a taxi to help you cover your entire journey.
From Jaipur
By Car
The distance from Jaipur to Jaisalmer is around 550 km which would take about 10 to 12 hours by road. So, driving or taxi would not be a comfortable option.
By Train
You could take a train from Jaipur. Make sure to pre-book your tickets.
By Flight
You could also fly to Jaisalmer for Jaipur, which would cost you around €55 one way.
By Bus
The best and easiest option will be to travel by bus. You could take one of the AC sleeper buses, which will cost around ₹600 (around €8).
From New Delhi
By Flight
The best way to reach Jaisalmer is to fly from Delhi, which has flights to both Jodhpur and Jaisalmer.
By Train or Bus
You could also take a train from New Delhi to Jaisalmer or a sleeper bus. The journey by train or bus could take 15 hours or more so I would not advise taking this option.
Good to know! Tourist scams are quite possible, so please book your taxi from a reputed travel agency. Or you could take the help of holiday planners like we did. More on that later in the post.
Now that we know when and how to reach the Golden city, let me describe some memorable things to do once you are in Jaisalmer.
What to Do in and Around Jaisalmer?
1. Explore the Massive Jaisalmer Fort
Let's begin our journey with the Living Fort.
Yes, you heard me right! The Living Fort. Most of the forts around the world are either being converted into luxury hotels or just abandoned. But the Jaisalmer Fort is the only fort in the world that houses thousands of people, most of whom earn their living through tourism.
A Short History of Jaisalmer Fort
Jaisalmer Fort was built by king Rawal Jaisal in 1156. This incredible fort has thousands of people still living in it. When I first visited the fort, I wondered how is that even possible? Could anyone buy a house (a part of the fort) and just live there?
The answer is a big NO. (A huge disappointment, right?)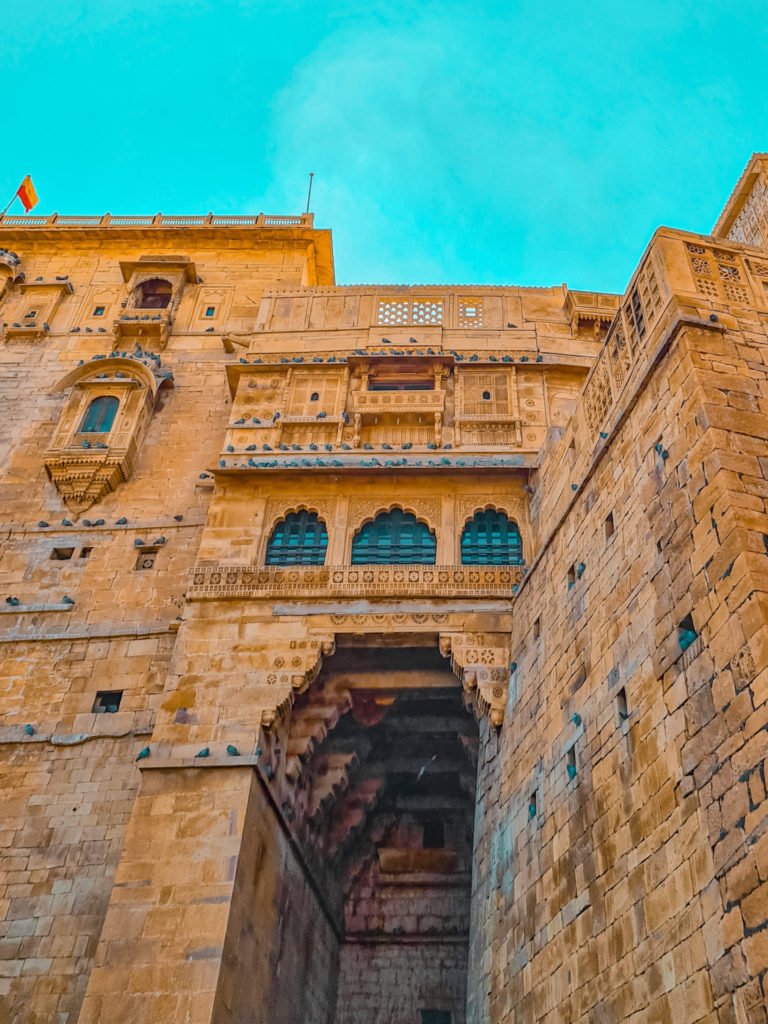 The tale behind the fort! They say that the last ruler who was in charge of the fort around 800 years back or more decided to give a significant part of the fort to be inhabited by the subjects. Now, so many centuries and generations later, around 4000 people live in their ancestral home, the fort itself. But they cannot sell any part of it. (Our guide who also lives in the fort told me this.)
The fort, also called Sonar Quila (Golden Fort), due to the color of the sandstone, which shines in the desert sun, is so massive that you could get lost in all the tiny narrow streets.
The main part of it is mostly commercialized and is filled with many shops selling their famous handicrafts.
Do I Need a Tour Guide and Ticket?
I highly recommend hiring a guide during your visit as they know all the perfect viewpoints. And as you are basically walking around exploring someone's house, it is inconvenient to just barge in to check the view. However, a guide could be of great help here as they know exactly where you can escape the crowd and enjoy great views of the fort. Some guides can also speak a bit of English.
Pro tip! Watch out for scammers. The guides have an ID card, which is also their permit to serve as tourist guides, so check that. Also, talk to a few other guides and check for the price options. When we visited in early 2022, we paid around ₹800 (roughly €10).
Entry! Since it is a living fort, there isn't an entry ticket or a specific opening time.
The fort is enormous, and it will take around half a day to enjoy the place in a relaxed way or a minimum of 2 to 3 hours.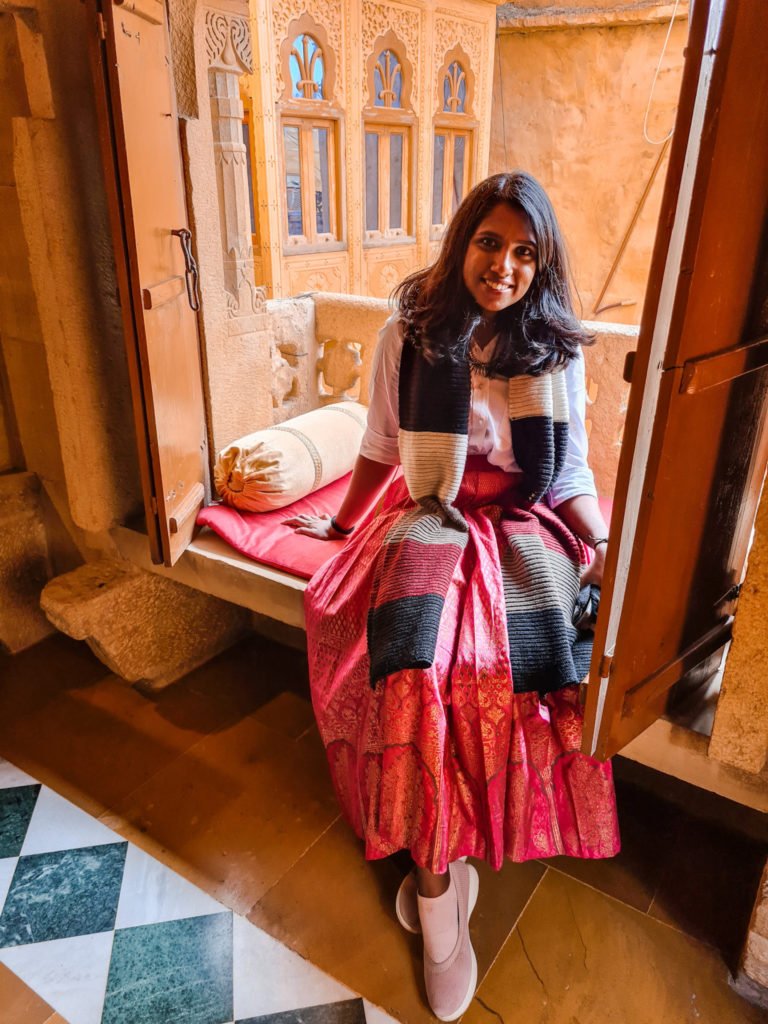 Major Attractions Inside Jaisalmer Fort
Raj Mahal
This is the palace of the rulers located in the heart of the Jaisalmer Fort. It is a stunning seven-storied building known for its latticework.
Raj Mahal showcases a beautiful facade filled with delicate filigree stonework, an example of typical Rajput architecture.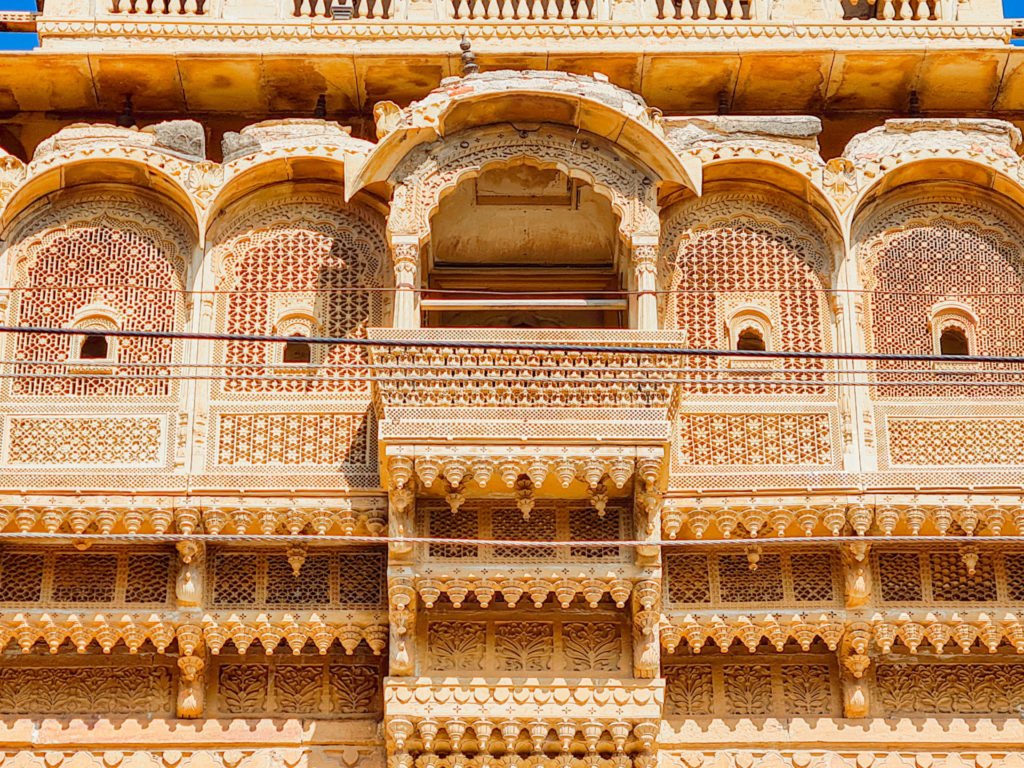 The palace is just in front of the main squares of the fort. It is one of the first things that will make you turn your head once inside the fort.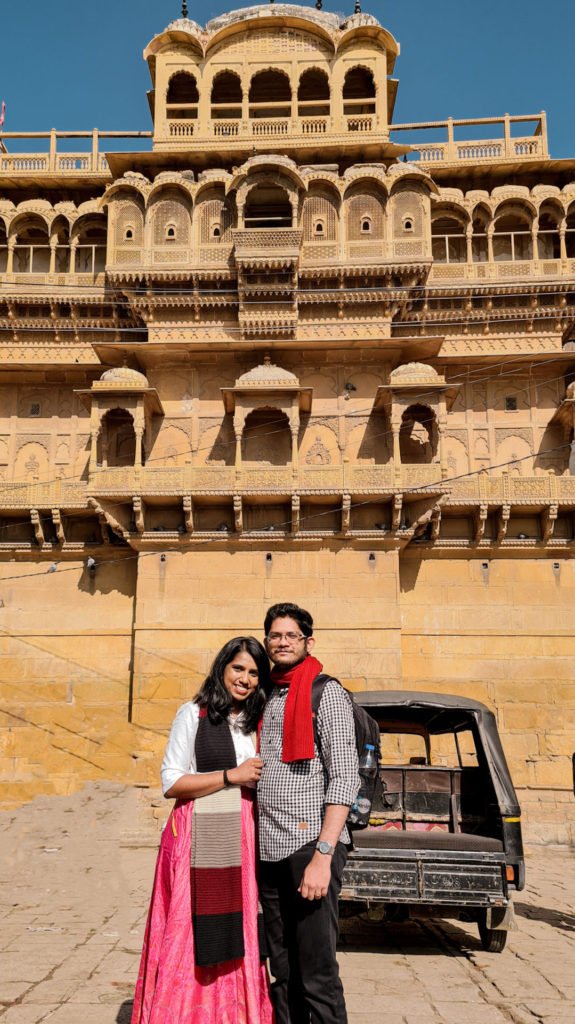 Jain Temples
There are seven Jain temples located within the Jaisalmer Fort. These temples are famous among local devotees and tourists for their intricate artworks.
The temples within the fort are known to be some of the most beautiful ones in the world.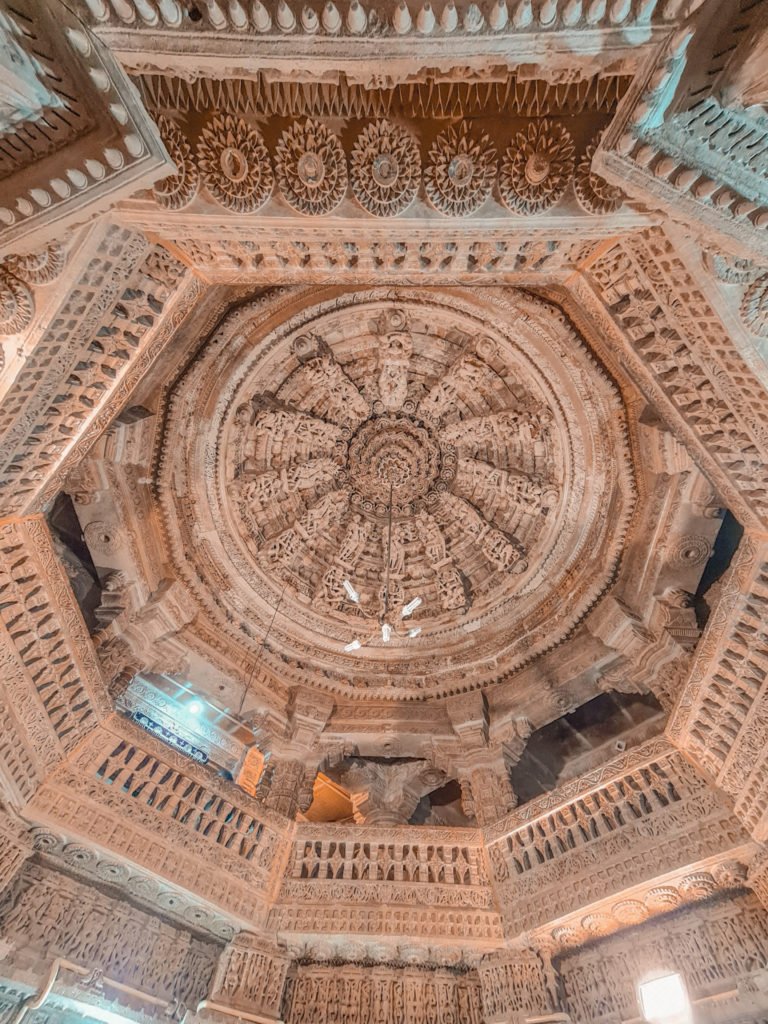 Entry! Although entry to the fort is free, to visit a temple inside, you have to pay a small fee (around ₹10 per person). Also, to carry your electronic gadgets inside for the photographs, you must pay around ₹50.
Random Fact! Jain temples worldwide are known for their white appearance due to the marble used for their construction. But these temples in the Jaisalmer area are the only ones made of sandstone.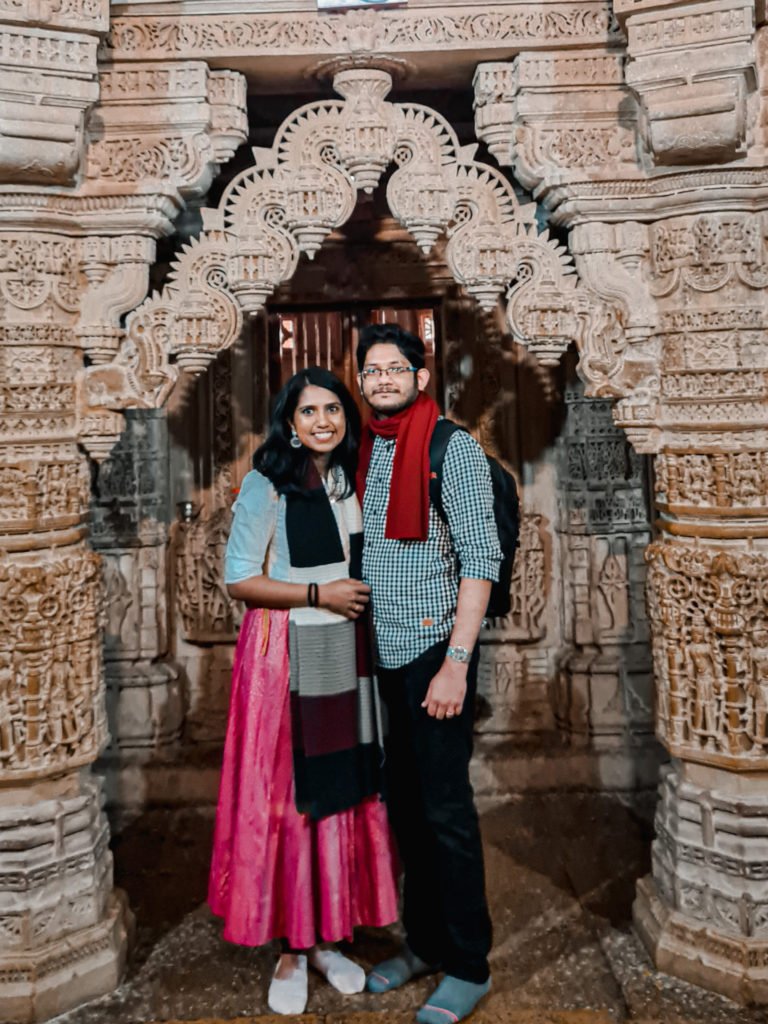 Good to know! Carry cash, as you may need it to purchase the ticket for your electronics. Keep the ticket safe, as it could be used to enter all seven temples.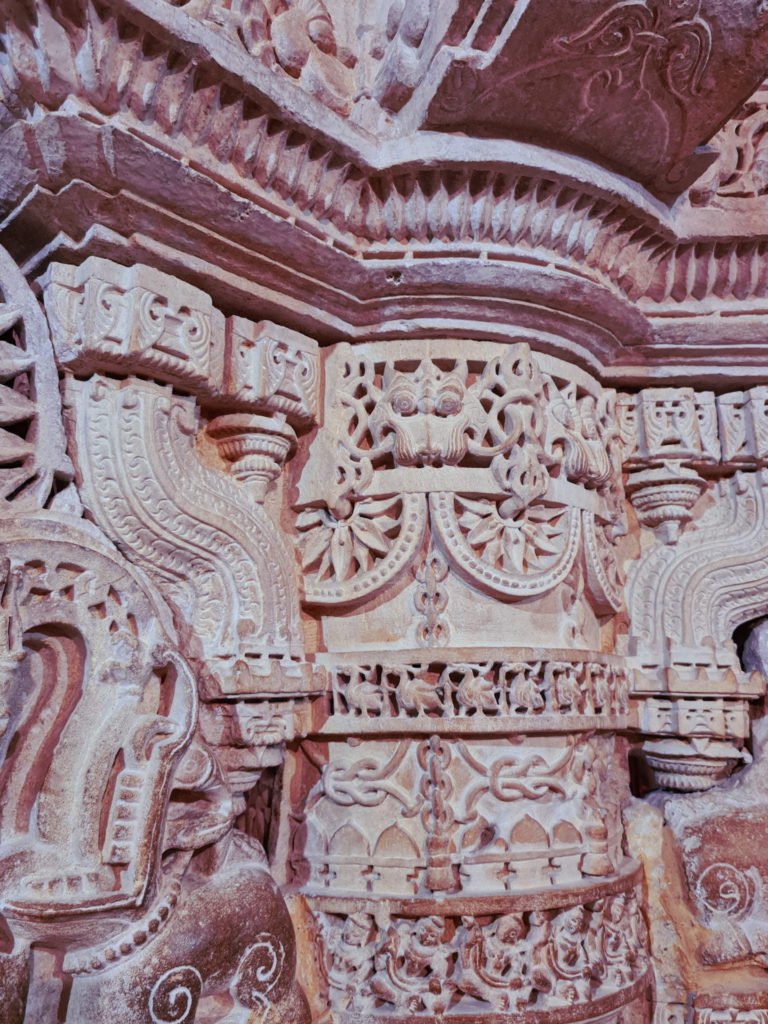 Shopping and Eateries
The fort is filled with a lot of shopping options as well as loads of food joints. Pick your choice and enjoy your food with fantastic fort views.
Consider a visit to Free Tibet (not to be confused with Little Tibet). It is a famous restaurant serving momos and thukpa noodle soup within the fort wall.
How to Reach the Fort?
The best way to explore Jaisalmer is to hire a taxi for the day or your entire trip. You could always take a tuk-tuk (called an auto in India) to the fort. But there is a hassle of negotiating the prices as they simply quote higher prices when they see a tourist.
2. Marvel at the Gadisar Lake
A lake in the desert? An actual lake would have been quite lovely for the people in Jaisalmer. But this artificial lake does the job. This is, in fact, the city's lifeline and is now supplied by water from Indira Gandhi Canal to ensure it never dries.
The lake is filled with chhatris, a dome-like structure also made of sandstone that gives it a golden tint when the sun shines. Actually, every other building in Jaisalmer has that tint.
Photo Alert! This place, just a little away from the Jaisalmer Fort, makes it the perfect location to capture the golden hour. You could take stunning pictures for your Instagram feed.
Best visited during sunset time to give extra color to your picture.
Entry! The lake is open throughout the day and is free of charge to visit. You could also take a boat ride in the lake which will cost anywhere from ₹10 to ₹100 based on the type of boat ride.
Uff! I couldn't visit this stunning place during my visit as I was too impressed by the beauty of the stay we had booked. So, we decided to spend the evening and the next morning in our hotel instead. More on that later in the post.
3. Admire All the Havelis in Jaisalmer
Jaisalmer was known for its trade route, which was filled with wealthy merchants in the past. Havelis are similar to mansions or townhouses built by the wealthy merchants of the time. The detailing of the architecture in these traditional havelis is a symbol of their wealth. The more intricate the artwork is, the more prosperous the merchant who once built this was.
Let's read about some of the famous havelis that will make your jaw drop with their facade.
Patwon Ki Haveli
This is not just a single haveli but a cluster of 5 different havelis. It is one of the area's biggest, richest, and most well-maintained havelis. It also encloses a museum that preserves the artifacts from their rich past.
How to Get There?
It is a stone's throw away from the fort in the middle of the main bazaar.
Nathmalji Ki Haveli
It is the residence of Diwan Mohata Nathmal, former Prime Minister of Jaisalmer. It is known for its beautifully carved exterior with stunning paintings adorning the interior of this haveli.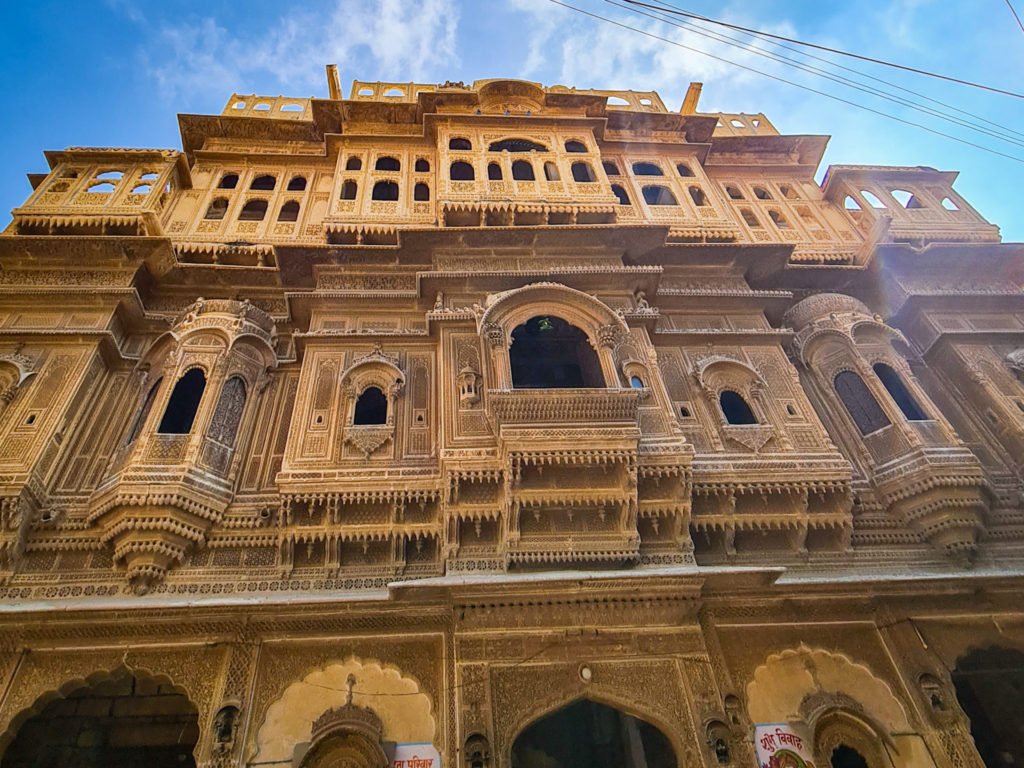 Interesting fact! This haveli was simultaneously built by two architects who were also brothers. It is said that they had built it independently, but it looks so harmoniously put together. At first glance, you cannot even tell it was built by two people.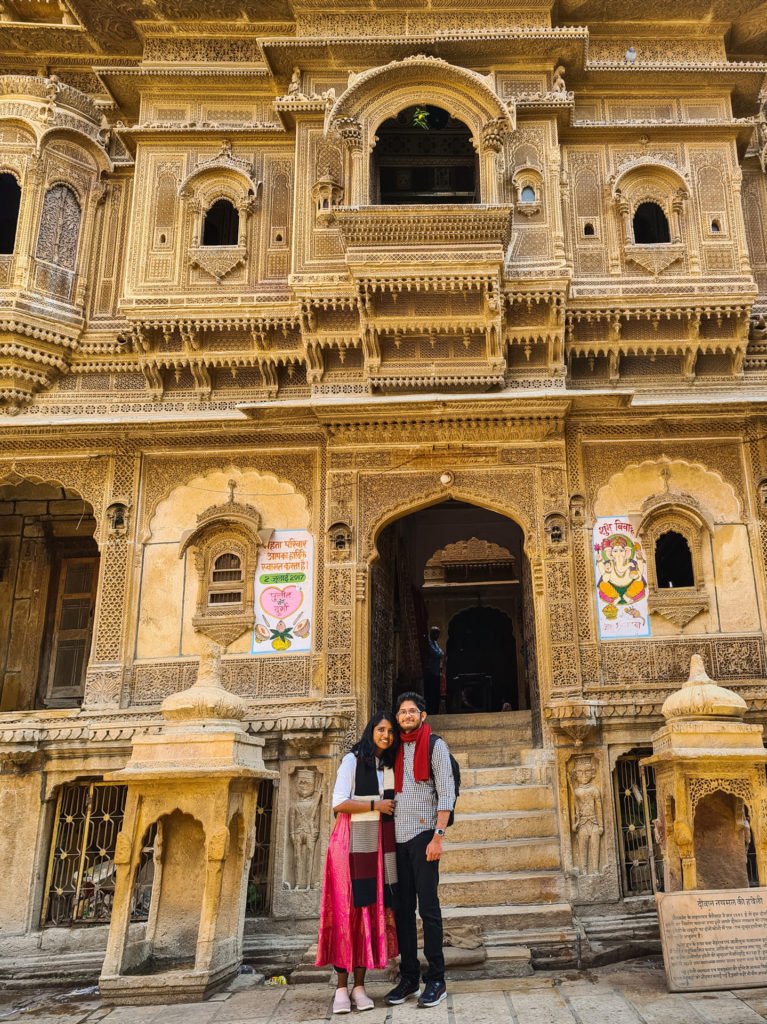 Random Fact! Outside the homes in Jaisalmer Fort, you might see some paintings of Lord Ganesha with names written near them. These were painted when someone in the house was married. It is a tradition to welcome the newlyweds as Lord Ganesha is painted for good luck.
Fun things to do! Stare at the facade indefinitely to figure out the differences between the two sections. Some are easy to find, but some require you to look closely into the details. (It might sound crazy to do this, but I enjoyed doing it.)
How to Get There?
It is very close to the Patwon Ki Haveli, and you could just go there on foot within 5 minutes (only if you don't stop to shop at every single shop on the way). Or perhaps, you could be delayed by a group of cows refusing to move (this actually happened to us).
Salim Singh Ki Haveli (Moti Mahal)
This haveli, which is around 300 years old, was built on the remains of another haveli. The haveli's architecture is slightly different from the others. The roof of this haveli is made in the form of a peacock. It has around 38 balconies in total, with unique architecture.
A part of this haveli is still occupied by the descendants of the original owner Salim Singh Mahto.
How to Get There?
This is located around 500m from the Patwon ki Haveli, and you could easily walk up there.
Tip! Some of the other havelis in Jaisalmer have been renovated and converted into luxury stays; staying in such a place could be an excellent experience.
4. Visit the Bada Bagh
Bada Bagh literally translates to a big garden. This is one of the must-see places in Jaisalmer. It is a conglomerate of a dam, a tank, and the surrounding cenotaphs.
Photo Alert! The series of royal chhatris (cenotaphs) makes it an exciting place to visit. The architecture combined with the golden hour makes it even more attractive.
One of the cenotaphs is half-constructed, so let's travel back in time to find out why! Every place has a long history attached to it, but a very short version of it goes here. The first cenotaph was built to commemorate the death of Maharaja Jai Singh II. He founded the city of Jaisalmer and contributed significantly to its infrastructure and welfare. He also commissioned the dam "Jait Bandh", the primary water source in this desert land. Do you see where I am getting at? Yes, the place's name was Bada Bagh because of the dam, which helped cultivate the barren land.
Later, the construction of cenotaphs continued as a tradition. Each one was built to commemorate the previous king or queen. Eventually, this led to many cenotaphs until one day when Maharaja Jawahar Singh's son passed away not long after he claimed the throne. He was having the cenotaph built for his father, Maharaja Jawahar Singh. But the construction was never completed after the son died, as it was considered bad luck. That marks the end of this story and the series of cenotaphs.
How to Get There?
It is a little far up, around 7 km north of Jaisalmer Fort. Having a dedicated taxi for the day would be the best thing. It saves you the effort of negotiating a price every single time. But if not, you could always take a tuk-tuk or call a taxi as it is popular among tourists. It shouldn't be hard to find one.
Best visited during sunset time as the sunset could bring out the best background shades for your Instagram pictures in the cenotaphs. It is magical, with all the spectacular cenotaphs against the beauty of the open sky.
Entry! Unlike other places, this one has entry restrictions and remains open from 9 am to 6 pm. There is an entry fee of ₹100, and the rate is slightly lesser for Indian citizens. Also, you need to pay a small fee for taking your camera inside.
5. Wander Around in the Abandoned Village of Kuldhara
Kuldhara village, established around the 13th century, was inhabited by the Paliwal Brahmins before it was abandoned overnight. (Yeah, overnight). Sounds fishy, isn't it? When I heard of this, I wanted to know why the village was abandoned overnight. But, all I found was a bunch of tales, and no one actually knows why the villagers left their homes.
Tale or not! One version of the legend claims that the lecherous minister Salim Singh was attracted to a girl from the village. The people were forced to hand over the girl to the minister one night. The villagers requested the guards to come over the following day, but the villagers fled the place overnight. No one knows what happened, but many believe the village was completely destroyed by a massive earthquake.
You could see the remains of the once prosperous village now just called a haunted ghost town.
How to Get There?
It is quite a 45 minutes drive from Jaisalmer itself. You could plan this as one of the last things to do before parting goodbye to the city.
Entry! It is open from 8 am to 6 pm, and there is no entrance fee. You will need about an hour or so to roam around the ruins of the village.
6. Go on a Camel Ride in the Dunes of the Thar Desert
I kind of saved it for the last! A trip to Jaisalmer wouldn't be complete without a camel ride in the dunes. Jaisalmer, located in the heart of the Thar desert, has more than one sand dune around the city. You could spend a few hours in the dunes or even spend a night in one of the luxury camps around the desert. I highly recommend staying the night in one of those lovely camps where you could gaze at the stars at night and enjoy an early morning or a sunset camel ride.
Some popular activities you could do in the desert are:
Desert safari
Camel ride in the dunes
Paragliding
Camping in the desert with some of the best Rajasthani folk music and food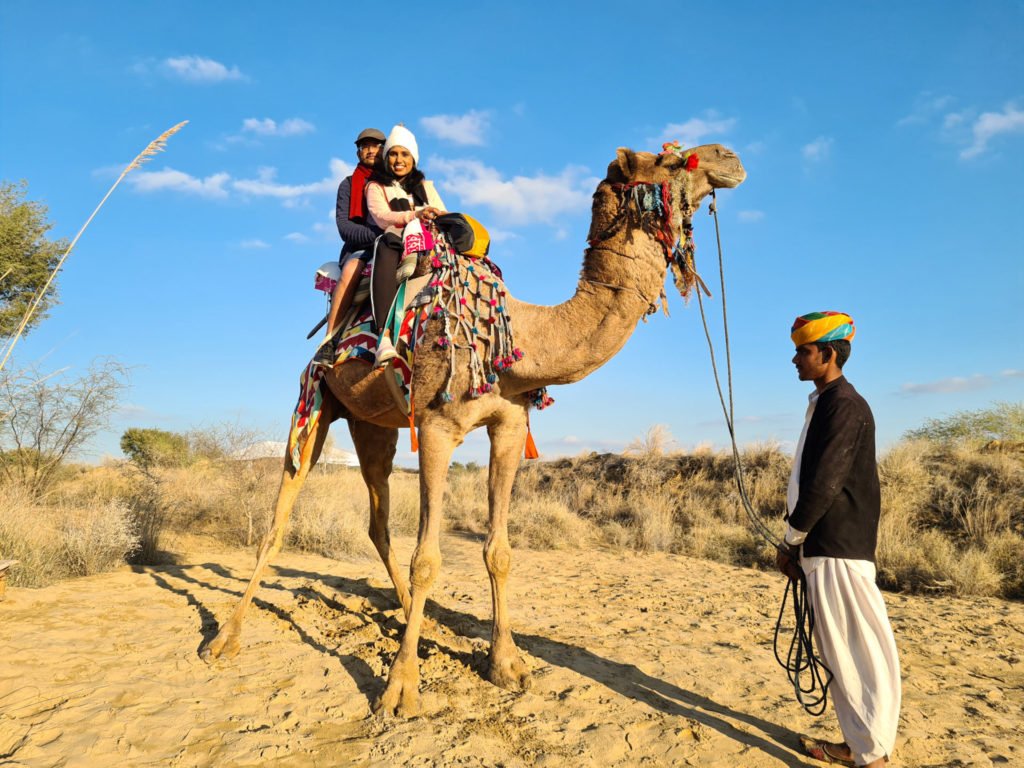 These activities can be arranged by your hotels as well. I stayed in a standard tent at Manvar Resort & Tented Camp. The place, the music, and especially the food and hospitality were so remarkable! If I get a chance, I will visit again and have their Kher Sangri (a Rajasthani special curry made from desert beans and berries).
Manvar also provides different stay options in their resort. So if you want to enjoy the desert camping experience, ensure that you choose a standard or luxury tent.
Read more about our complete desert experience in Manvar with loads of pictures.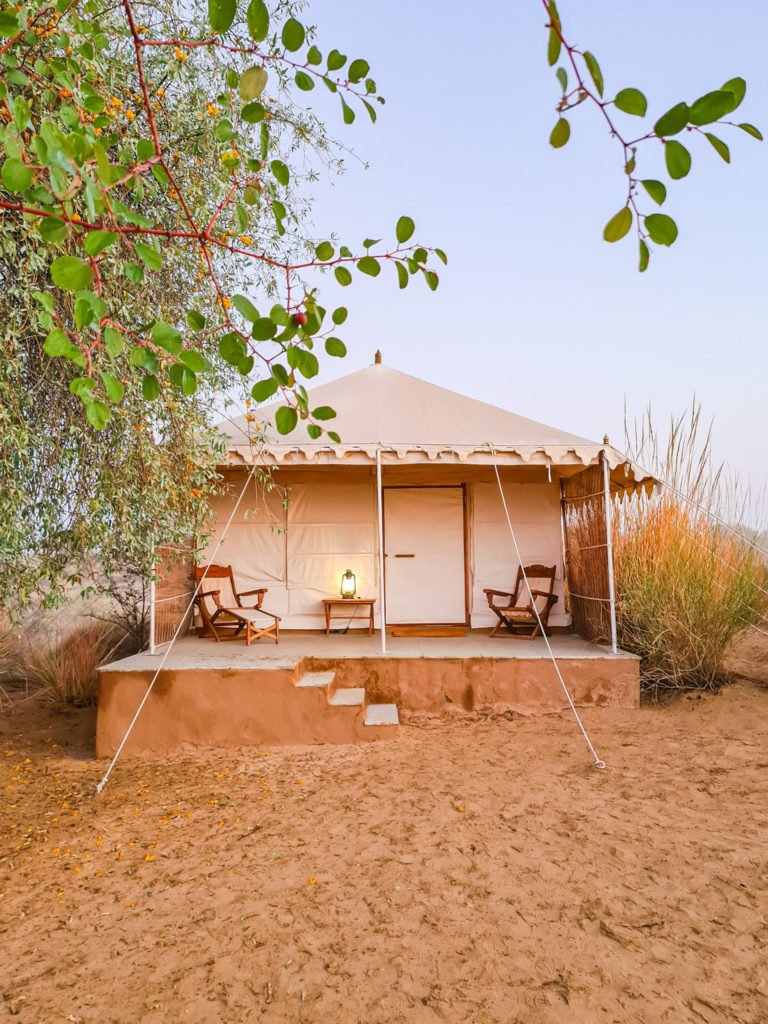 7. Experience a Night in a Fort or a Palace
To be honest, we avoid luxurious stays as we are budget travelers. But we just couldn't resist the chance of staying at a fort in the Golden city. Spending a night in one of those luxury forts or a palace in Rajasthan is more than just a stay. It is a complete experience, and their hospitality could make you believe that you are from a royal family.
It was such a unique experience to have stayed a night in Suryagarh Jaisalmer in one of their luxury suites. It is the best hotel I have ever stayed in, and it still feels like a dream after 1 whole year.
Imagine the perfect combination of a royal fort with all the modern amenities. To say that you will be treated like royalty would be such an understatement. Suryagarh was why I had to skip visiting a few places, as I didn't have the time. Exploring Suryagarh and enjoying all its facilities took up most of my time. And I don't regret it at all!
To read more about our complete experience with lots of pictures, please check out our post about Suryagarh.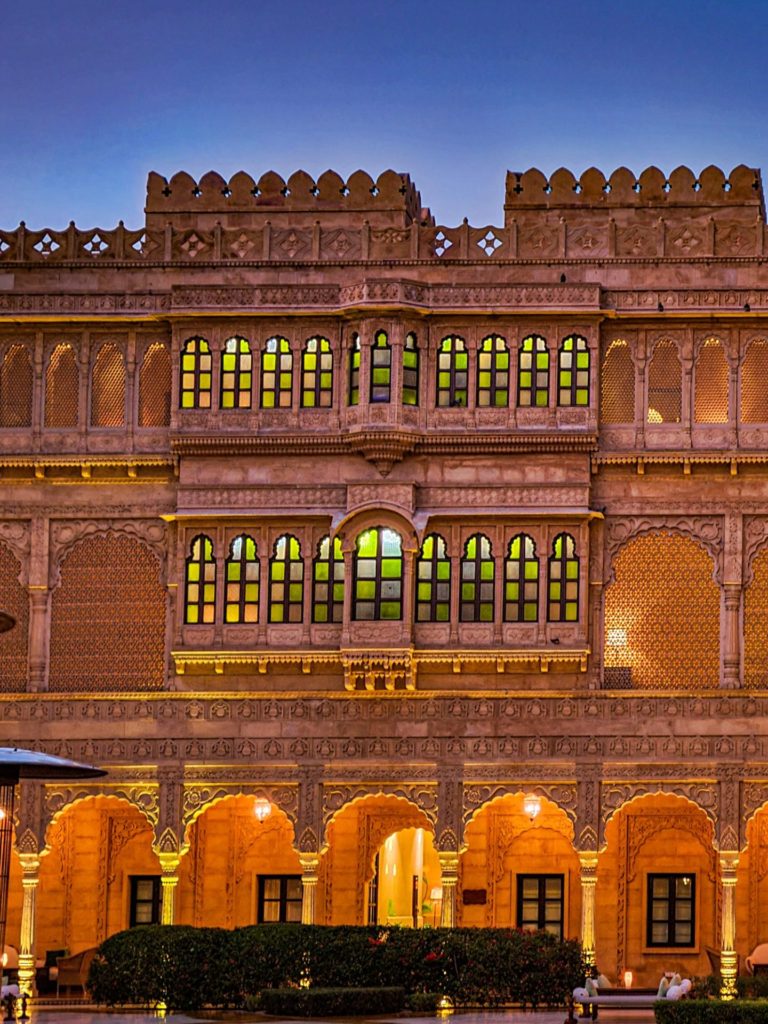 Where to Stay in and Around Jaisalmer?
Hotels
There are quite a few forts and palaces that have been converted into hotels. Jaisalmer also has regular hotels if you don't wish to stay in a fort or palace.
Beyond Luxury
Luxury
Mid-Range
Budget
Desert Stays
There are a few desert stays if you want to stay a night or two in the Thar desert.
Luxury
Mid-Range
Want to explore more options in and around Jaisalmer? Please search in Booking.com here. We use Booking.com to book all our stays and have always had a good experience.
Where to Eat in Jaisalmer?
Some restaurants have good food and offer incredible views of the Jaisalmer Fort with their rooftop terraces. You could try dining at the following:
Cafe the Kaku – A rooftop multi-cuisine restaurant with the best sunset views over the fort. Also, they have a cute pug to welcome guests.
1st Gate Home Fusion – A vegetarian rooftop restaurant serving Italian and Indian cuisine.
Hotel Tokyo Palace – A hotel with a rooftop restaurant serving Indian, International, and Japanese cuisines.
Must Try Foods
Kher Sangri – My favorite vegetarian food to date! The dish is made of a particular berry and bean available only in the desert region.
Daal-Baati-Churma – Rajasthan's most famous dish, made of wheat, lentils, and ghee.
Other famous delicacies you could try are:
Bajre Ki Roti (millet bread) and Lashun Ki Chutney (hot garlic paste)
Mawa Kachori – A Rajasthani sweet where a crunchy crust is filled with sweetened Khoya and a lot of nuts.
Mirchi Bada – A spicy Indian snack consisting of chili (mirchi) stuffing battered and fried, served hot with mint and tamarind chutney.
Pyaaj Kachori – A fried pastry filled with a spicy onion filling.
Ghevar – A disc-shaped sweet made from ghee, flour, and sugar syrup.
Alwar Ka Mawa (milk cake)
Malpua (sweet dish)
How Did We Plan for the Trip in a Short Time?
Our entire trip was planned by Happy Monk Holidays, and this is not an advertisement or paid promotion. We accidentally found out about them through one of my endless Instagram strolls, and I am so glad I got to know them.
India was recovering from the pandemic. We were a little unprepared to plan the trip ourselves, so we reached out to them. They helped us plan an end-to-end trip, starting from the flights, stays, taxi, and a complete list of things to do and the best places to eat and shop. Although everything was planned, everything was curated based on our needs, and we had the ultimate flexibility to do what we wanted to do without any issues.
They were highly responsive and provided support throughout the trip. Everything was perfectly arranged, and there wasn't any situation where we needed their help except when the airlines canceled our return flights a day before our return. Happy Monk Holidays immediately helped us pick the next feasible option based on our budget.
It was also our anniversary trip, and they gave us the perfect gift of upgrading our twin room to a luxury suite in Suryagarh. It was such a pleasant surprise for us!
If you would like to contact them, check out their Instagram and drop them a message – @happymonkholidays
Is Jaisalmer Worth Visiting?
Absolutely, yes! The Golden city is the best place to experience royalty and be one with the desert lifestyle. As an added bonus, you could enjoy the delicious Rajasthani cuisine, which serves drool-worthy vegetarian and non-vegetarian dishes.