This post may contain affiliate links. When you click an affiliate link, we may earn a small commission on qualifying purchases, at no extra cost to you. Also, please check for opening times, restrictions, weather, etc., on the days of your trip. We do our best to keep the post updated, but these things can change quickly.
Lake Como is located in the Lombardy region of Northern Italy. The lake has an interesting "wishbone" shape and is surrounded by some of the prettiest communes (towns) filled with luxurious villas. Do you know that Lake Como is the third largest lake in Italy?
The towns around the southern part of Lake Como are comparatively flatter than the rest of the towns, which are in the foothills of the Alps. You could see great views of the mountains, fresh water all around, and so much beauty. Prepared to be overwhelmed with so much nature, from colorful tiny houses to lavish villas with vast manicured gardens. Yes, all in one place, and I almost totally forgot about the food. Italian food is absolutely mouth-watering, and life is much better when you have great food and some great views.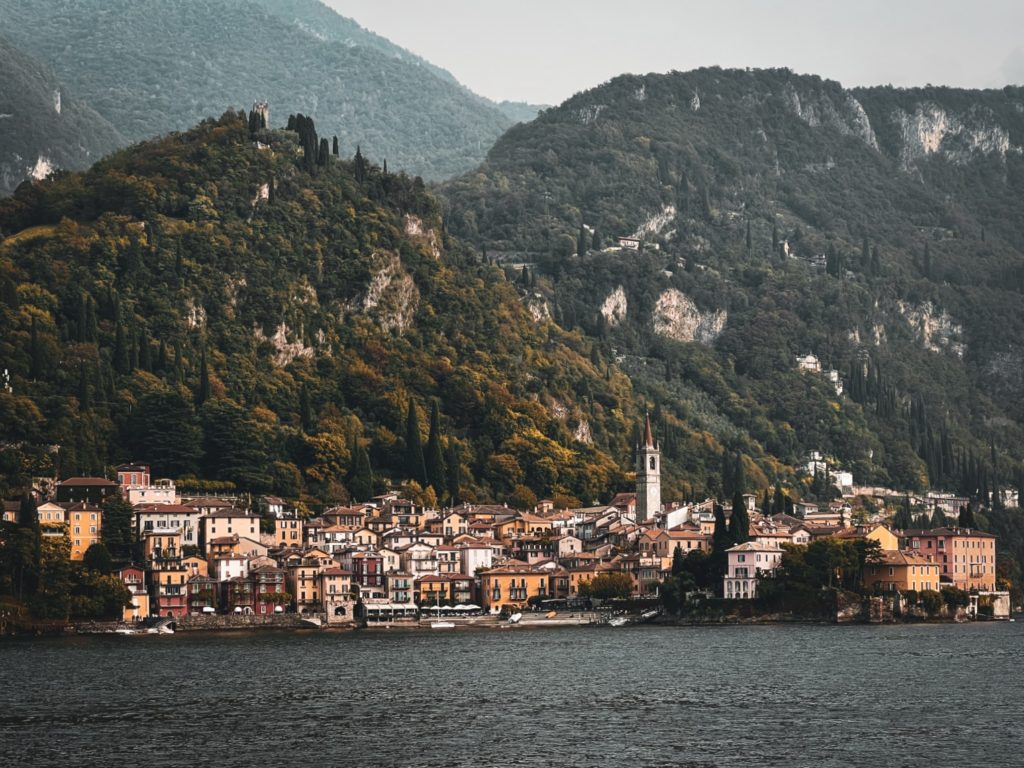 Lake Como is one of the most popular choices for a luxurious vacation, and many celebrities frequently visit it. Oh, wait! But we are totally budget travelers, and yeah, it is very much possible to enjoy all the towns of Lake Como on a budget. Lake Como has something for everyone, depending on the time, budget, and preference.
What is the Best Time to Visit Lake Como?
Lake Como is beautiful all around the year, but it is one of the popular destinations as it is easily accessible from Milan. It is a perfect summer destination where you can jump into the water and have a refreshing swim followed by some great food, which makes it insanely crowded and expensive in the popular towns. But it is still possible to enjoy the place if you stay in some lesser-known towns like Nesso. The prices will be slightly pricier than in the shoulder season, but that is true with any touristy place.
Not fond of crowds? Then, Spring or Autumn would be a good time to visit Lake Como. We visited during October, and the weather was perfect for roaming around without a jacket. The leaves had already started turning color, adding more charm to the place. But you should note that the water is a little too cold for a dip, so it wouldn't be ideal if you were more into diving into the water. But otherwise, it is the perfect time to travel for budget travelers. You could also get a nice place to stay in popular towns like Bellagio, located at the Y's intersection. It is the best place to access every other nearby town around the lake.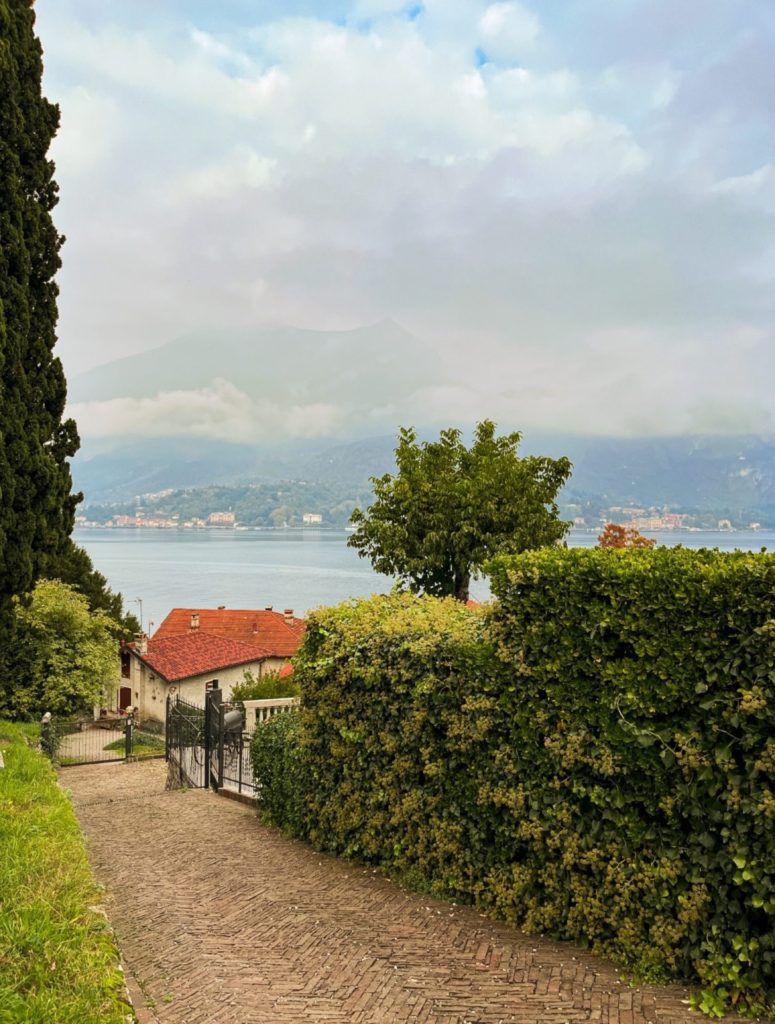 How Many Days Do You Need to Explore Lake Como?
You could even stay for more than a week and still have plenty of things to do, visiting all the lesser-known but picturesque towns tucked away into the mountainous side of the lake. But if you have only a few days, stick to the popular towns and visit one of the smaller ones if time permits. We had around 3 and half days, and we visited and stayed a night in Nesso, a small town, and it was absolutely worth it.
How to Reach Lake Como?
The nearest airport would be Milan or Bergamo Airport, and you can easily reach the towns in Lake Como in a couple of hours. Lake Como is easily accessible by train and also very convenient.
Not every town around the lake is accessible by train, but don't let it bother you as you can still reach them by bus or, even better, take the ferry!
I would recommend staying in a town accessible by train on the day of arrival so that you could check in to your stay right away without having to lug around your belongings. Varenna and Bellano are some excellent choices. Varenna is one of the popular towns, and Bellano, which is just a few minutes ride from Varenna, could get you a stay for a better price. (Gotta save every penny!)
But seriously, Bellano is also more peaceful with lesser crowds.
Psst! What are the most popular towns in Lake Como anyway? The towns of Varenna, Bellagio, and Menaggio, each on a different side of the Y-shaped lake, form the "Golden Triangle". Clearly, they are the most famous towns in Lake Como too.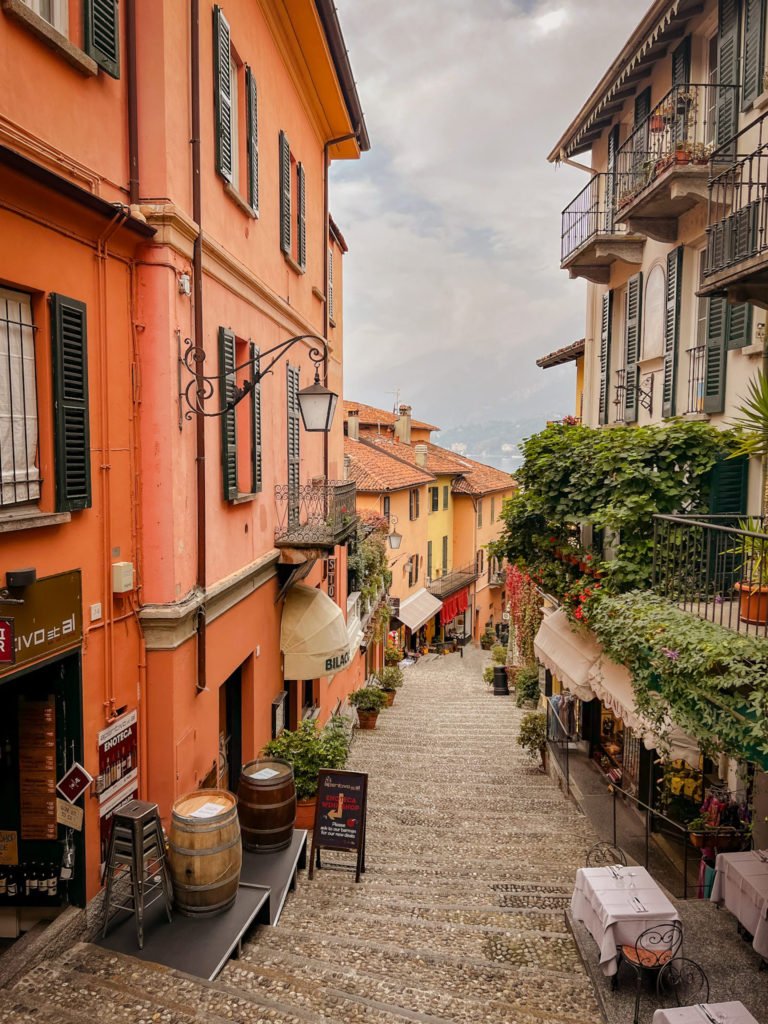 How to Reach Varenna or Bellano From Milan Central?
From Milan Centrale, you can take a direct train up to Varenna-Esino or Bellano (Bellano is the next stop from Varenna).
The cost of a ticket is around €7.10. You could take the day pass for the Lombardy region if you use the trains more frequently on the given day, which costs €16.50.
How to Reach Varenna or Bellano From Bergamo Airport?
Just outside the Bergamo Airport, you can find frequent buses (bus number 1) that take you to Bergamo Railway Station. The journey takes just about 10 minutes. From Bergamo Railway Station, you can reach Varenna-Esino or Bellano by transferring trains at Lecco. You can get to Varenna in about 1 hour and 20 minutes.
The cost of a ticket is around €5.80. You could buy the tickets directly from the machines located in the station or online from the Trenord website.
What Are the Best Things to Do in 5 Vibrant Towns of Lake Como?
Alright, I hear you asking, "But why only 5 towns?". There are a lot of towns and luxurious Villas and so much fresh water to keep you occupied for more than a week in Lake Como. Still, if you are around this area for a short while, I recommend you consider visiting these 5 towns. These towns offer enough activities to enjoy the vibe around Lake Como.
1. Bellano – A Quiet Town With Natural Wonders
Bellano is one of the lesser popular towns in Lake Como, which means you can enjoy fantastic views without a lot of crowds and enjoy Lake Como's beaches. Isn't it perfect?
Enjoy a Crowd-Free Sunset Over the Lake at Bellano
Watching the sun go down by creating a dramatic effect in the sky is one of my absolute favorite things to do anywhere on this beautiful planet. Bellano in Lake Como offers some nice spots to enjoy the sunset while sipping your Prosecco.
You could reach the lakeside beaches by walking for about 5 minutes from the Bellano Railway Station. Go down any narrow alleys that open up to the lake and enjoy the view. We also chose to stay in Bellano, which had stays that were pocket friendly, and from the backyard of our stay, we also had access to the lake.
Marvel at the Orrido Di Bellano
While you are in Bellano, visiting the ravine of Bellano, a natural wonder formed around 15 million years ago, is a must. For years, the waters of the river Pioverana have eroded the rocks in this area, creating a deep gorge. This place is a perfect hidden gem, as few people know it. A little walk from the Bellano station and you can reach the gorge.
The narrow footbridges tucked between huge rocks and the stairs going up into the gorge and around the waterfalls offer spectacular views of bright teal waters from the suspension bridge. It is absolutely gorgeous (pun intended!) to see the water shimmering in the rays of light that sneak their way between the gaps in the rocks.
Tip! If you are visiting in the summer, Orrido Di Bellano is the perfect place to take a break from the heat. It is surrounded by water and rocks and remains pretty cool, hidden away from direct sunlight.
Tickets and Opening Times for Orrido Di Bellano
The opening times for Orrido Di Bellano vary from summer to winter. It is open up to 8:00 pm in the summer, whereas in winter, it is open only on select days and times.
The entry fee is €5, and children below 6 can enter free of charge. You can also bring your dogs on a leash.
Where to Stay in Bellano?
We stayed at gli oleandri in Bellano, which was perfect. It had excellent access to the lake and the best views. The host was kind enough to have our bags even after checkout.
Alternate Stay Options in Bellano
Want to explore more options in Bellano? Please search in Booking.com here. We use Booking.com to book all our stays and have always had a good experience.
2. Varenna – A Picturesque Town With Stunning Lakeside Views
The views of every nearby town perched on the mountainside surrounding the lake are very beautiful to gaze at, but Varenna has its own charm. It casts a magical spell on you, and its mesmerizing lakefront views offer a perfect photo spot.
Tip! Do not miss capturing the view of the town from the ferry. Every town around this lake has stunning views of the colorful lakefront when seen from the water, but Varenna has its own charm.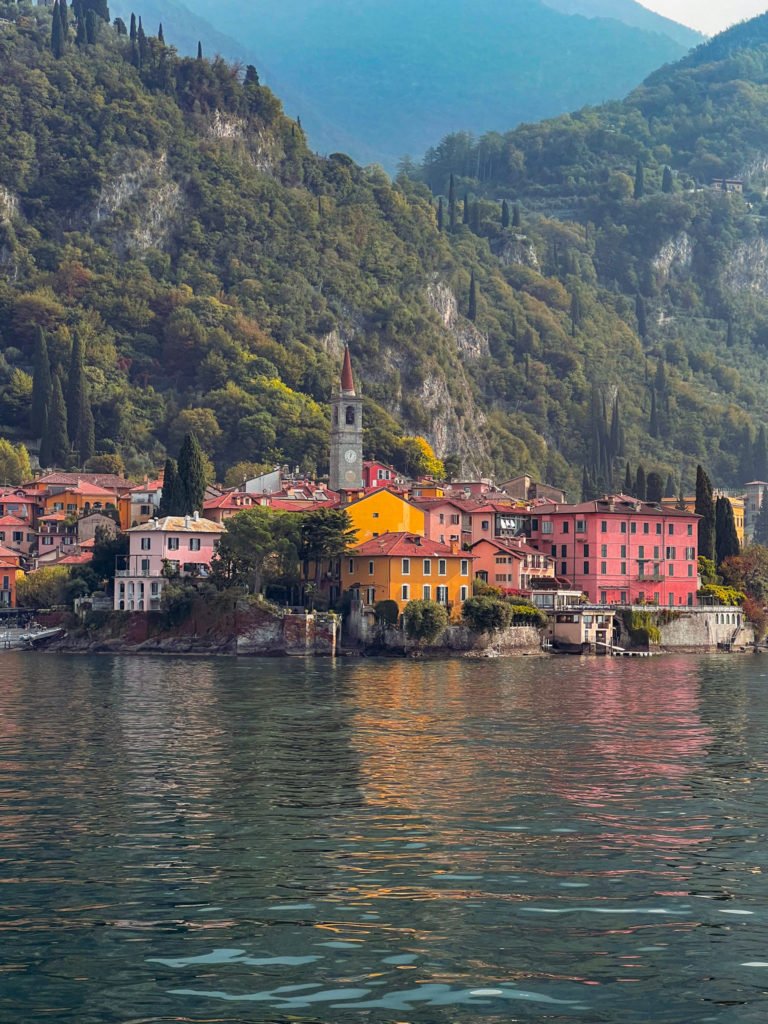 Take a Walk in the Walk of Lovers
The Walk of Lovers in Varenna is a unique pedestrian pathway running along the edge of the town with stunning views of the rolling mountains and serene water below. The bright red arches, the railings, and the colorful houses perched on the cliff behind make it the perfect photo spot. It is not an activity but a very short walk through the path, especially during the golden hour, which makes it absolutely romantic.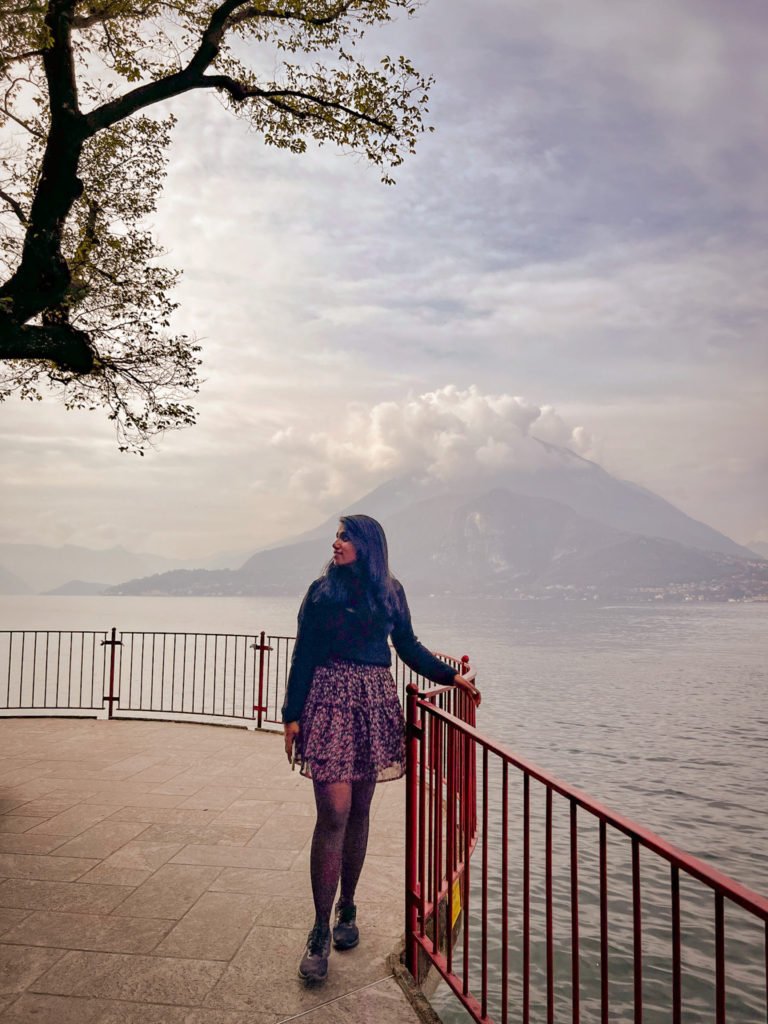 Good to know! It is a short pathway and, during summer, could be filled with hundreds of tourists, and the place might lose its magical charm. Sunrise during summer would be an excellent option to avoid the crowds and be mesmerized by the beauty of Varenna.
How Much Time to Spend in Varenna?
Suppose you are staying around Lake Como for a longer time. In that case, you could easily spend the day hiking up to the Castello di Vezio and also visit the exquisite gardens of the Villa Monastero. If you are running short on time like us, you could spend a few hours exploring the place on foot and relaxing in a lovely cafe.
Cafe tip! If you are looking for a perfect spot to relax and get the best views in Varenna, Caffe Varenna is an ideal rustic cafe with charming views overlooking the water and serving great food. It is easy to spot and very close to the ferry ticket office. (Very hard to miss as you will spot it in a second.)
Where to Stay in Varenna?
Looking to spend the night in Varenna? It is well connected by railway, bus, and ferries, making it a perfect base location. You could consider staying at the following properties:
Want to explore more options in Varenna? Please search in Booking.com here. We use Booking.com to book all our stays and have always had a good experience.
Note! Due to Varenna's popularity and ease of access, the stays could be costly, especially during summer.
How to Reach Varenna?
Varenna is easily accessible by train if you are traveling from Bergamo or Milan and well connected with the surrounding towns in Lake Como by ferry.
Note! The timings and the frequency of the ferries depend on the season, but it is very convenient to access.
3. Menaggio – A Romantic Town With Laid Back Attitude
Menaggio is perfect for relaxing, enjoying great food, and strolling through the center's cobblestone streets. And yes, it is a great place to do some souvenir shopping. I love to check out every cute store I come across whether or not I buy (window shopping is a vibe). If you are looking for some luxurious stays with exquisite spas and sip wine by the pool? Then Menaggio is perfect for you as it is filled with lavish hotels with superb lakeside views.
Spend a Lazy Afternoon on the Shores of Menaggio
Walking along the lakeside promenade, filled with flowers, is an experience not to be missed. The town's main square, the Piazza Garibaldi, can be reached just by walking a few minutes from the pier. It is filled with bars, restaurants, and even some open flea markets on specific days. You could also find the locals roasting chestnuts here. We spent our afternoon enjoying some mouth-watering Italian cuisine with great lake views.
If you enjoy people-watching, this is your ideal place. The square is always lively, filled with locals taking their dogs for walks, tourists clicking pictures, and the aroma of Italian food brewing from every restaurant nearby.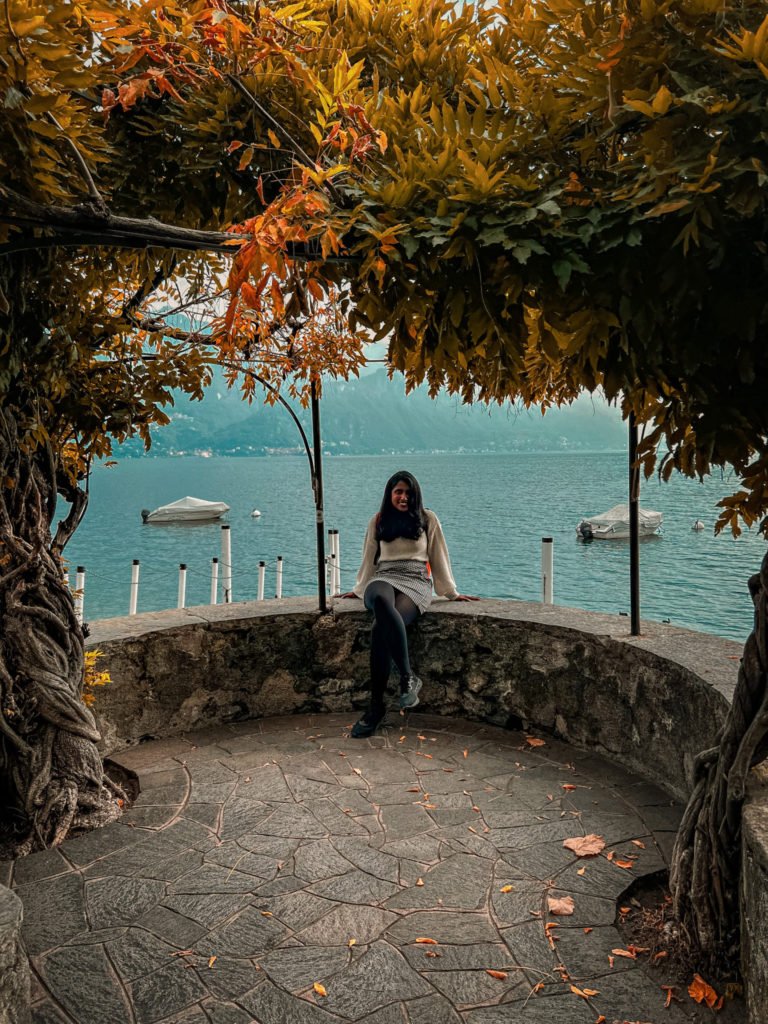 How to Reach Menaggio?
The best way to reach Mennagio is to take a ferry from Varenna or Bellagio. Suppose you are taking a ferry from Bellagio. In that case, it is most likely to stop at Varenna before heading to Menaggio, so check the stop before leaving the ferry.
Almost every neighboring town is connected to each other by ferry routes. During the peak season, they run very frequently. You could sit on the top deck and get some stunning views.
4. Bellagio – An Instagram-Famous Town With Pretty Cobblestone Alleys
If you plan on visiting Lake Como, you would have already seen a lot of pictures on Instagram taken in a pretty cobblestone alley from Bellagio. But there is so much more to enjoy than just one street in Bellagio. It is also the most popular town around Lake Como, not just because of its cute little alley but mainly because of its prime location. Bellagio is located at the Y-shaped intersection, making it the busiest town in Lake Como.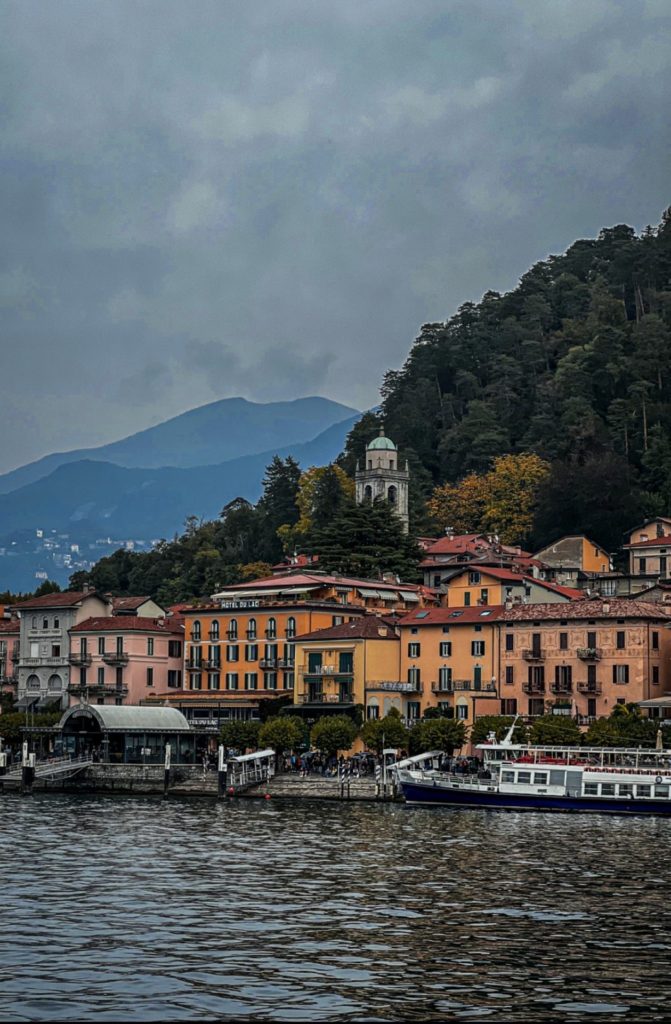 We just fell in love with Bellagio when the ferry docked at the pier. It was too beautiful. It would just kindle the inner artist in you. I would someday like to visit Bellagio and take an art or cooking class. How can you not paint after seeing such beauty around you?
It is also one of the best places to spend a few nights and explore the surrounding areas. We spent a night in Bellagio.
Bellagio is also called "the Pearl of Lake Como", which isn't surprising. You will know when you see this cute little town filled with so many people yet so beautiful. The narrow alleys with steep cobblestone steps allow you to burn those extra calories you just had. I felt like I wanted to drop in and have something at every restaurant.
Stroll in the Giardini Di Villa Melzi
Giardini di Villa Melzi is one of the most beautiful gardens I have ever visited. It was also the only villa we visited during our stay because of our limited time in Lake Como. The gardens are so huge that you will forget you are inside a Villa if not for the perfectly manicured garden around you. This is quite easily accessible by foot from the pier of Bellagio. It is one of the best places to picnic in Bellagio, a little further from the crowded center. Unfortunately, only the garden is open to the public, and the palace's interiors are not.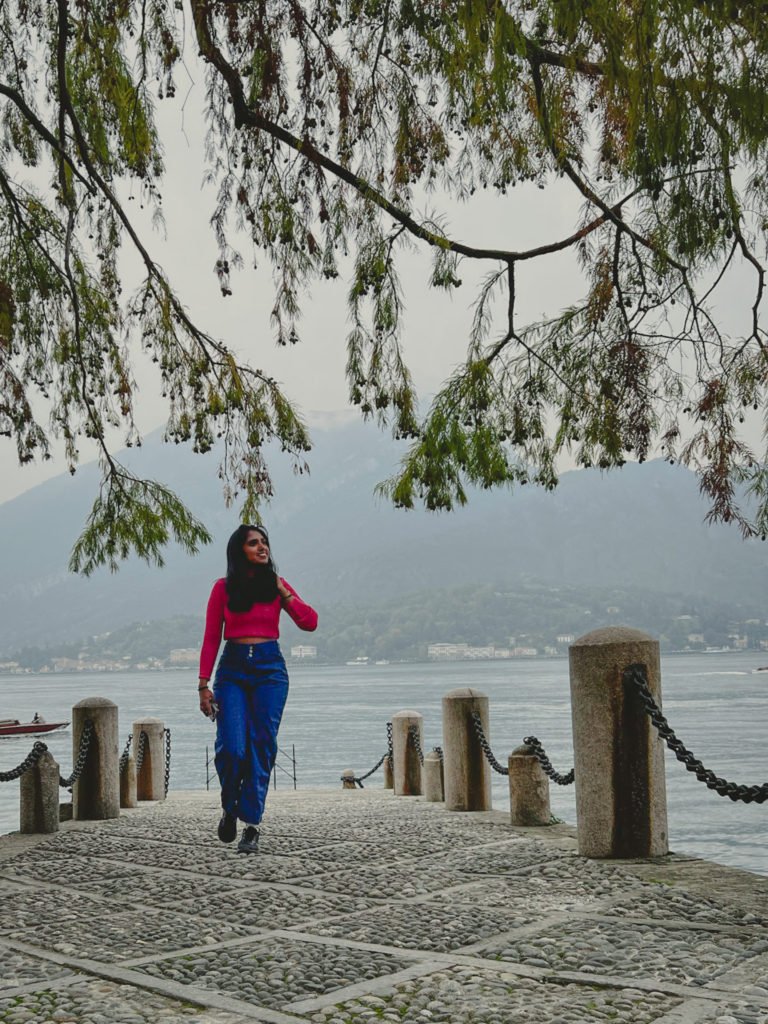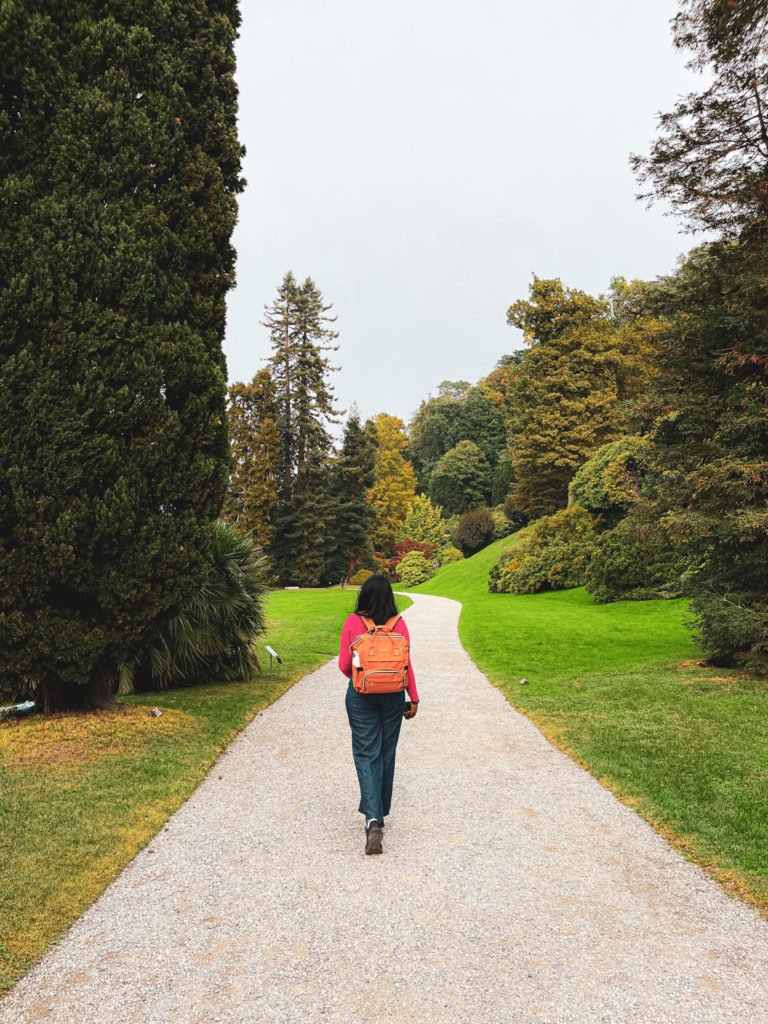 This villa is beautifully curated with an English-style botanical garden, small ponds, and even its own chapel. You could spend a whole day relaxing and clicking pictures in this beautiful place.
Tip! It is important to check if the villas are open during your visit to Bellagio, especially if you are visiting in the off-season. Giardini di Villa Melzi is open only from March to October, as are many other popular villas. Visit Lake Como during these months if exploring villas is at the top of your to-do list.
Tickets and Opening Times for Giardini Di Villa Melzi
Giardini Di Villa Melzi's garden is open every day from 10:00 am to 7:00 pm (the last entry is at 6:30 pm). The entry ticket is around €8, including the chapel and museum visit. The villa garden remains open only from March through October.
Photo Tips for Bellagio
Bellagio is known for its steep cobblestone alleyways. If you want to take your picture of the most photographed lane in this town without any crowd, then the only way is to visit very early in the morning.
Unfortunately, it is easily accessible (you just need to climb a few flights of stairs) and Bellagio is super popular. Hence, it is always bustling with people. I visited in mid-October, the shoulder season, and still found so many people for most of the day.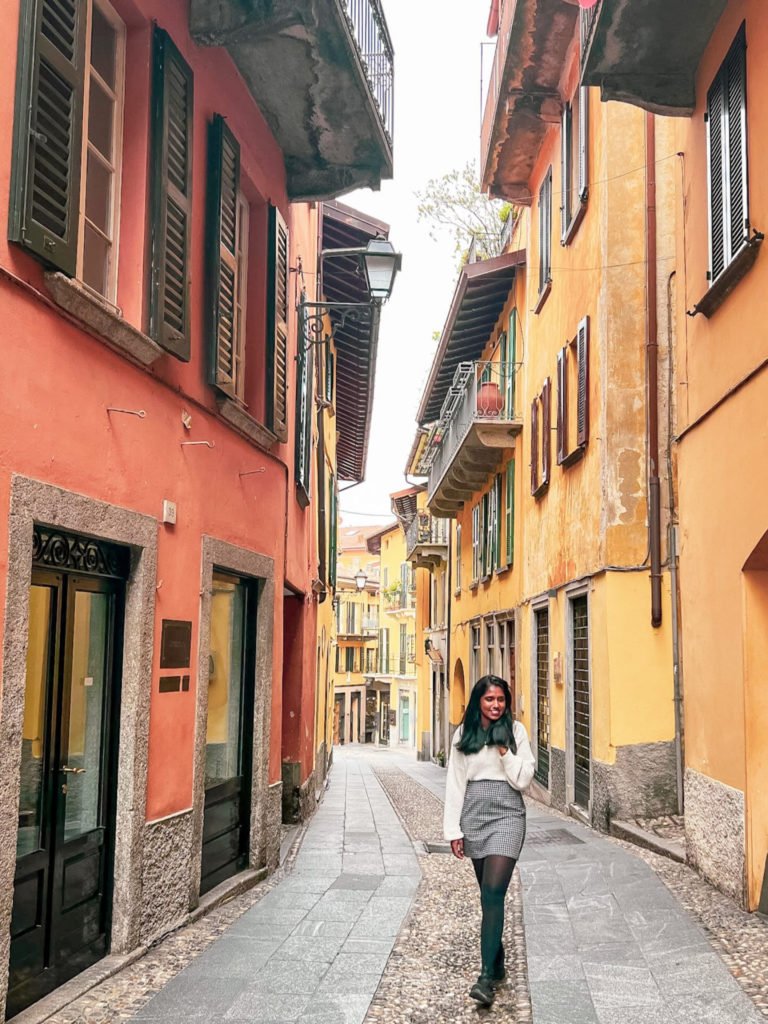 But this is not the only pretty street. I found many other prettier alleys covered in lavender archways in Bellagio. Do not hesitate to climb those stairs. Keep exploring, and you will find some of the most picturesque places that are crowd-free so that you can conduct your own photoshoot.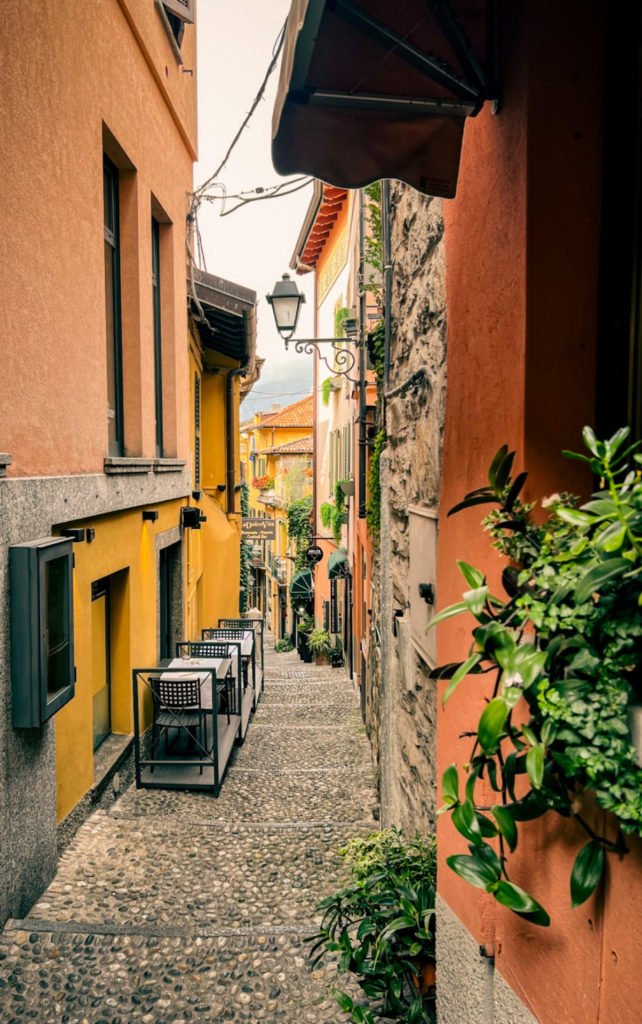 If you have time, visit Villa del Balbianello, which can be accessed by boat from Bellagio.
Where to Stay in Bellagio?
We stayed in Appartamenti I Giardini Di Villa Melzi (closed until March 26th, 2023) in Bellagio, which was cute and comfortable. It did not have stunning views, but it fit our budget and was easy to access with free entrance to Villa Melzi. During the opening times of the garden, we could pass through the garden for a quicker and flatter route to reach the center of the town.
Some of the other best options:
Want to explore more options in Bellagio? Please search in Booking.com here. We use Booking.com to book all our stays and have always had a good experience.
Where to Eat in Bellagio?
Do not miss out on having dinner at Trattoria San Giacomo. Nestled in narrow streets, it offers a cozy and authentic dining experience. You could also try Ristorante Bilacus.
How to Reach Bellagio?
The best way to reach Bellagio is by taking a ferry. As it is located at the meeting point of the two branches of Lake Como, it is very well connected to most towns around this area by ferry.
Check for ferry timings in the official website.
5. Nesso – A Quiet Town With an Amazing Photo Spot
Nesso is truly a hidden gem of Lake Como. To balance things out, it is time to truly unwind yourselves and let your hair down before you return to your busy life. Nesso is a small town perfect for swimming in the lake's pristine waters and enjoying the less busy shores. I would highly recommend staying a night here and being mesmerized by the orange sky as the sun goes down behind the mountains.
Spend a Day Tucked Away From the Crowd
Nesso really lets you travel back in time, where everything moves at a slower pace, and gives you the authentic Lake Como experience. You could wander around the town through the twisted cobblestone alleys without being overwhelmed by the tourists and become one with nature.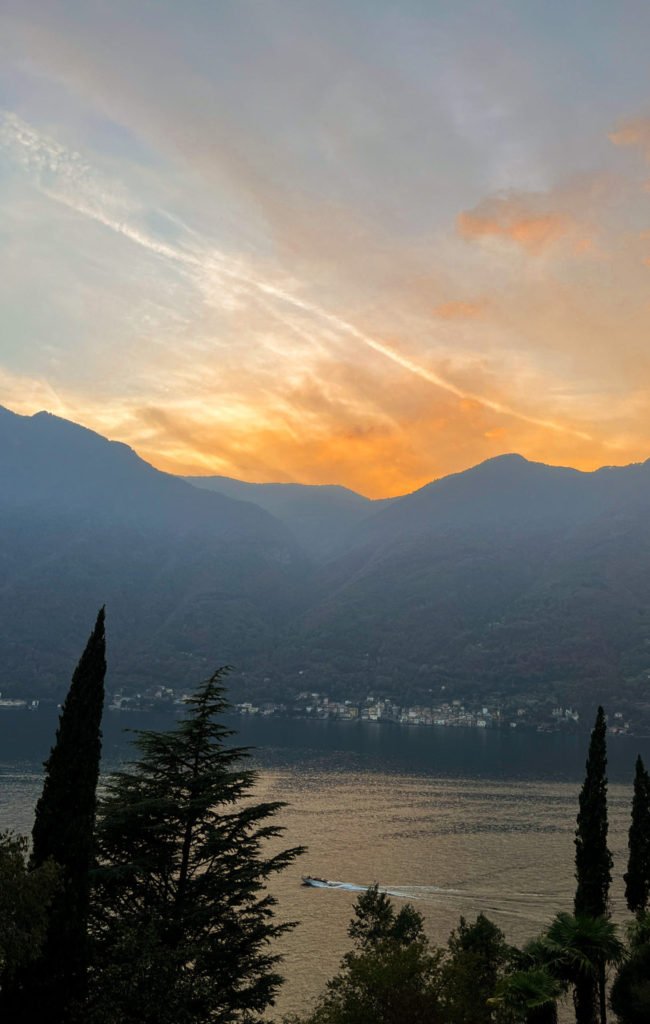 You could also hike up to Orrido di Nesso and walk over the bridge overlooking a pretty waterfall. It is one of the most famous photographic locations in Lake Como. You could see the private boat tours stopping by under the bridge to let the tourists click pictures of the waterfall and the bridge. It turns more picturesque during the fall when the climbers on the houses at the end of the bridge unleash their colors, making it look unreal.
Tip for adventure seekers! If you visit during the summers, take a dive from the bridge of Orrido di Nesso. It is exhilarating!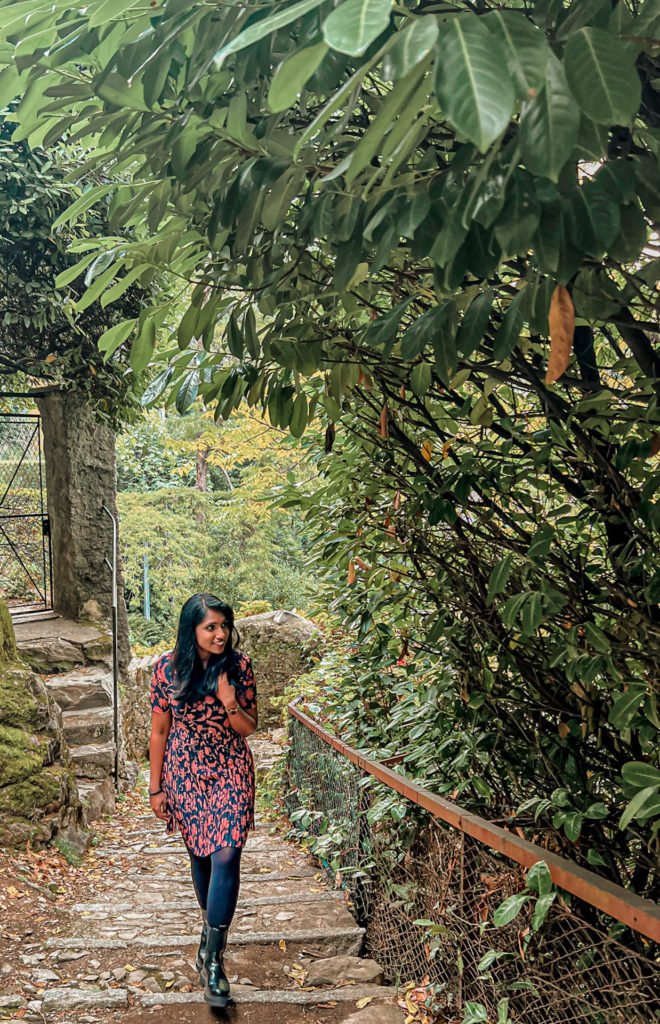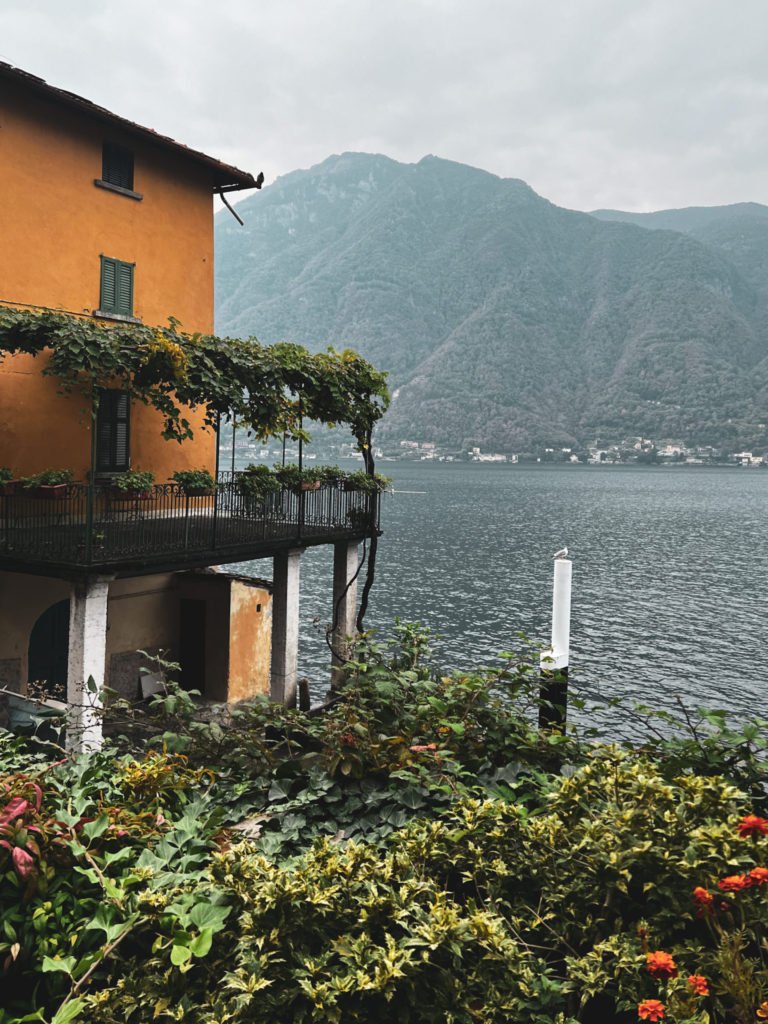 Tip! Nesso is perfect for taking couple photoshoots. We had a mini photoshoot with the help of our tripod and Bluetooth clicker. (Photoshoot on a budget!)
How to Reach Nesso?
If you are not driving, the easiest option would be to take the bus that departs from Bellagio, which takes around 40 minutes to reach Nesso. If you are claustrophobic or have motion sickness, I would recommend not using the bus. I was impatiently waiting for my stop to come sooner, as buses tend to trigger motion sickness for me. I was even considering walking a few kilometers if not for my luggage.
But the driver and some of the locals on the bus were very kind enough and helped us with the stop and directions. Also, the language barrier was real once we boarded the bus, but the people were really sweet and helpful.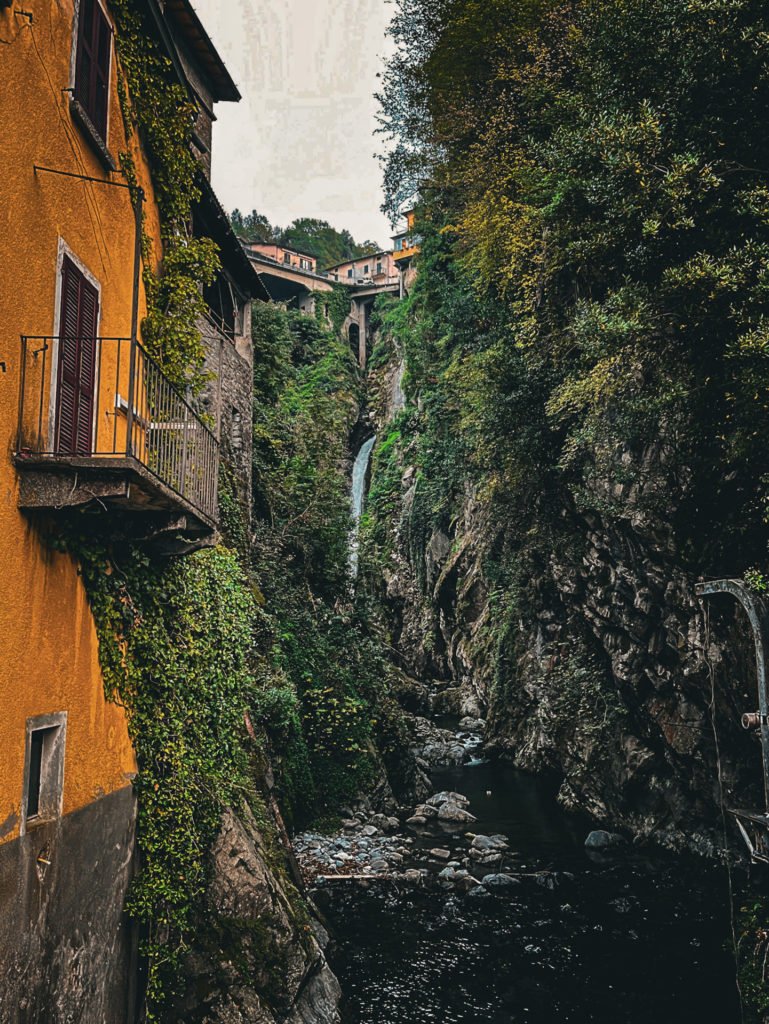 Oh, wait! Almost forgot to mention the alternative option. Nesso has a tiny little pier with a few ferries stopping here. So if you plan accordingly by matching your trip with the ferry timings, you could enjoy a pleasant journey to the town and experience Nesso.
We weren't aware of the ferry until we reached Nesso. Once we saw that the ferry stopped there, we easily decided how to travel back from Nesso to Como (not the lake, but the town) to catch our train to Bergamo.
Where to Eat in Nesso?
There are not many options to eat in Nesso as it is not very popular among the tourists, but we enjoyed some great food and the best drinks here. You could try Pizzeria Trattoria da Eugenio and Bar Alimentari Verigaa (coffee and drinks).
Where to Stay in Nesso?
Nesso is a small town, so there are only a few options. You could consider staying in the following properties:
Want to explore more options in Nesso? Please search in Booking.com here. We use Booking.com to book all our stays and have always had a good experience.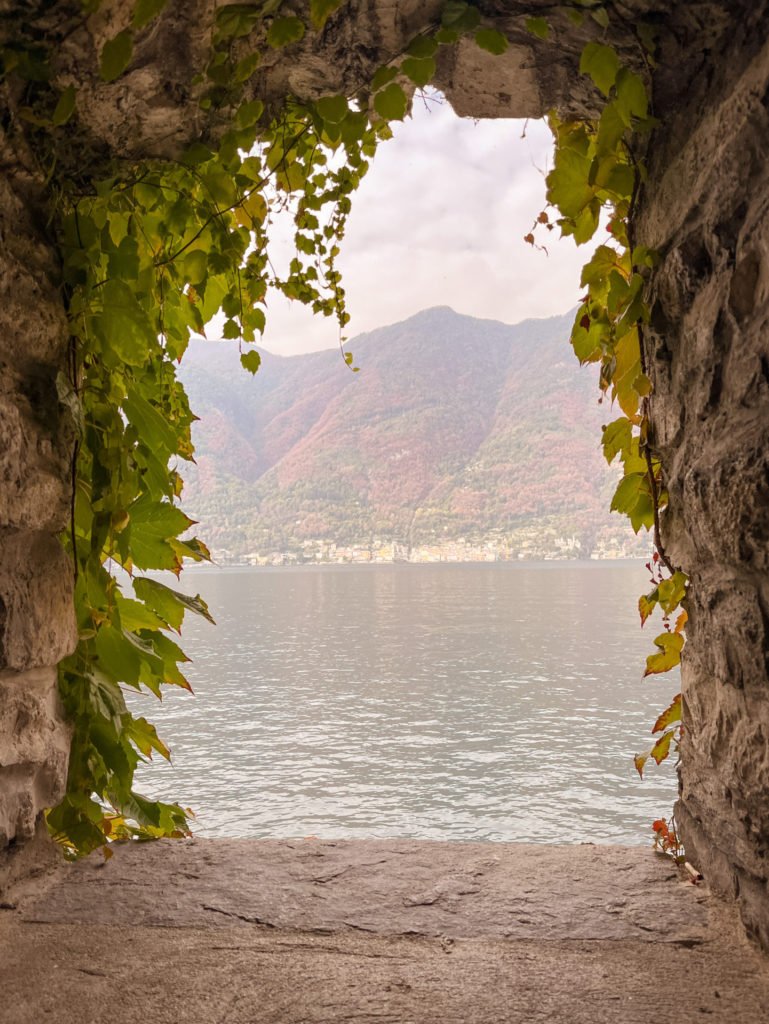 What to Do in Como Town?
We left Nesso by the ferry to Como as we decided. Como is a beautiful place to spend a day, but we did not have the time. Also, it was quite busy as our ferry's captain mentioned that F1 racing was happening (I was as confused as you are!). Yes, it was racing, but in the water.
We tried to take a look at the race as we were enjoying some gelato. It was pretty fascinating to see water racing. The boats were also looking similar to the F1 cars.
Some of the things to do in Como:
Como-Brunate funicular
Explore the Piazza of Como
Cattedrale di Santa Maria Assunta – Duomo di Como (Looks spectacular!)
What About Boat Tours in Lake Como?
You cannot leave Lake Como without going on a boat tour. You could do this in any of the towns you visit around this area. There is something for people with every budget. You could hire a boat if you are an adventure seeker or go on a luxurious private tour with drinks included. You could take the small group tour if you are on a budget.
If you are lucky enough, you could enjoy a private boat ride while taking the ferry from Nesso to Como. The ride from Nesso to Como is quite some distance. The ferry stops in multiple small towns (which means free lakefront views of picturesque towns without visiting them), and the boat is usually smaller similar to the ones used for tours.
We were fortunate to have the entire boat to ourselves for most of the trip. (Yay! Lucky us! It was like a small gift from Lake Como before we said goodbye to the romantic lake and the colorful towns.)
Although there are so many other luxurious villas with heavenly gardens and picturesque towns to see around Lake Como, these are some things you could visit during a short stay. We hope to return again in the future and spend more than a week in Lake Como. Also, we visited Lake Como in the fall, so I have written about the important things to pack for a fall season trip.