This post may contain affiliate links. When you click an affiliate link, we may earn a small commission on qualifying purchases, at no extra cost to you. Also, please check for opening times, restrictions, weather, etc., on the days of your trip. We do our best to keep the post updated, but these things can change quickly.
Madeira is a Portuguese archipelago in the Atlantic waters off the northwest coast of Africa. It is loved for its perfect subtropical climate, lush green forest, rugged coastline, and stunning volcanic landscapes, opening a new sea of possibilities for adventure seekers. Madeira is delightful for everyone as it has a rich history, great food, black sand beaches to relax, and rocky mountains for countless hiking options. It will surely leave a lasting impression and make you want to return for more.
When I checked into my B&B, the host asked if it was my first time. When I nodded yes, he immediately said that by the end of the trip, I would start planning my retirement in Madeira. To be honest, all I could think of after coming back was returning to the island for a back-to-back vacation. It has all my heart.
Madeira's waters are also blessed with incredible marine life, and it is one of the best places to go for a dolphin and whale watching tour. If you love animals, you should definitely go dolphin and whale watching in Madeira.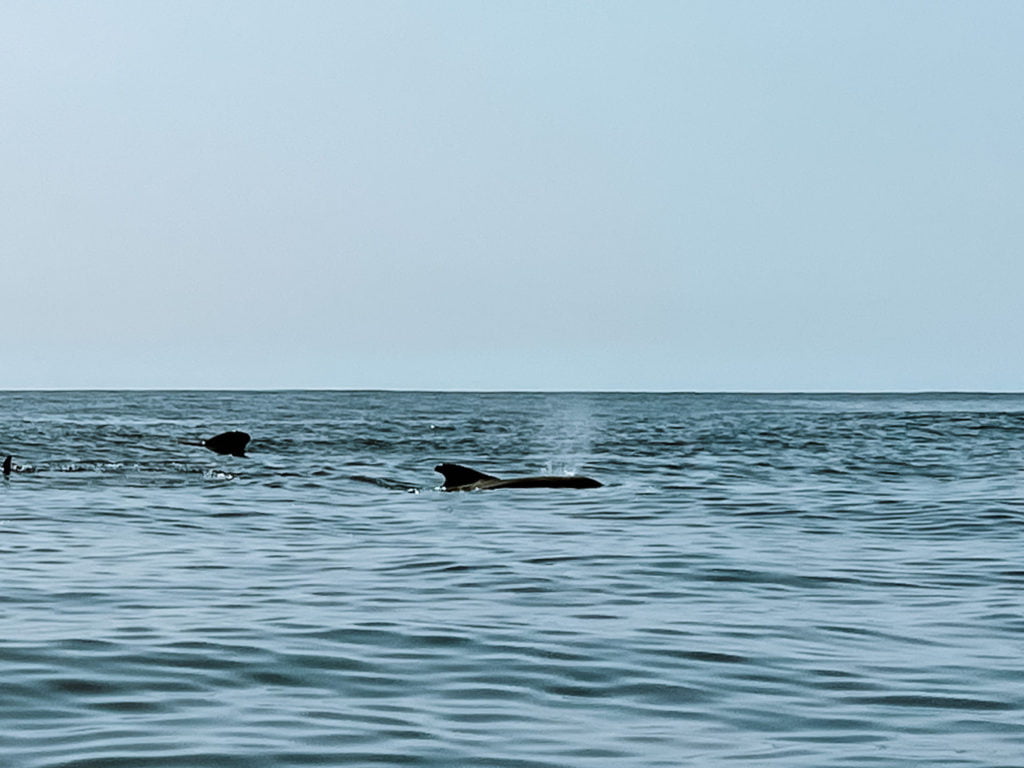 If you are looking to book a whale and dolphin watching tour during your visit to Madeira, then I have got all the information you need to know to help you book the perfect watching tour. I have also included details from my visit along with many tips and things to take during your trip.
When planning our trip to Madeira, dolphin and whale watching was the first thing on my list. I started my research early to find out the best tour providers and the different types of tours available to see what would best match my needs. After reading countless reviews and spending many long hours on the research, we decided to take this dolphin and whale watching experience.
How to Plan the Perfect Dolphin and Whale Watching Experience in Madeira?
1. Book Well in Advance
Usually, a limited number of tours take place daily, and they get booked fully. Or sometimes, when they do not have enough people for the ride, they might cancel that trip. So booking in advance will guarantee availability. Many tourists visit Funchal on cruise ships, so the tours get full quickly on the days the ships arrive.
Advantages of Booking Earlier
You can select the tour company of your choice after carefully reading the reviews. You might not be able to do that at a tour desk.
You can also select the type of ride and the timings to match your preference. You may not have enough time to consider the pros and cons of one type of ride over the other to see what fits you better when you book closer to your preferred date.
You can pay online through GetYourGuide using your currency without spending extra on conversion. Also, GetYourGuide allows you to book early and pay just a day before the trip.
During summer, the tours get fully booked if you do not book earlier, and you might be disappointed if you cannot get a spot.
2. Know the Best Time for Dolphin and Whale Watching in Madeira
You could see marine life in Madeira throughout the year. However, the type and number of species you can spot depends on the particular day and the weather. So no matter when you visit, you can still spot some of the local marine life or some migratory species depending on the time of the year.
Nevertheless, some months are better than others. From what I have heard from the tour guide, the months between April to October are when most species are present in the water, which increases the chances of seeing one.
Still, they also mentioned that some species pass through these waters during the winter. But during winter, there might be fewer tours than during the summer as they only operate if they have a certain number of bookings for the ride to reduce the impact on the ocean.
If you are looking for a time of the day with better chances of seeing the cetaceans, both mornings and afternoons have the same chances. So pick your choice, but sometimes you might have to be a little flexible as they might ask you to join at another time as there are not enough bookings during the selected times. (Happened to us! More on that later.)
3. Understand the Marine Life Around Madeira and the Best Months to Spot Them
Although you could spot some cetaceans almost throughout the year, some species are local to the Madeira's waters, and some visit the area during specific months as part of their migration route. The list in this section gives you an idea of what species are present in different months.
However, you might not always see all the species that are in the sea because most of them, especially the whales, swim in depths. Spotting one is not easy, but it is possible.
Types of Whales That Visit Madeira
Sperm whales (Physeter macrocephalus) – Found year-round but mostly spotted from March to September.
Short-finned pilot whales (Globicephala macrorhynchus) – Found throughout the year. Still, chances of spotting are higher from November to April.
Bryde's whales (Balaenoptera brydei) – Spotted from April through October.
Fin whale (Balaenoptera physalus) – Spotted from Late March to October (not very common).
Sei Whale (Balaenoptera borealis) – Spotted from May to September (not very common).
Common minke whale (Balaenoptera acutorostrata) – Spotted from May through August (not very common).
If you are lucky enough, you could spot a Blue whale, Orca, Humpback whale, and other rare species that are found around this region occasionally.
Types of Dolphins That Visit Madeira
Common bottlenose dolphin (Tursiops truncatus) – Found year-round and local to the region. During summer, they swim in shallow water closer to the shore. You could possibly spot them even from the coast.
Short-beaked common dolphin (Delphinus delphis) – Spotted from December till May. They are more curious and will try to come closer to the boats.
Atlantic spotted dolphin (Stenella frontalis) – The older dolphins have distinctive spots all over their body. They are mostly found throughout the year but can be spotted from March to October.
Rough-toothed dolphins (Steno bredanensis) – They mostly swim in deep waters. Still, they can be spotted from July to September (not very common).
Risso's dolphin (Grampus griseus) – Spotted from June to October (not very common).
Striped dolphins (Stenella coeruleoalba) – Spotted from February to April and then from July to September (not very common).
Around 20 species of dolphins pass the waters around Madeira, and if you are lucky, you can see some rare ones as well.
Set your expectations! Sometimes we get super hyped after our research seeing all the cetaceans others spotted during their visit. And, we get disappointed if we cannot see them during ours. We must understand that they are in their natural habitat, and spotting them without disturbing them depends on many factors. However, seeing a pod of dolphins or whales in the waters is truly a magnificent and humbling experience, no matter what species we can spot.
Also, dolphins are easier to spot than whales, as whales spend much time underwater. But usually, the tour guides check for whale activity as well, and they try hard to show you as much as possible during your trip.
4. Select Your Best Company for Dolphin and Whale Watching in Madeira
In Madeira, dolphin and whale watching is a popular activity. Hence, many tour companies offer their services. So how to choose the best one? There is simply no one best option, and most companies have good ratings. I know it's difficult to decide and narrow down to a choice. I am leaving some tips to select which tour company works for you and my experience choosing the one I did.
What Not to Consider?
The first thing is to understand that no tour company can promise the sighting of cetaceans. As they are in their habitat, you wait to see if they show up. If they do, no matter which company you choose, you will see them as the companies usually communicate within themselves when there is a sighting.
The distance of how close you can approach the cetaceans and the duration you can hang around them are the same for every tour company. So don't let anyone tell you otherwise. (Rules are rules!)
What to Consider?
Most tour companies operate two to three daily tours for every boat type (more on that later). So check the timing and availability on your preferred day. This should narrow down your choice to some extent. During the summer, it gets booked well in advance, so if you are booking last minute, you might not have a lot of choices.
Check the reviews. We booked our trip through GetYourGuide, where you can book various types of dolphin and whale watching tours from different providers and easily check the reviews before you book. Small things that don't matter to someone might be important to you, and checking the reviews will help you make the right choice.
Regarding the price point, the prices are not too far apart from one company to another, yet there is a slight difference. And these prices vary from time to time, and if you check GetYourGuide, you might even find some tours at a discounted price. So look out for that!
Check if your tour company is providing another free tour in case you are not able to spot any marine life during your actual tour. We checked specifically for that option before we booked, as it would be disappointing not to see any. However, there is no guarantee that you will be able to see them during your second tour, but at least I will be happy to have tried twice.
How Did We Choose?
So basically, considering all the above factors, we decided to go with Magic Dolphin for our dolphin and whale watching experience, and we are glad we picked a good one. We found better reviews on their staff. (Well, slightly better. Most companies had good reviews. I mean it seriously. It was quite frustrating to select one! But that's a good problem to have.)
Since we were not visiting during peak season, it wasn't too busy either, and also I booked my tours a month in advance. (Ya girl is pretty organized, you see!)
We booked the speed boat tour (my reasons for choosing the speed boat are in the next paragraph), and I should really mention their excellent staff support. This tour also had a lower price when I booked.
---
Story Time
So we made the mistake of booking our dolphin and whale watching tour on the day we landed (bad move). We were supposed to land around 9:30 am, and to be on the safer side, we had booked the afternoon tour, which leaves at 2:00 pm.
A day before our departure, we got a call from the tour company saying we were the only clients for the afternoon tour in a speed boat. They asked if we could join the 11:00 am trip or do it on a different date. I had the rest of the trip completely planned as well, and the other option was to take the catamaran ride at 2:00 pm instead of a speed boat. I really wanted to take the speed boat, so I told them I would try my best to join the 11:00 am tour.
Fast Forward to the Day of the Trip
I was sitting on the flight hoping it would land early magically, but anyways it landed at the right time, and we had our pick-up from our B&B waiting for us at the airport. We left the airport at around 10:10 am and reached our stay in Funchal at 10:40 am. (We should have gone directly to the marina with our luggage from where the tour started, but the thought didn't occur to us in the heat of the moment.)
We quickly asked if we could drop the bags in the room as soon as possible and started walking towards the marina. We called the tour company to ask for the location and to inform them that we were coming. The location was around a 10 minutes walk from our B&B, only if we knew the route and where exactly we should go in the vast open seafront.
This is where the person on the phone helped me a lot. She talked to me the whole way, explaining the directions. I just kept telling her everything I saw on the way so she could tell me the directions. They looked out and cheered for us while we ran the remaining distance.
Everyone had already boarded the boat, and the people from the tour company were waiting with two life jackets ready for us. Once we reached the dock, we just put on the jacket and jumped into the boat. It was quite the experience. But they made sure we were comfortable.
Also, the guide was a marine biologist who explained everything about the cetaceans in the local waters, the migratory species, their behavior, and why supporting ethical wildlife and marine life tours is important.
So, overall we thoroughly enjoyed our 2-hour ride in the sea. We could spot 2 types of dolphins: the bottlenose dolphins and the common dolphins, which were very playful. We also spotted a big group of pilot whales which were quite massive. One whale approached our boat very close and was swimming around us. We were also lucky to spot some babies of the dolphins and the whales.
We highly recommend Magic Dolphin purely because of our experience, and this is not a sponsored post.
---
5. Choose the Right Type of Boat
The two main types of boats available for dolphin and whale watching in Madeira (Not including any private or luxury tour options that may be available) are:
Catamaran boats
Speed boats
There are some differences between the two types of tours, mainly related to the facilities and price. However, there is no difference in what cetaceans you can see from either. You can check the pros and cons of each of them to decide which is more suitable for you.
Pros of Catamaran Boats
They are cheaper.
They are more luxurious compared to speed boats.
You get to move around and sit indoors if you prefer to.
There is a toilet onboard.
On some tours, there is a bar and snacks available as well.
During summer months, you might be allowed to swim with certain species of dolphins, and snorkel gear will be provided free of cost. (Some tours specifically offer the swimming option as well, but you have to get your own swimwear and towels.)
The duration is slightly longer. (I wonder if this is a pro or not, and also, the increase in time is because the catamaran boats are slower than the speed boats.)
Pros of Speed Boats
The ride itself is more fun.
Less number of people.
I felt that you could see the cetaceans at a much closer distance than from the catamaran boats. A pilot whale approached really close to our boat, which was wonderful to see.
It is safer with kids as they cannot move around. Also, they will enjoy the fun ride.
Due to the powerful engine, it could cover large distances in a short time, giving you the possibility to see multiple pods even if they are a little far apart. This becomes a real advantage on bad weather days when they have to search from one possible area to another.
Also, I feel it is easier to put your GoPro or iPhone (with the waterproof cover) underwater to capture the footage of these beautiful creatures. Please check with the guide if you can do that, as it is not advisable to do it with every pod.
This was one of the important factors for us to go on a speed boat tour. It is said that there is a lesser chance of getting sea sickness with a speed boat than in a catamaran boat. I am generally prone to motion sickness issues. But I didn't have any problems the entire ride, even though I just hopped on the speed boat immediately after landing, which in itself was quite exhausting for me. (So the speed boat did good, at least for me!)
But the ride itself could be a little bumpy, so if you have a bad back, it is better to take the catamaran ride where you can move around.
Other Possible Rides for Dolphin and Whale Watching in Madeira
Some tours provide dolphin and whale watching experience during sunset hours, so you can experience the sunset colors with the marine life around Madeira.
Another exciting option is to ride aboard the replica of Christopher Columbus' Santa Maria, which takes around 3 hours. It could be an experience in itself, combined with watching the marine life and enjoying the views of the coast around Madeira.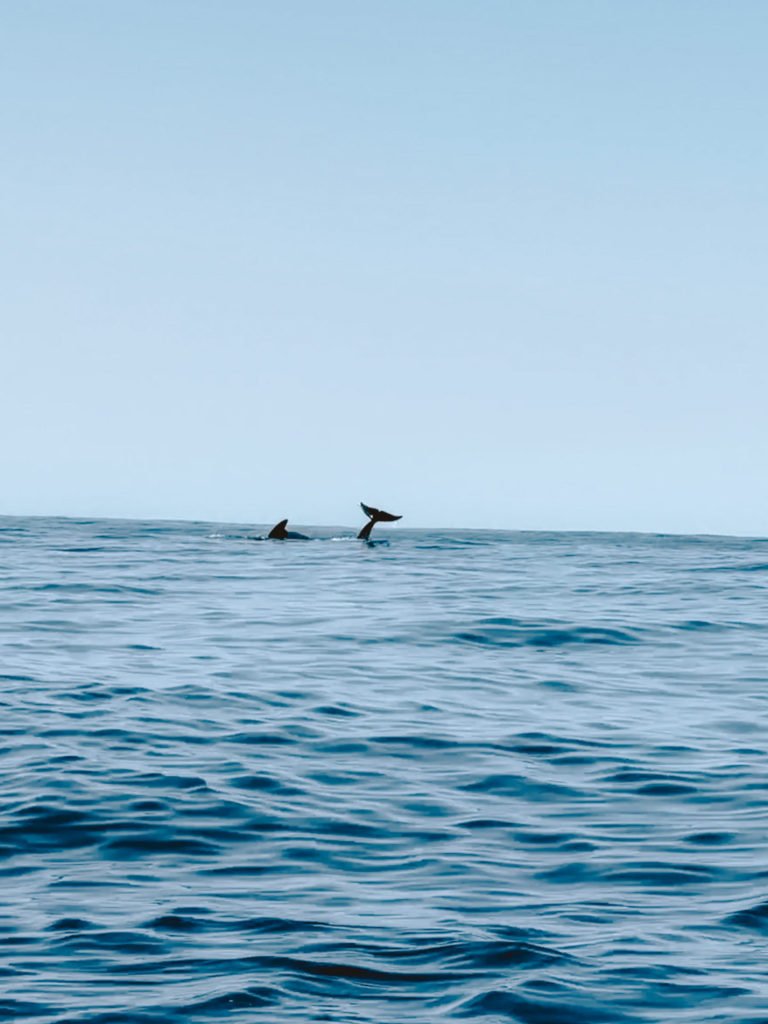 6. Decide if You Want to Swim With Dolphins in Madeira
If swimming with dolphins is on your list, then Madeira could be the place to tick it off. But it is not always possible, mostly weather permitting, and depends on the dolphin species being spotted. You could swim with only 2 different dolphin species in Madeira. So check the availability of the tours and book well in advance.
7. Plan Your Madeira Itinerary
Folks, seriously, I wish I had known this before. As a rule of thumb, do not book any important tours on the day you land. I was fortunate to hop on the boat and enjoyed watching some beautiful dolphins and whales.
The winds in Madeira can get really crazy, making it difficult for the flights to land. Many times in a year, flights are delayed or diverted due to strong wind, which means you will probably reach maybe a day later. So keep a buffer. If you land as planned, enjoy walking around and exploring the old town of Funchal, which is quite beautiful.
Psst! We were actually quite lucky. We had a perfect week of sunshine with not a bit of rain all through our trip. On the day we were leaving, it was completely cloudy. There were severe winds the following day leading to the cancellation of several flights (arrival and departures), and the situation improved only after a couple of days.
Also, do not plan to go dolphin and whale watching in Madeira on the last day of your trip. As I mentioned before, when you cannot spot any sea life on your trip, you could be offered another tour in the upcoming trips. Doing the experience on the last day will take the chance of a second tour away from you, and you don't want that. So plan accordingly!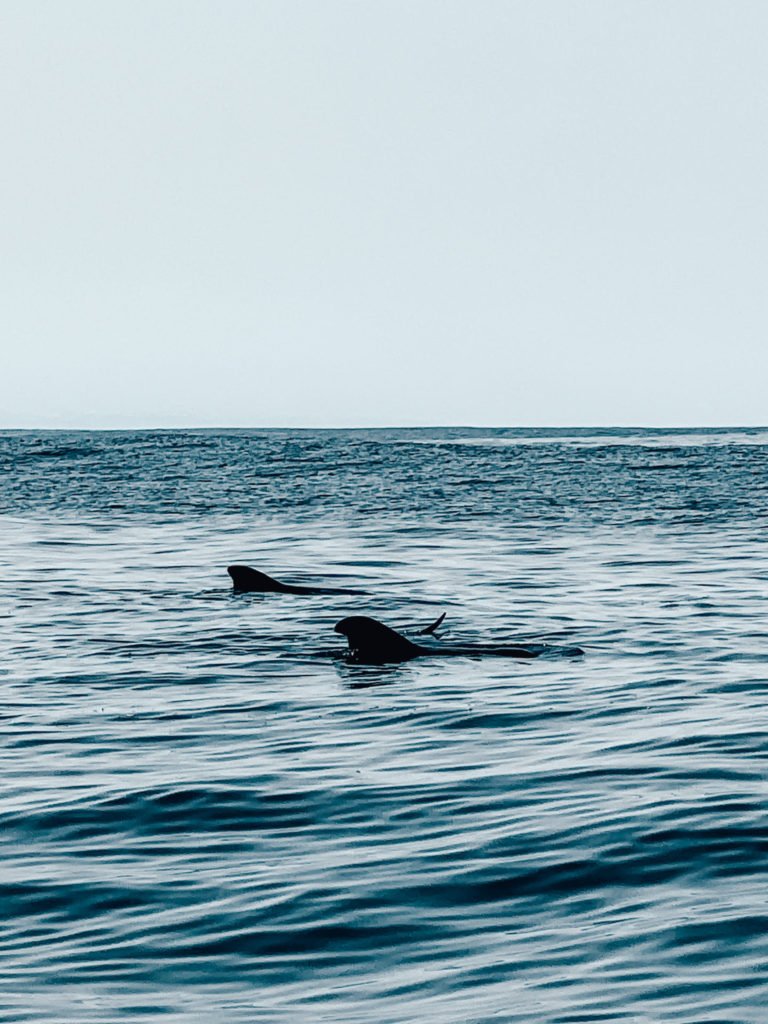 8. Wear the Right Clothes and Pack the Essentials
The most important thing is to wear comfortable clothes. It tends to be windy when on the sea, so uncomfortable clothes will affect your overall experience.
Bring an additional jacket, preferably water-repellent or waterproof, just to be prepared for bad weather. Also, if you are going on a speed boat, there could be water splashes if the ride gets bumpy.
Bring a hat for sunny days, but ensure it doesn't fly away.
Bring sunglasses and sunscreen. Make sure to use reef-safe sunscreen, especially if you plan to swim in the water. Apply more sunscreen after coming out of the water.
Wear your swimsuit beforehand and bring a towel if you plan to swim in the water.
If you are taking the speed boat, don't carry a huge bag with you. Take a smaller, preferably waterproof bag to put your phones or camera in if the weather turns bad. If you have a lot of luggage, you could drop it at the tour company's office at the marina, so just ask them.
If you have a GoPro, do bring it to capture the underwater footage, you could also consider a waterproof cover for your iPhone using which you still capture good underwater footage. This makes a massive difference because only a part of the cetacean can be seen outside the water. You could capture the tail or the flip if you are lucky enough, but in most cases, you won't see the whole animal outside the water. So to get better shots bring on your waterproof gadgets.
9. Prep Yourself for the Ride
Well, this is especially important for people like me who tend to suffer from seasickness. Be prepared. If you prefer preventive medication, take it a few hours before the trip.
This is for anyone in general. Try not to consume something heavy before your ride. It could make you very uncomfortable. Do not hesitate to talk to your guide if you feel uncomfortable during the ride.
Some tips that could help you are:
Take deep breaths, stay outside, and breathe as much fresh air as possible.
Do not stare at the sea moving or the waves if you feel nauseous. Just look through the horizon or the sky.
Choose to sit at the back of the boat and have some water.
10. Reach the Location on Time
Try reaching at least 10 minutes before your ride starts, as there are many tour companies, and if you are new to the place, it could take you a while to figure out. If possible, check the location with your tour company beforehand. Sometimes the information mentioned on the GetYourGuide website might not be up to date.
In my case, due to some construction work, the tours were starting from a different location, according to the GetYourGuide website, but it was not the case. I was already running late, and good that I didn't blindly follow the location and called them instead. They also help you by telling you directions and landmarks if you happen to be lost like me.
The boats need to start right on time, so they can't wait for you, even if it is just for a few minutes. Gladly we reached sharp on time after a lot of running or else we would have missed the tour. To avoid this, make sure to reach the location a little early.
Our Dolphin and Whale Watching Experience in Madeira
Well, since I have already told all about how I reached the boat, just moving straight to the beautiful cetaceans we spotted. It was a bright, sunny, absolutely clear sky day which is uncommon in early spring. Just immediately after a few minutes into the ride, we saw common bottlenose dolphins. The mother was a little cautious as there were a few baby dolphins, so they stayed a bit further from the boats. However, there was one dolphin that was pretty close, but I couldn't quickly get many pictures since I didn't have the right angle. But they were beautiful!
Our guide told us how many minutes we still had left, after which we had to move further as it is one of the strict regulations Madeira maintains so that the sea life isn't bothered.
Immediately there was information about a group of Pilot whales a little further from where we were. So we started to proceed and were amazed by the large creatures. The male pilot whale was comparatively very much larger than the numerous female ones. This pod had a few babies as well. Our guide explained their distinctive features, habitat, diet, and behavior in detail. The pilot whales were a little curious, and some even approached a lot closer to the boat. (Do not touch them however close they come to the boat).
The next stop was the last one for our trip, and it was a massive pod of common dolphins. They were so beautiful, and they were feeding along with many birds. A few dolphins were even performing their classic flips. It was so lovely to watch. But they are challenging to capture, especially with just a phone. You need to be really quick, but I tried my best but then gave up on the pics and enjoyed watching them as it was more important.
After which, we bid adieu to these beautiful dolphins and sped fast to the shore, which took around 25 minutes from where we were. Overall I would say that the entire experience was hands down worth it. I want to try my luck during a different season to see if I can spot some different species.
If you are in a hurry, save this post and read it later before your trip. But I am leaving a quick checklist before you plan to go for dolphin and whale watching in Madeira.
Checklist for Dolphin and Whale Watching in Madeira
Book your tour early, especially if you are visiting in the summer.
Read reviews online and choose your tour company. We went with Magic Dolphin.
Go through the pros of the catamaran and speed boat rides to select which works for you.
Do not book your tour on the first or last day of your trip.
Wear comfortable clothes and carry a jacket. Wear a swimsuit if you have booked the swimming with dolphins tour.
Carry your GoPro or camera with a good zoom. Carry a waterproof cover.
Wear sunscreen, and carry a hat and goggles.
Reach at least 10 minutes before time.
Do not feed, touch, or go in the middle of a pod. Treat the magnificent creatures with love and respect.
If you want to learn more about these beautiful sea creatures, visit the Whale Museum in Caniçal.
If you went dolphin and whale watching in Madeira, let us know about your experience and the species you saw during your trip. Also, if you love spending time with nature, check out our detailed post about the 25 Fontes and Risco waterfall levada walk.