This post may contain affiliate links. When you click an affiliate link, we may earn a small commission on qualifying purchases, at no extra cost to you. Also, please check for opening times, restrictions, weather, etc., on the days of your trip. We do our best to keep the post updated, but these things can change quickly.
Is visiting Copenhagen on your bucket list? Don't let the cost of exploring this Danish capital city scare you. Copenhagen is known for its stunning architecture, gardens, biking culture, and happy people. It is one of the very popular destinations in Europe. However, you would have already heard everyone say it is also one of the world's most expensive places to visit or live. And I am not here to tell you it is not, but you can explore Copenhagen on a budget.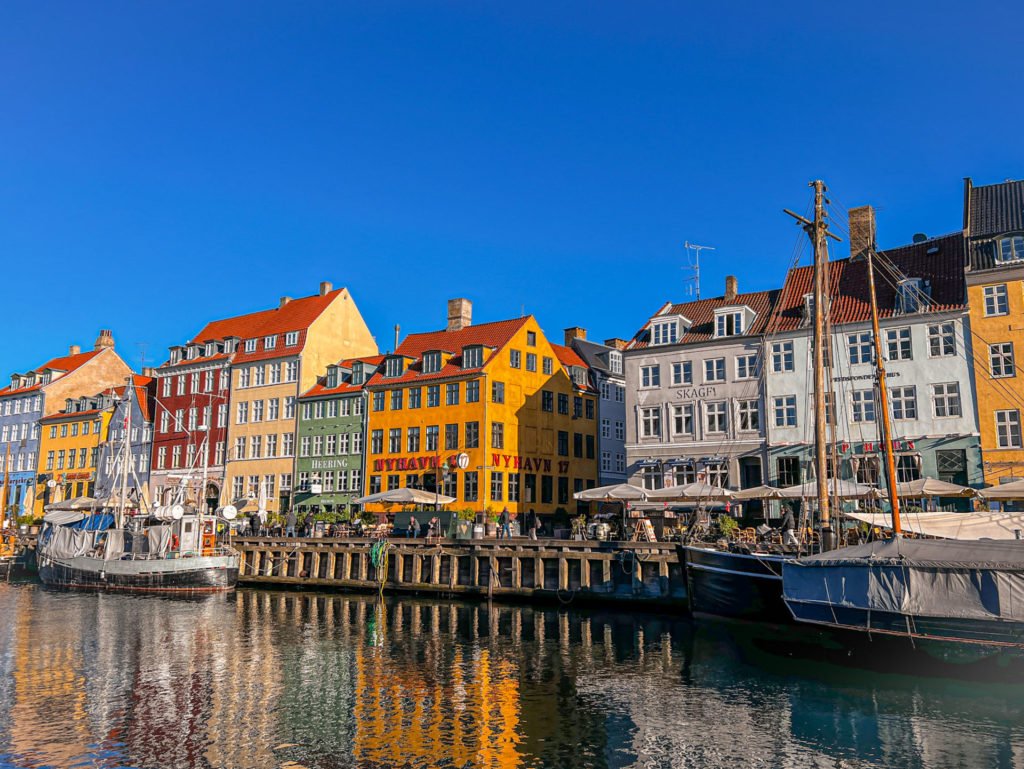 The Best Free Things to Do in Copenhagen
Although the per day expense of visiting Copenhagen might be a bit higher than many other European cities, it also offers a lot of free things to do, which is pretty cool. I will also include many tips to plan your trip to Copenhagen on a budget. So why wait? Pack your bags and get ready to explore the Danish city of Hygge. (After all, the feeling of Hygge is based on finding happiness in the little things, which shouldn't cost you much, right?)
1. Go on a Walking or Biking Tour
The best way to explore any European city would be to go on a walking tour. Most of the cities are built in a way that their historic center can be easily explored on foot. I always recommend starting with a nice walking tour to get into the vibe that is going on in the city and get a nice feel of it.
Copenhagen is especially very suitable for going on a walking tour as most of the historical attractions are very close to each other. Trust me, always start with a small walking tour. You could go on one of the self-guided walking tours or free guided tours based on your preference. After exploring the city on foot, you feel like you know the city and its ways.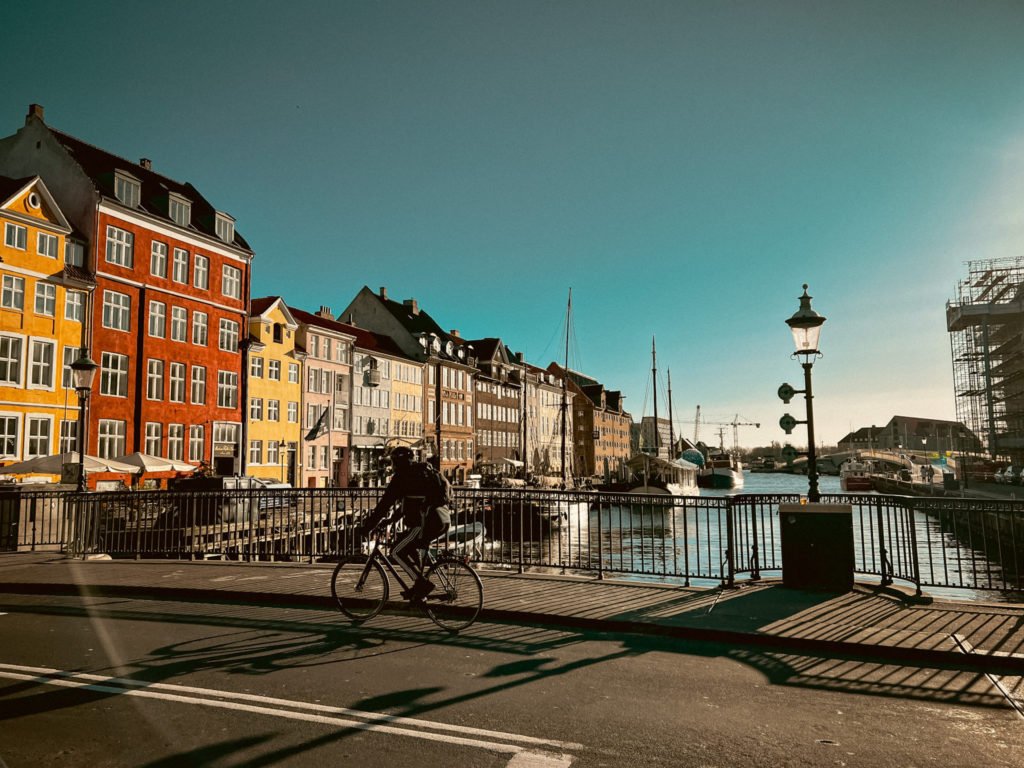 Psst! I have compiled the perfect self-guided walking tour for you to start right away.
The city is also known for its biking culture, with well-established biking lanes for the safety of cyclists.
Good to know! If you are not much into the bike culture, I would avoid taking a bike tour as you would end up pissing off the locals. Also, it could be dangerous for you and others.
2. Take Your Perfect Instagram Picture at Nyhavn
Nyhavn has bright-colored row houses by the canal, which pop up first when you look for things to do in Copenhagen. The best part is it is free to visit. Nyhavn is a charming neighborhood by the waterfront, filled with colorful houses from the 17th and 18th centuries. It was once popular among sailors, but now it has become a tourist delight. The whole street is filled with bars and restaurants, but you can expect them to be expensive.
Tip! Instead of heading to the restaurants or bars, just grab a beer from a corner store, get a classic Danish hot dog from the food truck, and sit on the waterfront facing the colorful houses. I feel that gives you the best views than sitting in one of the colorful buildings and looking at a fairly ordinary side of the street. Let me know what you would prefer in the comments?
Good to know! Since it is very famous among tourists, it is usually filled with people once the canal tours start, which is around 10 am on most days. If you need to get some good pictures, the only way is to beat the crowd. Be early, folks! We arrived around 8:30, and only a few people were there; the entire place was so peaceful.
Psst! Tag us in your pictures on Instagram. We would be super happy if you do so! (Picture me wiping the happy tears!)
3. Watch the Change of Guards Ceremony at Amalienborg Palace
Amalienborg Palace is the official residence of the Royal Danish Family. Witness the traditional guard changing ceremony, which happens every day at 12 noon in the main palace square. The palace also houses a museum to give you a taste of Denmark's royal history. Still, it requires an entry ticket (it is free with the Copenhagen card). However, it is free to watch the ceremony of guard change. The ceremony's length and type depend on who from the royal family is present on that particular day.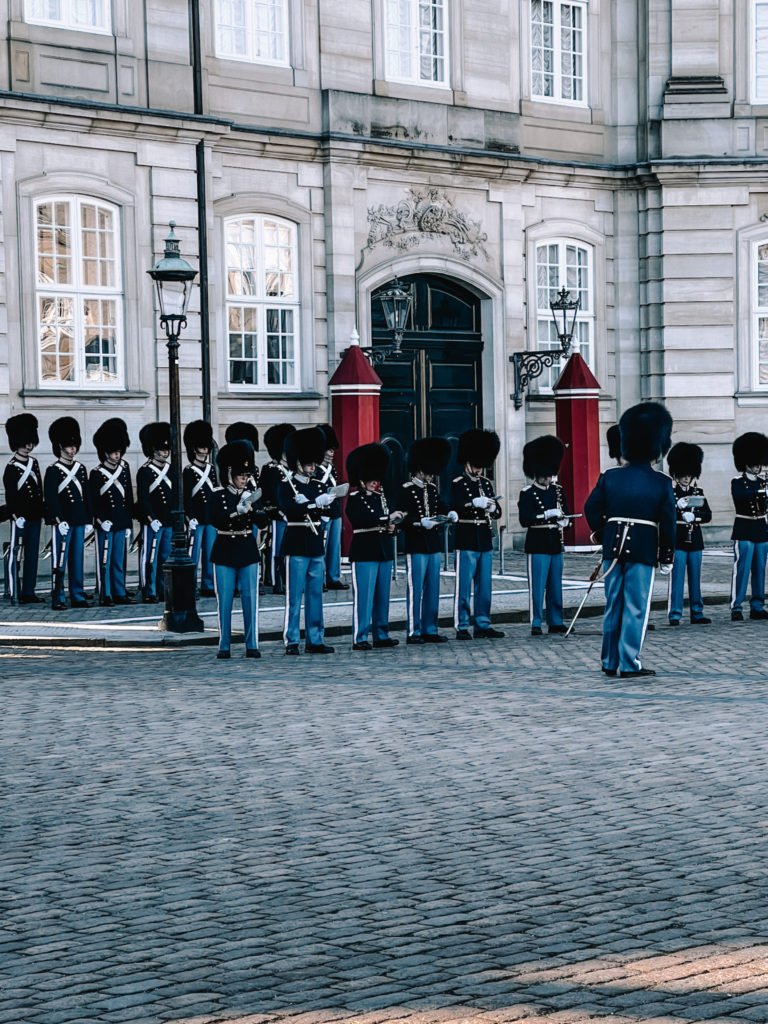 Be there sharp at 12 pm to see the march guards in their uniforms and bearskin caps. It was quite a sight and should not be missed. The marching of guards starts from the Rosenborg castle at 11:30 am, so if you are early, you know where to go.
4. Marvel at the Frederik's Church
It is the one with the giant teal-colored circular dome, which can be spotted easily on Copenhagen's skyline. The church looks very beautiful, and the dome looks quite spectacular when seen from a height, especially during the golden hour.
Frederik's Church is free to visit and open between 10 am to 5 pm from Monday through Thursday and Saturdays. On Fridays and Sundays, it opens at 12 pm and 12:30 pm, respectively, and remains open until 5 pm.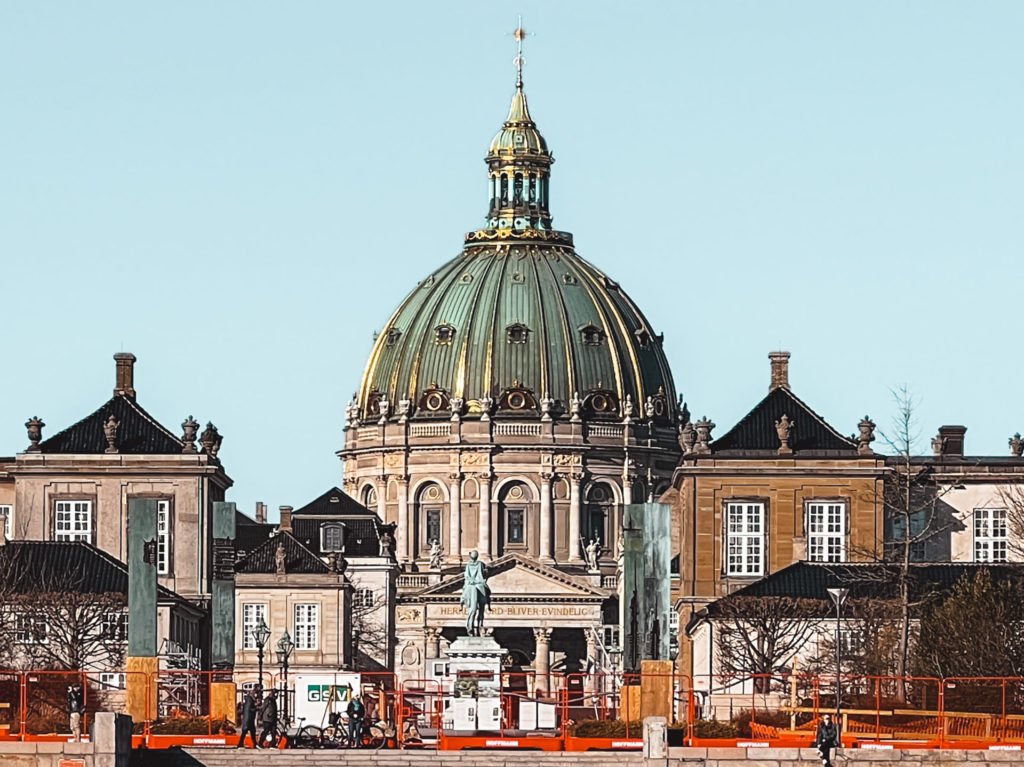 Photo tip! If you are looking for a photo without the crowd, go around the church and snap pictures from the backside. It almost looks equally beautiful.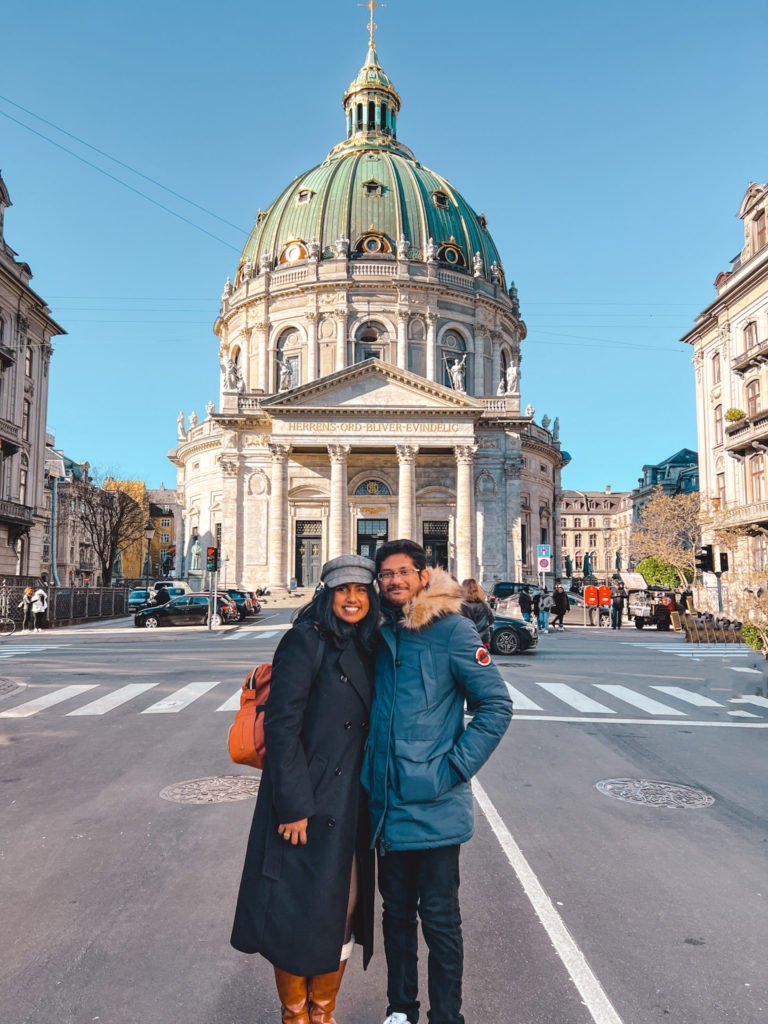 Psst! The Stairway to Heaven in Christianshavn offers stunning aerial views of the city. Still, you need an entry ticket (it is free with a Copenhagen City Card). If you plan to go for it, book your slot online during the golden hour. (You can thank me later!)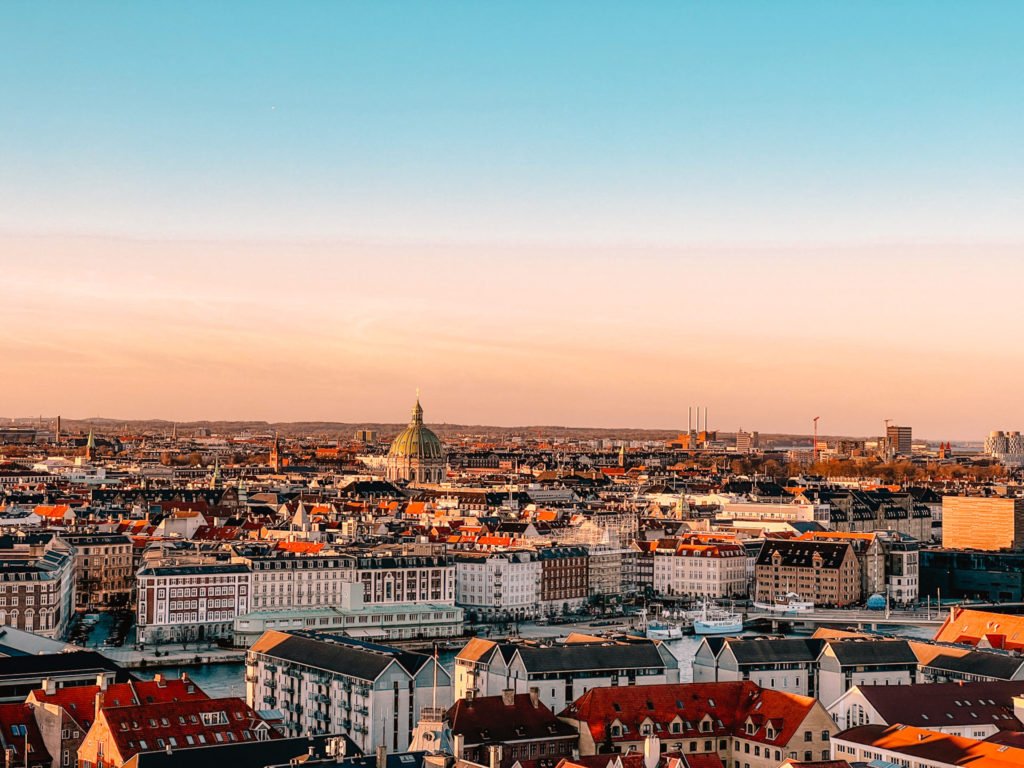 5. Enjoy Kongens Have
Kongens Have, the King's Garden, is one of the oldest gardens, established in the 17th century. The garden is right outside Rosenborg Castle, giving it the name Rosenborg Castle Garden. You could enjoy the castle's views from the absolutely free garden. Also, it is a lovely place to enjoy a picnic or relax on the garden benches. It is also filled with many small statues all across the garden.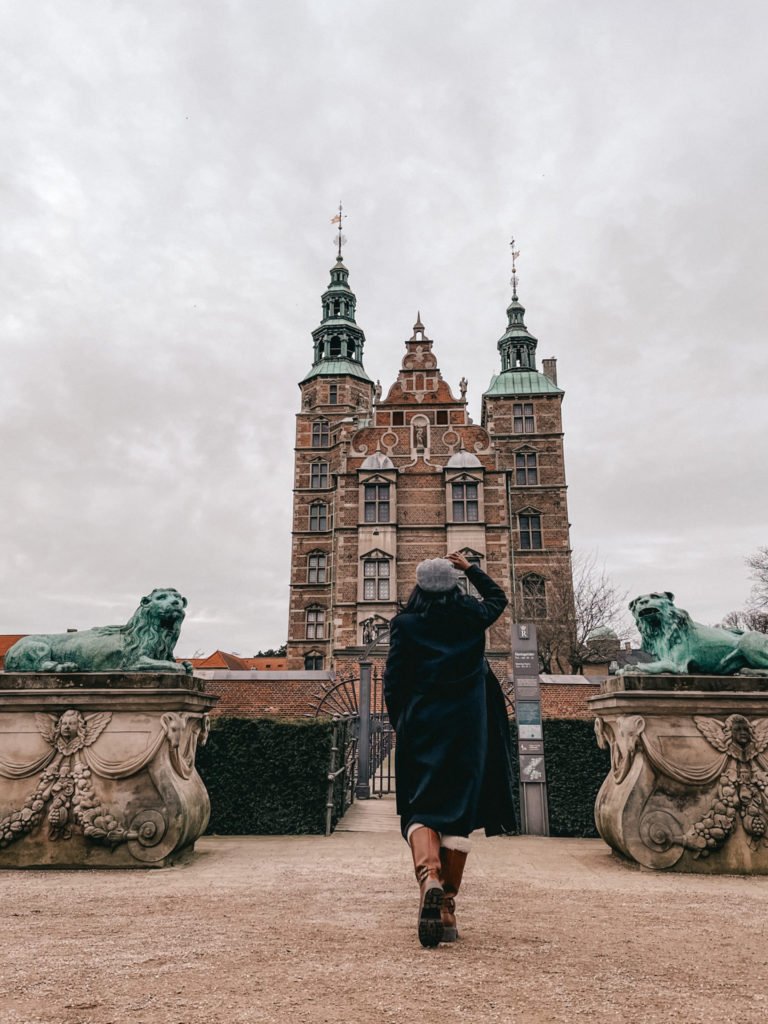 6. Wander Around in Nyboder
Nyboder is a neighborhood in Copenhagen city with long rows of yellow houses built by Christian IV in the 17th and 18th centuries. These houses were built to accommodate the family and personnel of the Royal Danish Navy.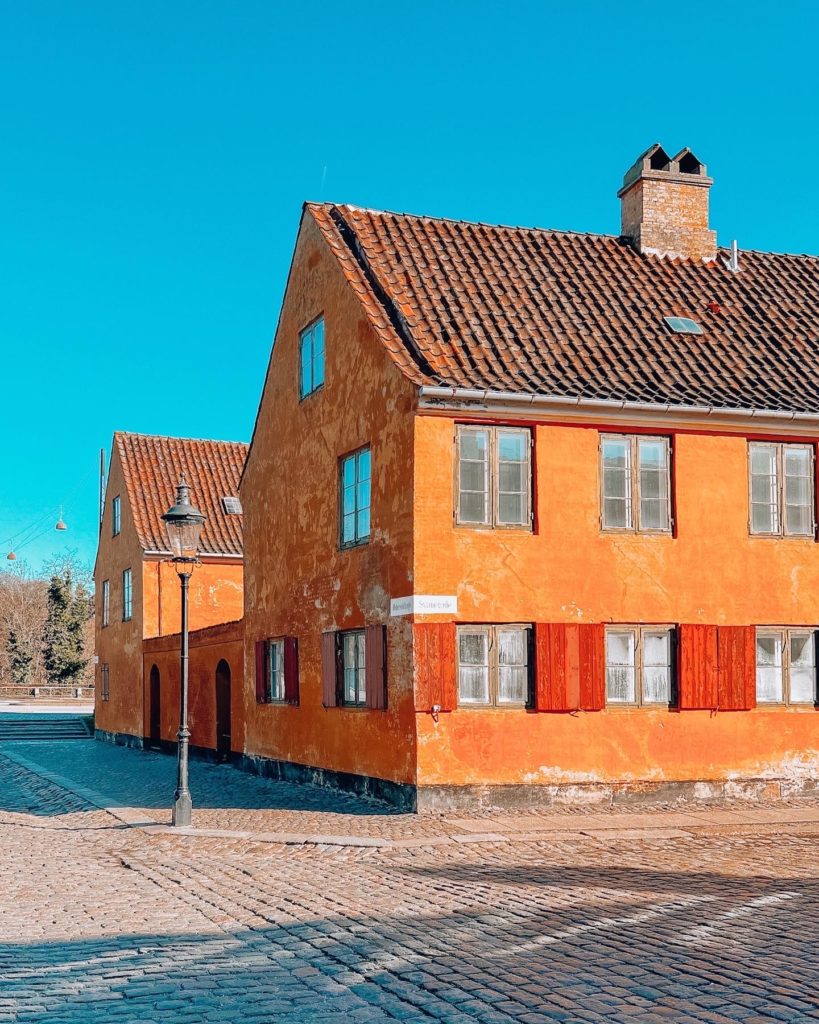 It is a must-visit place as it has a lot of history and is quite picturesque. If you visit Nyboder, let me know if you also think it looks more orangish than yellow. This particular hue is even called Nyboder yellow due to its popularity.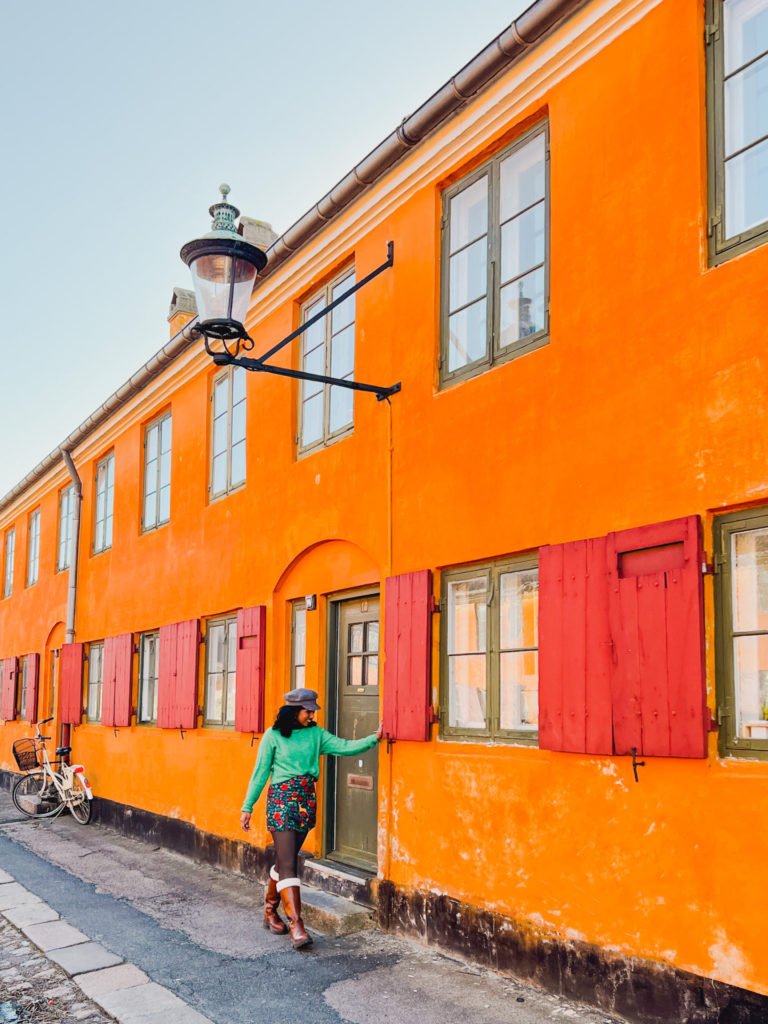 7. Explore the Kastellet
Kastellet is a star-shaped earthen fortress built in the 17th century. The fortress is built in the shape of a pentagon, and the aerial view looks beautifully like a star-shaped flower surrounded by a ditch in the same shape. Explore the red-colored brick buildings and wander the surrounding park to find the Kastelsmøllen. It is a Dutch-style windmill that replaced the original post mill in the 18th century after a storm destroyed it.
You could see the locals jogging or walking their dogs on a sunny day. It has two entrances/exits, requiring quite some walking to go on a full round. Visiting is free and open from 6 am to 10 pm daily.
8. Check Out the Super Famous Little Mermaid
The Little Mermaid statue of Copenhagen is quite popular among tourists. It is a small statue of a mermaid waiting by the coast perched on a rock, waiting to catch a glimpse of her love. It is one of Copenhagen's important statues, and the locals see it quite fondly due to its history.
The Little Mermaid statue was inspired by Hans Christians Andersan's fairytale of a mermaid who waits by the sea daily, longing to see her beloved prince. I am sure everyone would have heard a similar version of the fairytale in their own language. However, this sculpture was commissioned after Carl Jacobsen fell in love with the ballet performance of this fairytale and had this iconic statue created.
The Little Mermaid has gone through a lot since she was sculpted. Despite being vandalized many times, the Danish still restored and maintained her for the visitors to enjoy.
And it is entirely free to visit the Little Mermaid. However, you won't be the only one waiting to see the Mermaid. Since it is a tourist favorite, it will be crowded almost every time of the day, and due to its miniature size, it does lose its charm when being swarmed by a sea of people.
9. Spot the Water Reflection in the Black Diamond
The National Library of Denmark is also called the Black Diamond owing to its black facade of the new building, which reflects the water from the canals so brightly that on a clear day, you will find it shining like a diamond. It is pretty spectacular to see it. The front of the Black Diamond is made of Absolute Black Granite.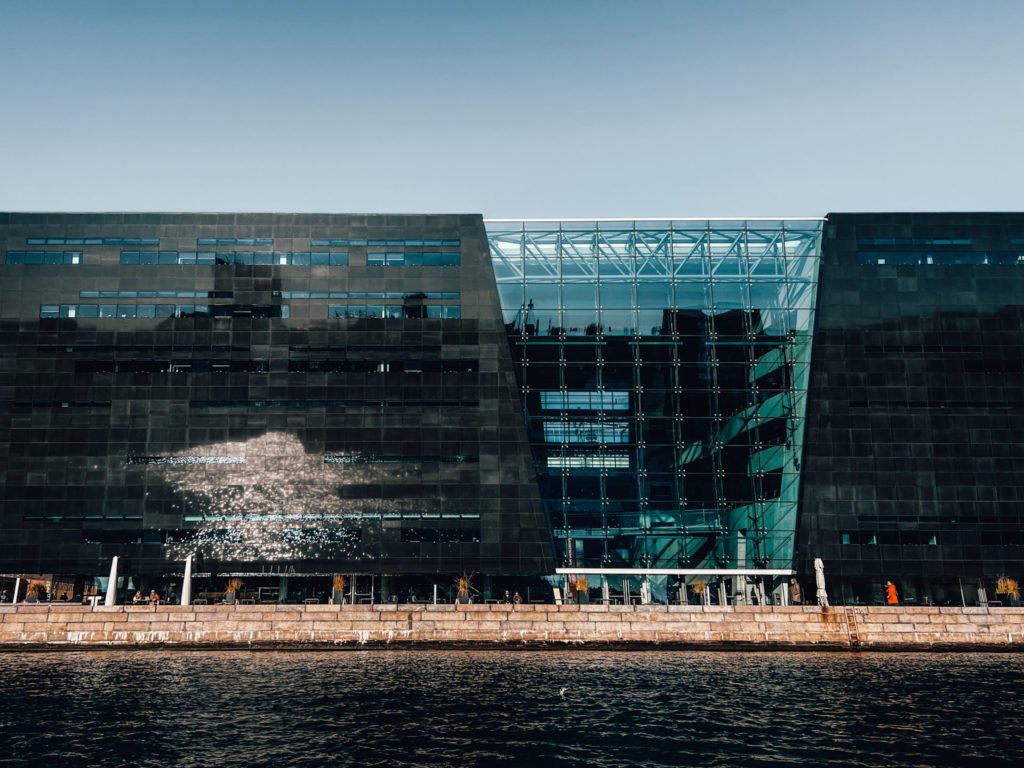 The library is also one of the largest libraries in the world and is also called Royal Danish Library. It also has a small cafe to enjoy a cup of coffee and the harbor view.
10. Chill at the Ofelia Plads
Ofelia Plads is a square by the waterfront, which is located right between Nyhavn and Amaleinborg. It is a public event venue where you can witness many cultural events and concerts. But it is not every day that you will get to see an event there. However, it is nice to sit by the water and enjoy 360-degree views. You could also see the Opera house across the canal to your right. You could spend some time here on your way from Nyhavn to the Amalienborg Palace.
If you have the time and are blessed with warm weather during your visit, you could easily spend hours with something to drink and a book and sit by the waters.
11. Take a Dip in the Harbour Baths
Copenhagen takes pride in the clean waters of its harbor, so clean that they swim in it. Harbor baths are popular in the city, and there are quite some places where you can try them for free. I was surprised to see the locals swimming in the cold waters during my visit in February. If you are up for it, then it is something to definitely try during your visit. During summer, you will see many tourists swimming in the harbor waters.
Some of the popular harbor baths in the city are:
These are just a few, and there are many more options for harbor baths in Copenhagen, mainly because you are never too far away from the waters.
12. See the Wall Art and Graffiti of Freetown Christiania
Freetown Christiania, also called Christiania, is a micronation in the Christianshavn neighborhood. It has around 1000 residents, and you are not allowed to click pictures beyond a particular point. It is filled with wall art and graffiti, which look cool. Some of the locals recommend not going there solo. We briefly visited the place and did not explore it completely. I liked the graffiti, nevertheless. If you are unsure, you can skip this one.
13. Walk Around the Botanical Garden
Copenhagen's botanical garden is a part of the National History Museum of the University of Copenhagen. The garden is free to visit by the public and has a collection of rare plants and vast gardens. The garden also has a glass house called the Palm House, which has a tropical garden with a nice collection of exotic plants and a spiral staircase between which you can climb to see good views of the place. However, the Palm House and Butterfly Park have an additional entry fee (they are free with the Copenhagen City Card).
The botanical garden is open all days from 8:30 am to 6:00 pm in the summer half-year (6 months). During the winter half-year, it closes at 4 pm in the evenings.
The Palm House is open Tuesdays to Sundays from 10 am to 5 pm during the summer half-year and closes at 3:30 pm during the winter half-year. It remains open on Mondays from 10 am to 5pm in July and August.
14. Visit the Copenhagen City Hall
The city hall of Copenhagen was built by Martin Nyrop, who designed the city hall taking inspiration from the Palazzo Pubblico in Siena, Italy. You could take a guided tour of the city hall and climb the tower to see the views. It is free to visit the city hall. However, you need separate tickets for the guided tours and climbing the tower (it is free with the Copenhagen City Card).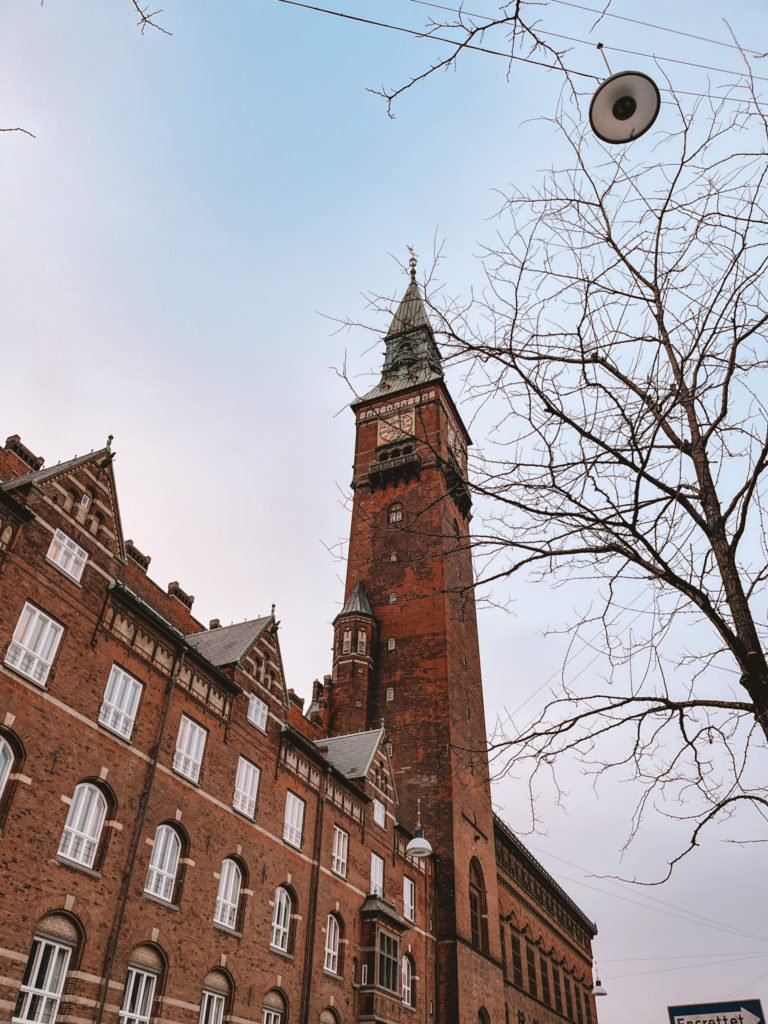 The city hall also has a library which now serves as a reading room and is free for all. The City Hall Square (Rådhuspladsen) is also worth checking out.
15. Go (Window) Shopping in Strøget
Be prepared to be amazed by a sea of shops in one of the longest pedestrian shopping streets in Europe (some claim it to be the longest and some not, but surely it is one of the longest). It is very common in Europe to have car-free shopping streets, and Strøget is around 1.1 km long, and you can find a store for almost every brand, many souvenir shops, and food stalls. Being in Denmark, you should, of course, go visit the Lego store, which also has a Lego display of Nyhavn, which is quite realistic.
Many other old squares are nearby, like Gammeltorv and Nytorv, which are pretty beautiful.
Are These the Only Free Things to Do in Copenhagen?
Absolutely not, but these are some of the best free things to do in Copenhagen. Most of them are pretty close to one another, so you could just walk to most places, saving your bus, train, subway, or metro fare. (They do have extensive public transport!)
I have also marked all the places mentioned on the map, which you could also check to get an idea of the places that you can club together during your visit.
How To Use The Map?
The orange suitcases are the locations from the post. If required, zoom in and click on a suitcase to view brief details about the location. Click 'View in Google Maps' to view the location's complete details in Google Maps.
Where to Stay in Copenhagen on a Budget?
Finding budget stays in Copenhagen could be tricky, but we found a nice one for you. It is also where we stayed, and we liked it. We stayed in Steel House Copenhagen, which is an excellent option if you are looking for budget stays.
You can choose from shared rooms to having your own private room, which is primarily a 6-bunk bedroom with a private bathroom all to yourself (because it is a hostel). But it is in a central area, and you can walk to many places. The facilities in the hostel were pretty cool, and I highly recommend staying here if you are looking for a cheaper stay option.
Tip! Try to stay in a central location close to most attractions so that you can save money on transport and do a lot in one day, especially when you are short on time.
Have you already visited Copenhagen? Then let us know if we missed out on any of the nice places to visit in the city for free. We would also like to know your favorites! Do mention them in the comments and tag us on Instagram.
If you have one more day left during your Copenhagen trip, consider visiting Malmö on a day trip. I have even compiled all the best photo spots in Malmö for you.