This post may contain affiliate links. When you click an affiliate link, we may earn a small commission on qualifying purchases, at no extra cost to you. Also, please check for opening times, restrictions, weather, etc., on the days of your trip. We do our best to keep the post updated, but these things can change quickly.
Going on hikes is one of the best things to do in Madeira. This island is filled with infinite possibilities of hiking options. However, for a first-time visitor, you might have very little time on your hand. You wouldn't want to go crazy checking every hiking possibility. So this is for you! The Ponta de São Lourenço (PR8) is a must-do hike in Madeira. It is not a walk in the park. Still, it is also not very challenging, making it perfect for beginners – intermediate-level hikers.
The Ponta de São Lourenço hike is suitable for anyone who can walk long distances as the trails are well marked and inclination is moderate and involves climbing stairs. The weather, on the other hand, could increase the difficulty more than what it is actually on an ideal weather day (which is, maybe never? I mean, it is the easternmost point of the island which is super windy all throughout the year, so you will experience some crazy winds even on a perfect weather day).
Are you worried that the Ponta de São Lourenço hike is probably not the right one for you because you are wondering if you might be unable to do it? Trust me, I am no hiker. If I can do it, so can you! But let's just not go with my motivation alone. I will cheer you on to make you do this. (Hello Reader! You can do it. All you need is a little push!)
That aside, I will tell you everything you need to know to choose if it is suitable for you, and not just that, I have added every single detail to make your hike pleasant. Go read on. I have also squeezed in a ton of tips for your trip. (If you think I missed any information you wish was there in the post, feel free to contact me.)
What is the Best Time to Go for Ponta De São Lourenço Hike?
Well, this is an open trail, so you can visit anytime. But I highly recommend checking the weather as it is not advisable to go in adverse weather conditions as the wind speed could get too much in this part of the island. Since it is the easternmost part of the island, you could see some stunning sunrise views on a clear sky day.
Even on partially cloudy days, you can still see some magic shine piercing the thick clouds. This means you have to start your hike before the first light. I personally wouldn't advise this if you are completely new to hiking. But due to the hike's popularity, you will never be alone. Still, it's not too crowded like any popular tourist attraction. We actually felt more comfortable when we could spot people around once in a while. The best time would be to start the hike as soon as the sun is out or late afternoon, which is when we visited.
How to Reach the Starting Point of Ponta De São Lourenço Hike?
If you are driving, you can park the car in the parking lot at the start of the trail. So choosing a time before the parking lot gets too full is better. In that case, you will have to walk all the way from your car to the trailhead (which will seem longer on your way back). The drive up to the Ponta de São Lourenço parking lot, which is about 33 km from Funchal center, takes about 35 minutes to reach.
If you don't have a car, do not worry. Public transport is available from Funchal, and you could take the SAM bus 113. The buses are not very frequent, so you must plan your trip accordingly. SAM bus 113 goes directly to the parking lot of Ponta de São Lourenço, and it takes around 1 hour and 30 minutes to reach from Funchal, and the ticket costs around €6. Make sure to check the timings of the bus and plan your travel accordingly.
Note! The normal public transport buses running in Funchal are different from SAM bus 113. They are different companies, so you might find bus 113, but it is not what you want to take. The SAM buses are white and have the name SAM written on them, so you can easily spot them.
You could also take a Bolt or a taxi, which will cost you around €30 to €40 depending on the demand, time of the day, etc. So if you are 4 people, I would say it is a nice and convenient deal.
If you are just a couple of people or a solo traveler on your way back, you could check with other hikers if they wanna share a ride. We did that on our way back.
Are There Guided Tours for Ponta De São Lourenço Hike?
There are options to go for a group tour as well, where they usually offer you pick and drop off as well, so you need not worry about your transfer. You don't actually need a guide, especially for this hike. But you could always choose to go on a guided tour.
There is a highly rated group tour from Lido Tours.
Practical Information for the Ponta de São Lourenço Hike
Route Name: PR8
Hike Distance: It is around 3 km one way, so the round trip is 6 km, but I am sure you will surely end up walking an extra km more (7 km).
Hike Duration: Well, the actual time taken will depend upon how much time you spend gawking at the insane views. But without considering that, you will need around 2 to 3 hours to do the round trip.
Starting and Ending Point: If you are doing the complete route, the start and end points are the same: the Ponta de São Lourenço parking lot. But you could also just do it one way. (More information on it later in the post. So keep reading!)
Total Incline: The inclination is distributed across the entire route, so it won't be like one way is entirely downhill and the reverse on the way back. On average, it has an overall difference of 500m in altitude.
Difficulty: This also varies from person to person. But being a complete newbie to hiking myself, I would say this is a beginner to intermediate level. It could be too easy or challenging for you. If it is difficult, with some effort, you can complete it.
Kids and Pet Friendliness: Although you will have to walk in rough terrain mainly consisting of gravel rocks and mud, it is safe to bring your kids along as the narrow paths are wired, and the route is well marked. You could also bring your dog along; they will enjoy it. I saw a lot of kids and dogs during my visit.
What are the Facilities Available at Ponta De São Lourenço?
Snacks
Well, obviously, they are a priority. Even if being out there in some corner of the island. The parking lot has some snack vans parked at the trailhead. You could buy some snacks and take it with you.
Also, at the end of the trail, there is a lovely little cafe (Cais Do Sardinha) to rest up before returning on the return journey.
Toilets
The snack vans also have a porta potty that you can use for €1.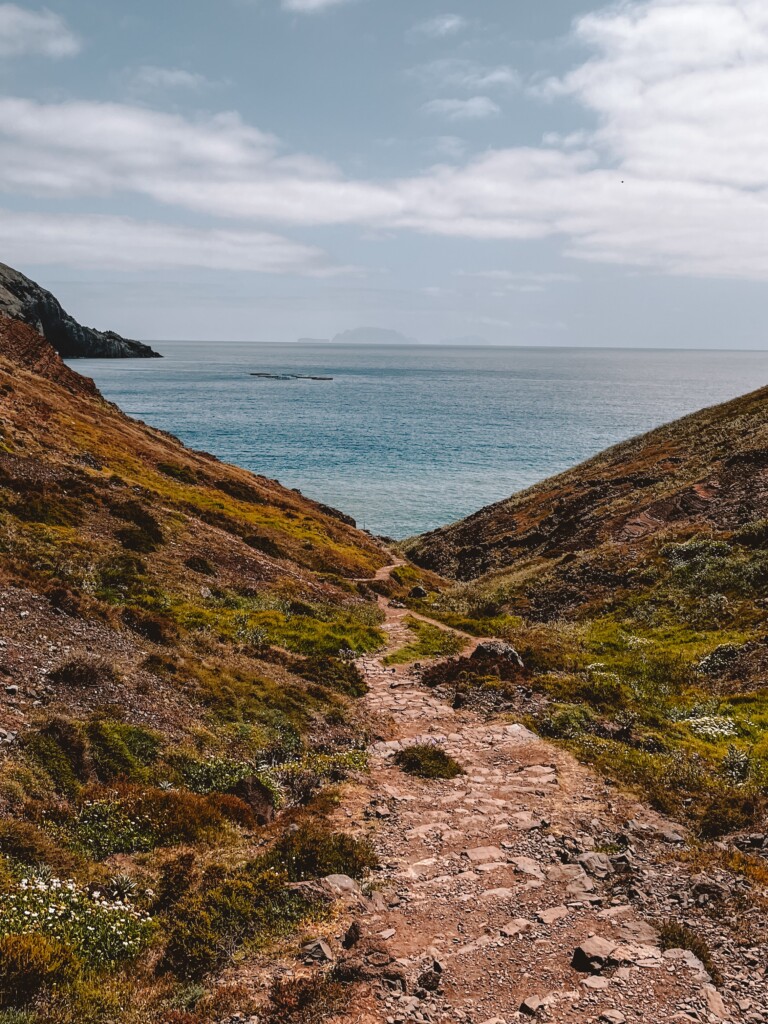 What to Expect From the Ponta De São Lourenço (PR8) Hiking Trail?
Well, the trail in itself is pretty much straightforward. You most likely won't get lost unless you decide to be adventurous and wander off-trail. (I guess you still cannot get lost, maybe you will only walk a lot more.)
The Journey Forward
At the beginning of the trail, you'll be treated to a well-maintained pathway with charming steps leading you downhill. It is easy for a while and goes downhill, making it a smooth start. We wouldn't want you gasping for breath right at the beginning, right?
The well-paved path starts disappearing, and you will soon be stepping onto the dirt path, gravel, and stony path, mostly going downhill for a while. In fact, the uphill journey is relatively less during the onward journey.
You will want to stop every 5 minutes, not because you are tired but just to take pictures or stand and gawk at the sheer magnificence of the ocean and the awe-inspiring cliffs surrounding you. Do not rush it. I highly recommend doing it relaxed and enjoying every bit of nature around you. Seeing the main island behind you was mesmerizing as I walked further along the trail.
On one side, you could witness the dragon's tail which is where you are heading to, the tip of the main island from where you could see the multiple tiny islets, and on the other hand, the entire island of Madeira unfolds before you. Isn't that amazing? It is just a purely magical experience. I was constantly surprised by the different views on either side of the trail. The view keeps changing, and it never ceases to amaze you.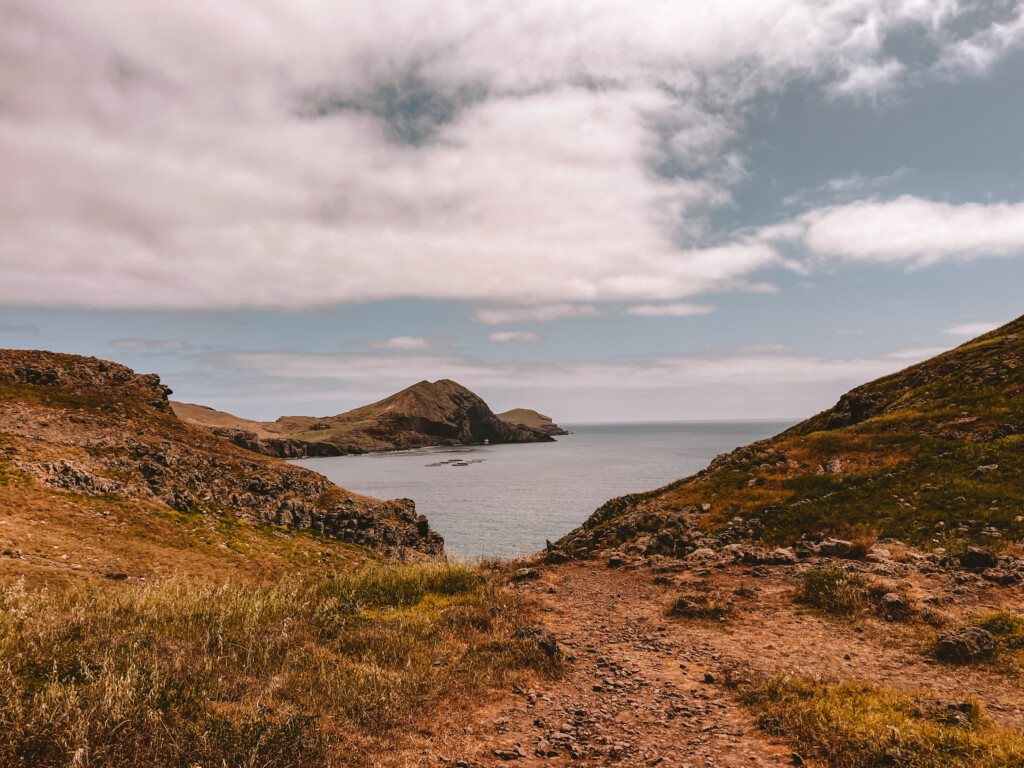 When you hike at a time when most people are returning, you might have to wait to let them pass and vice versa. The trails get narrow in some places, so it is better to wait. Stay away from the edges, especially when it is too windy. The parts of the trail where the winds could be too strong have railings so that you won't fly off the path.
Tip! If you decide to sit on the rocks to take a break, watch out for the slimy little fellows (not snakes). So many black lizards run in the gaps between the rocks. They are almost everywhere, which makes it so difficult if you need to sit. I never sat throughout the entire hike.
Let's get on further with the hike!
So you just mostly keep continuing enjoying the views around, sometimes a little up and then some downhill and a lot of flat paths as you go. You will eventually come to a point where you are very near to Cafe Cais Do Sardinha. Then you see a board with signs to the cafe in one direction, and I totally forgot what was mentioned pointing to the other side. (But it's not important at all.)
The left side actually points to the cafe, but you will see two paths from where you are. The left one looked quite boring.
I know you want to go to the cafe, and so did I. But the path on the right will also lead you there but with much better views, trust me. You may end up walking a couple hundred meters extra, but you won't feel the increase in the difference at all.
So taking a right at the intersection, after a short walk, you will see a small wooden bridge. It looks too cute, and so are the views around you. (Photo Spot!)
Once you cross the little bridge, you could go down to the beach if you wish to. For the beach path, you go right. I know you probably want to hit the cafe, so go left from the bridge and continue ahead, and you can see the cafe.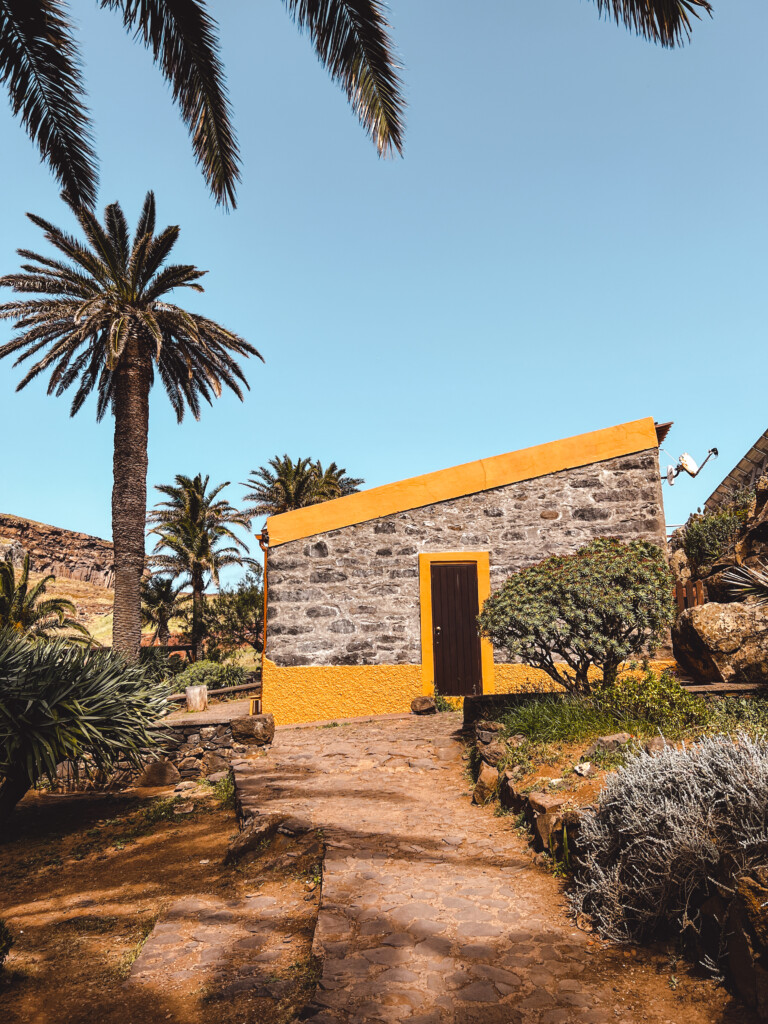 Now that you have reached the cafe, that's not all. Wait before you go and relax with a beer in the cafe. Do you see a hill in front of you? Yeah, I know, it looks very steep, doesn't it?
Hmmm, let's climb it. Although the official PR8 ends at the cafe (I mean, you still have to go back all the way), if you can get to the top of the hill, you can see stunning views of the islets.
You will notice a sign board that says that going beyond this is at your own risk. But it is not totally impossible nor very dangerous. I can confirm that it will be the most challenging part of this hike. The tracks become much muddier, and winds can be too strong, making climbing a little tricky. If you are visiting on or after a rainy day, you should keep in mind that the path would be a lot more slippery. (It is okay to skip this part as the views from where you are are equally beautiful.)
The Return
Well, if you want to hike back, you just follow the same route, which is 3km back to the parking lot from where you started. But if you don't want to hike back for whatever reason, there is an alternate option too. (Did you take your note and pens already?)
Yes, you could hop on a boat ride for a price. There is a boat tour that operates, allowing you to choose between their various tours. Try to book your slot for the tour of your choice online on their website, as there are limited tours per day, and they tend to get fully booked.
Psst! The boat tour also stops near the different caves under the cliffs. If the weather cooperates, they will take you a bit further into the caves.
If you are unsure and still want to try your luck, you can find one of the representatives from Madeira Sea Emotions, with whom you can directly book your slot if available.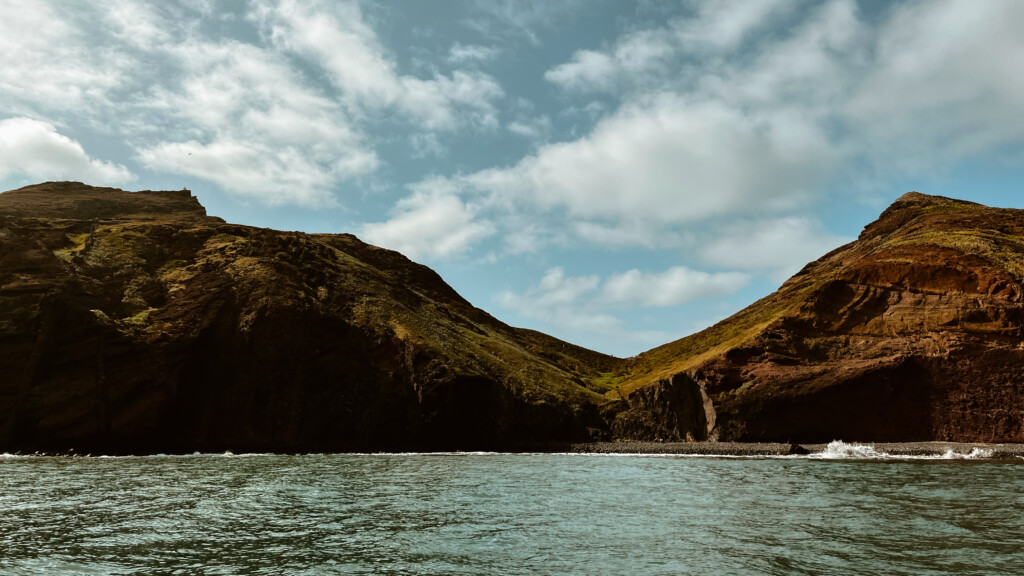 The Most Popular Tour Options From the Cafe Cais Do Sardinha
Basic Tour I – From Cais do Sardinha to Quinta do Lorde (a 16 minutes walk from the parking lot where you started the hike).
Ticket fare: €13 for adults
Basic Tour Lighthouse View I – From Cais do Sardinha to Quinta do Lorde, which passes via the lighthouse of Ponta de São Lourenço.
Ticket fare: €22 for adults
Basic Tour Lighthouse View II – Round Trip from Quinta do Lorde, which passes via Ponta de São Lourenço's lighthouse and makes a small stop at Cais do Sardinha for a swim.
Ticket fare: €30 for adults
They also provide other tours, including kayaking and whale and dolphin watching.
Psst! Check out our complete guide on planning your whale and dolphin watching tour in Funchal, Madeira.
Yay! We have now reached the end of the hike. You would have walked around 6 to 7 km if you made the full loop or about 3.5 km if you took a boat on your way back, and it's incredible.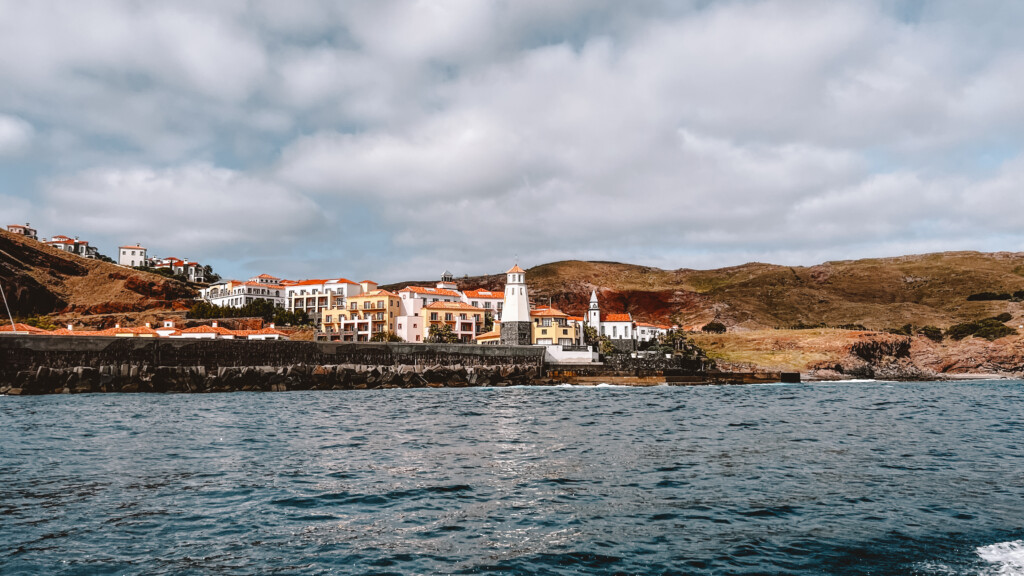 What to Pack for Ponta De São Lourenço Hike?
It's always better to be prepared and bring along a few things. But it is not nice to load yourself with a whole bunch of stuff. So I will tell you everything you must pack in your day bag for this hike.
Weather Proof!
This is more important when you are hiking out in the open. Being prepared requires you to understand the climatic conditions of the place you travel to and according to the season.
The PR8 route is prone to be windy all year around, so it could become slightly cold even on warmer days when it is too windy. The next is rain. It is better to check for rainy conditions to as you won't find anywhere to hide if you are stuck in the middle of a downpour.
A Little Checklist for Your Hike
Light jacket (preferably waterproof, so you need not carry one for when it rains)
Cap and Sunglasses
Sunscreen
Snacks (There is a van at the parking lot, but you wouldn't find many options, so it is good to bring something with you) I prefer bringing some energy bars (the tasty ones), which are lightweight and gives you instant energy.
Water (It simply is a must; you will need it)
Camera, phone, drone, or whatever you use for capturing pictures. (The views are amazing; you will want to click some good pics.)
Good hiking shoes (can't stress enough). Preferably one with good ankle support, as you will need it while walking on the gravel and rocks. Make sure you are already comfortable walking in them. Wouldn't suggest wearing something brand new.
Optional Items
These are some things I always carry in my bag, just in case. But it's totally up to you.
A small medical pouch: I always carry a kit with some basic meds, bandaids, pain-relief gels, hand sanitizer, and so on (just a tiny pouch).
Moisturizer
Some face wipes
Power bank
A small note and a pen (don't ask why, I just have it)
Hiking Poles (I think that's what they are called). I don't have them, but I saw many people had them.
And yay! That's it. You are all set for the hike. I have compiled all the information you need to know to plan your visit to Ponta de São Lourenço. Also, if you are interested in nature walks, check out our detailed post about the 25 Fontes & Risco Waterfall hike (PR6) in Madeira.